Administrator
Staff member
We could not resist the rare October opening, only Mammoth's third of this century. It was Liz' first ever October ski day and my fourth. There was some reason for caution because the rain/snow line in Monday's storm dropped below 9,000 feet about 8 hours later than expected, leaving 15 inches of new wet snow at the patrol site near Main Lodge after about 7 inches of rain fell through Sunday. We originally only reserved one night, but after seeing the low level of Crowley Lake, we realized that we should hike to the columns on Saturday either after or instead of a second ski day.
On Thursday Mammoth finally announced that the top would open and that chair 2 would be available for transport but not skiing. Here's why not for skiing.
We got to Main Lodge before 8AM. While waiting for the opening festivities I noticed the Plakes.
I mentioned that this was my first Mammoth opener though I'm around for many for the closing weekends, where I've seen them before. They said that they don't make many openers because the Baja 1000 off road race usually conflicts with the normal November timing.
At 8:30AM the Opening Day banner is raised,
And broken by the first riders.
We were about 10 minutes back in the initial line so we went immediately to chair 3. By observation we could tell that the lower groomers were still firm, and even our warmup on Saddle Bowl was somewhat hardpacked. But the face of 3 had soft natural snow blown in.
This was worth two encores before we rode the gondola to the top.
In general most of the snow above 10,000 feet was winter snow but with variable wind effect. After a groomed Cornice run we skied upper Roadrunner to Scotty's.
It was mostly windbuff to about where Liz is in the picture, but below that the wind crust was breakable. I could manage it with forceful up unweighting, but unfortunately I would be sucking wind and have to stop every two or three turns of that.
Lower St. Anton had been skier packed but complete grooming was not possible with the thin base. View back up from there:
From chair 1 here's the late morning traffic on Broadway.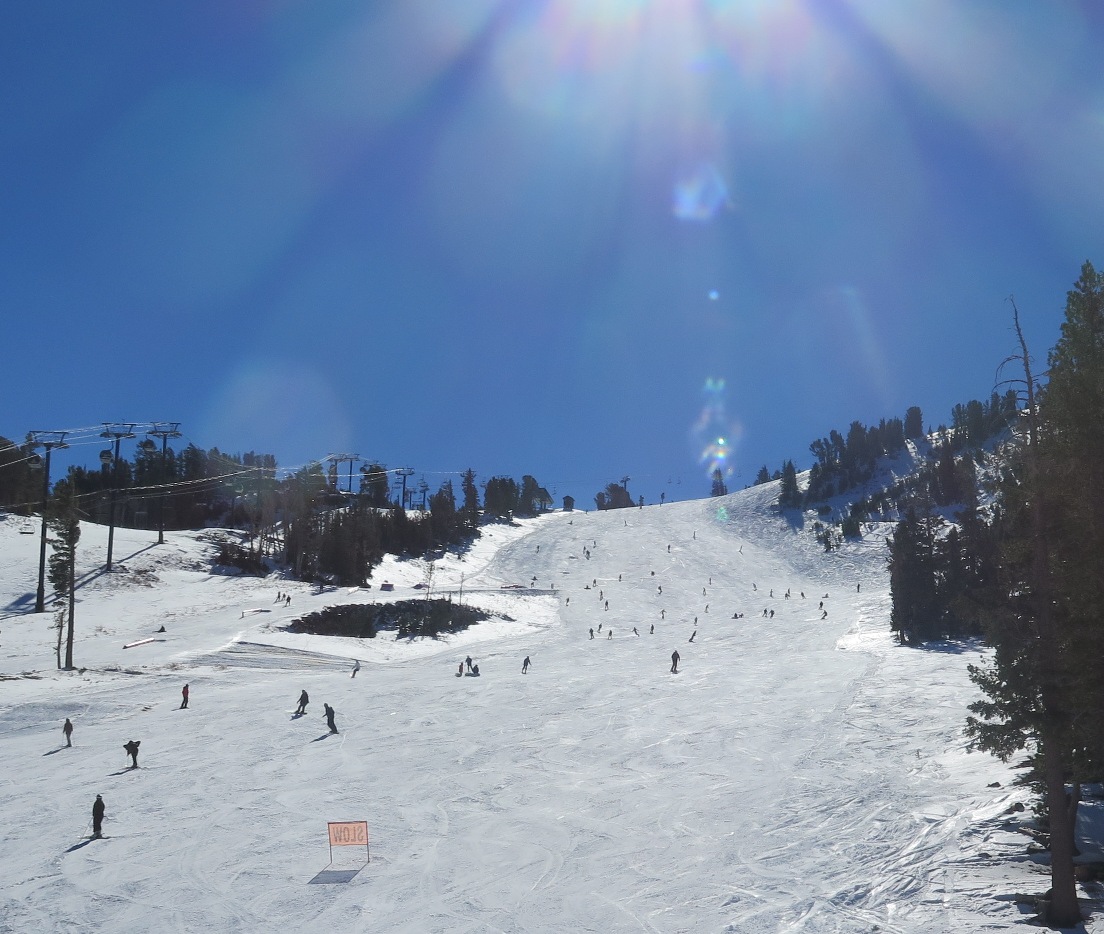 We went around the back to Powder Bowl, then took the gondola back up. We heard that Dave's Run had the best snow, so I went to check that out.
I noticed unusual coverage on Rockgarden, which I had also seen after the October storms in 2004.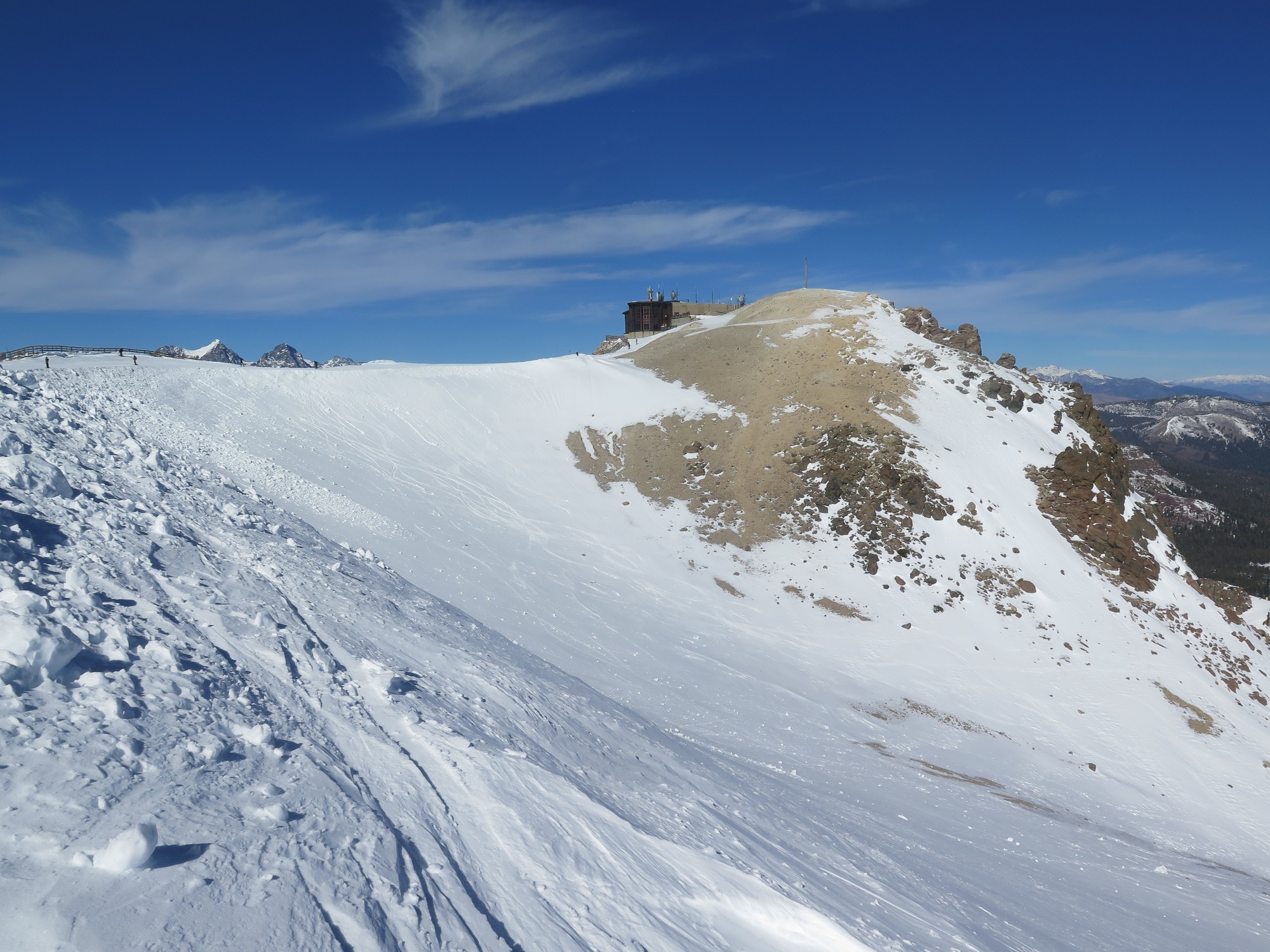 After the long traverse from Dave's, I skied Christmas Bowl back toward McCoy Station.
Liz and I took a much needed lunch break at 11:30. After lunch here's the view of the upper mountain.
Coverage is more than I expected and there's a good variety of skiable lines up there. Some people hiked up to ski Drop Out 1 from the top even though chair 23 was not running.
We skied Andy's and Fascination, which were now in the sun and loosened up from the morning hardpack. There is some vegetation poking through at the bottom of those runs.
Back up the gondola Liz and I dropped into Rockgarden.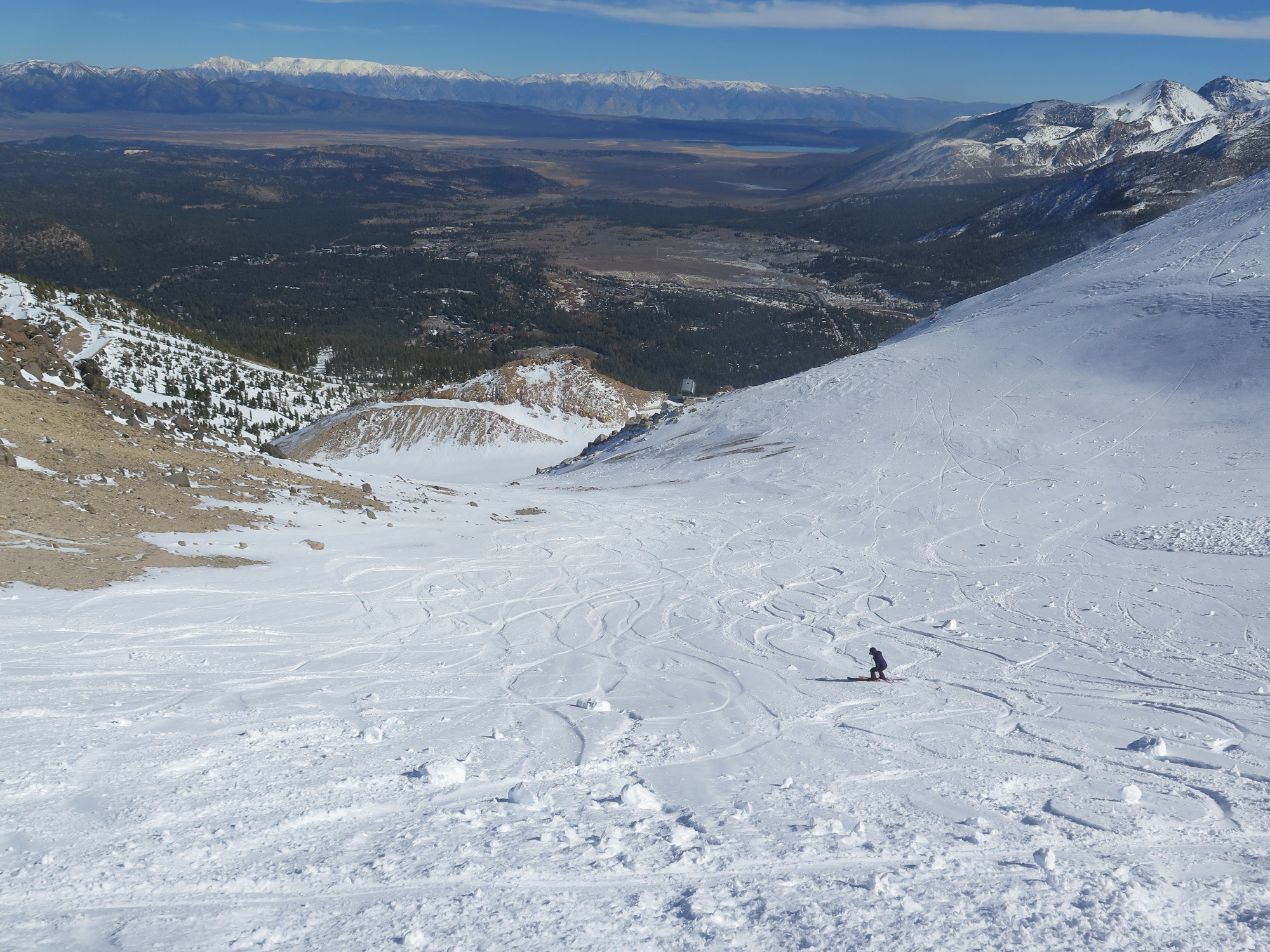 Rockgarden is often a wind tunnel which strips the snow or polishes it firm. On this warm day around 1PM the snow softened to pleasing spring conditions all the way down to the traverse back to the face of 3.
From the traverse, here's the view back across Rockgarden and Dave's beyond it.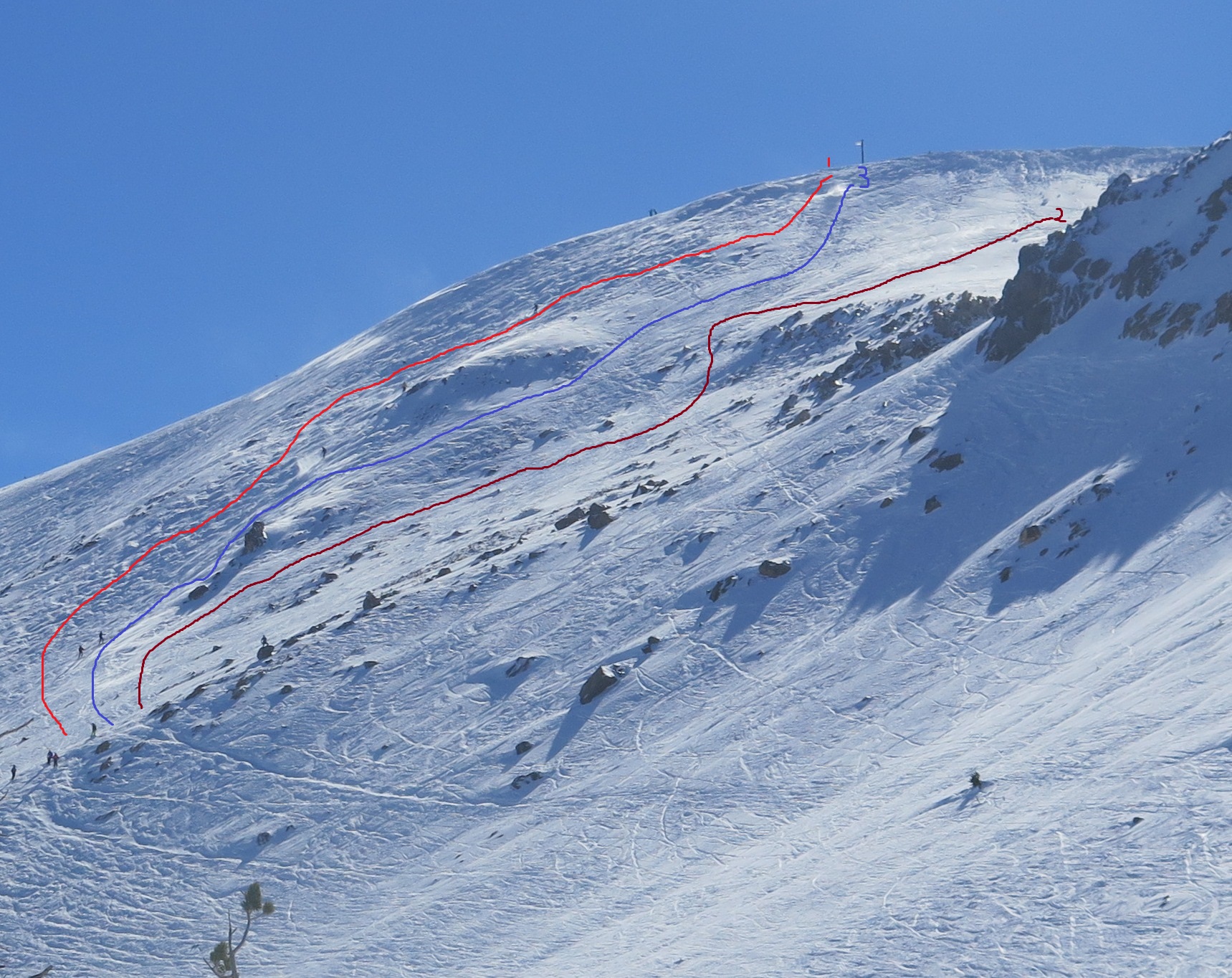 I've marked the 3 lines I skied, #2 being the one with Liz that started in the bowl in the second picture above.
From the next gondola I traversed from Cornice under Drop Out 3, which nearly always collects blown in snow.
It was soft but the upper steep part had been skied enough to start forming moguls. The apron had quite a bit of windsift dropping toward St. Anton, and I was able to cut across Gremlin's to World Cup on the way down. Liz had skied skier's left Cornice on this run, which may have had more variable snow, so she decided to call it a day with 16,600 vertical.
At this time around 2:30 about 3/4 of the mountain had spring conditions, and I concluded that Saturday morning with predicted 25mph wind might not be that great. So even though I was tired too, I thought it best to persist for the rest of Friday but not ski Saturday. First I cruised pleasantly softened World Cup to Fascination, then went back up top.
This time out Dave's I was able to navigate a line in Mammoth finest windsift nearly the entire run. Some other skiers provided ample evidence.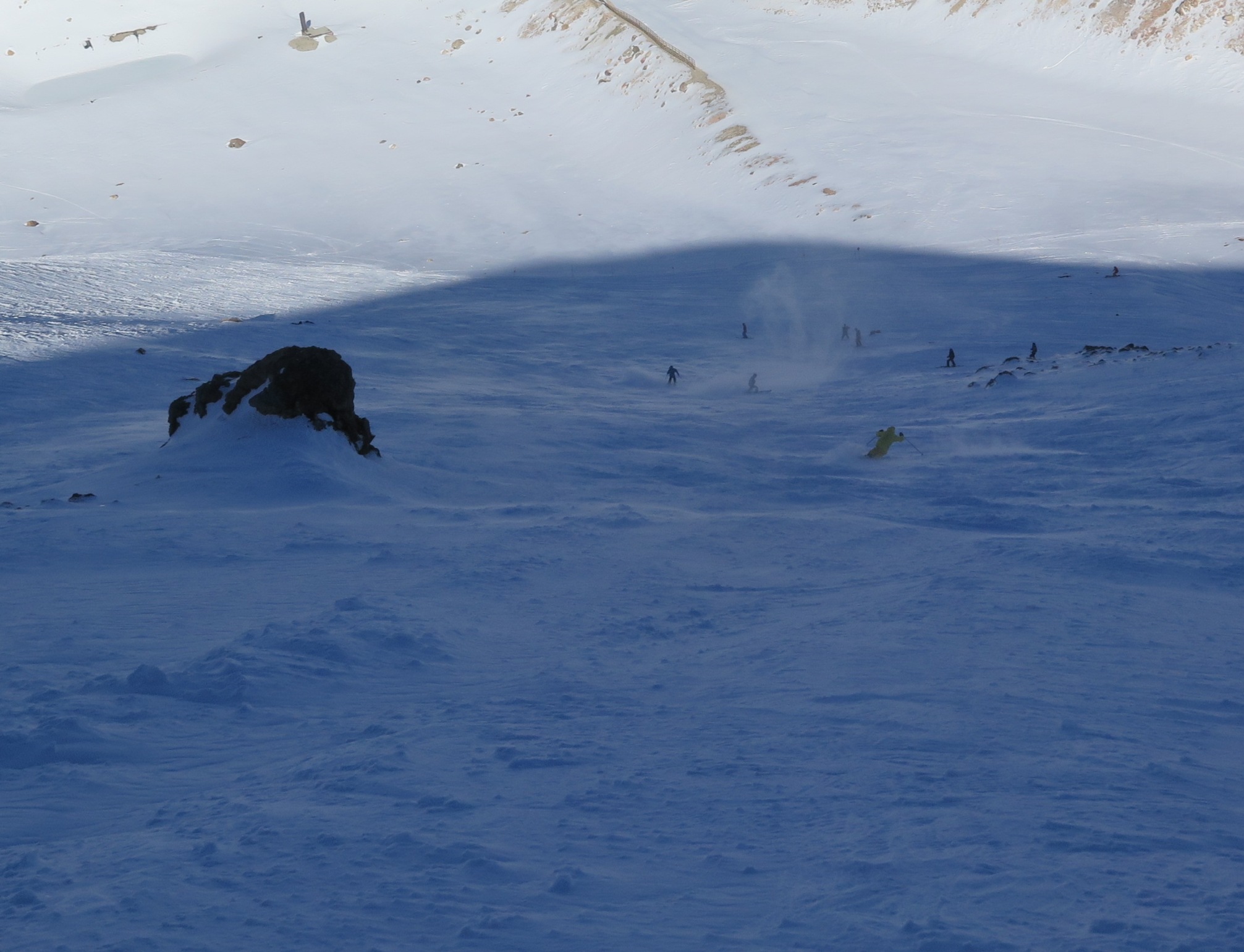 After lunch I had noticed a skier in Gravy Chute so I gave that a shot.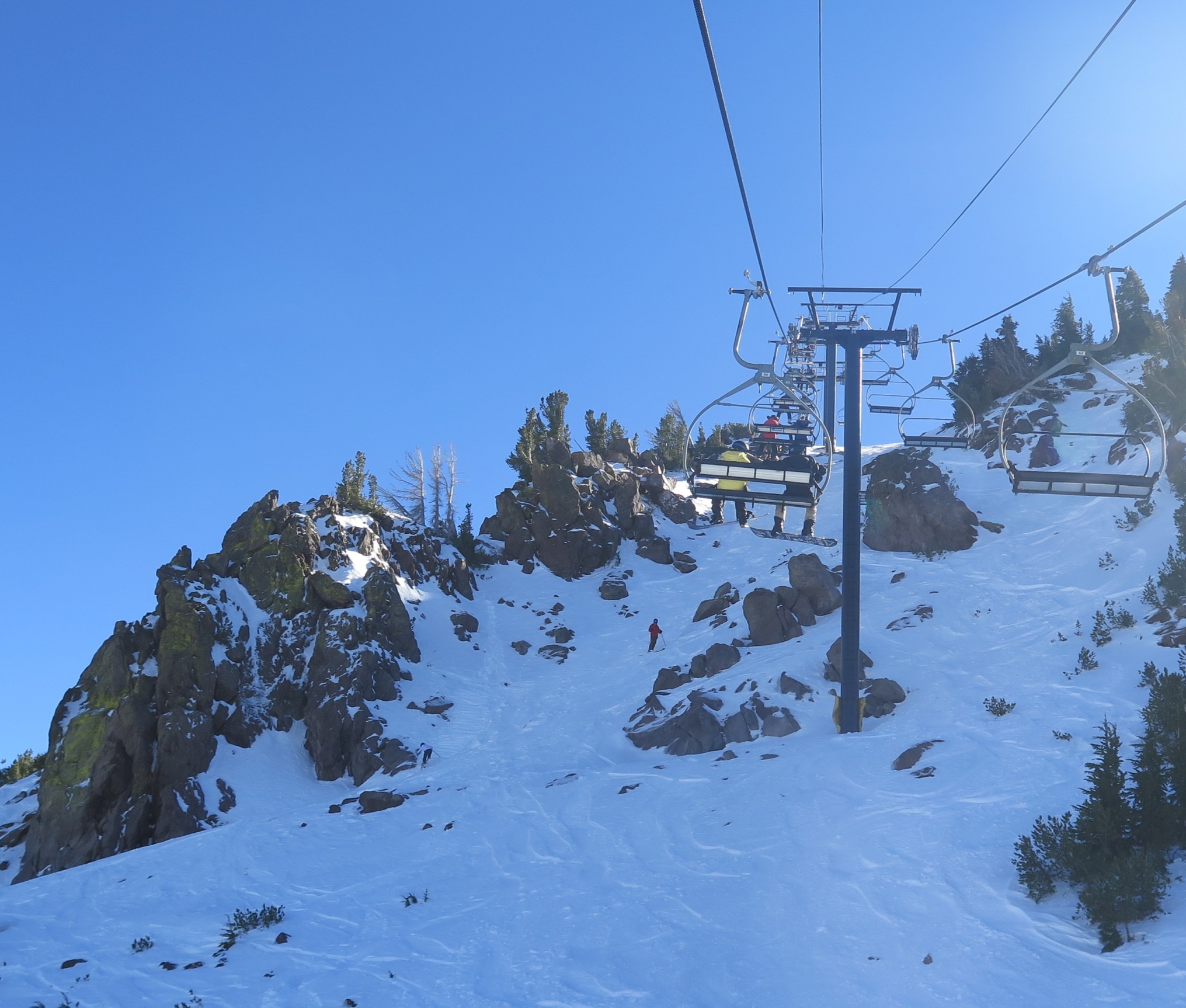 Snow was excellent but it was confined which is why I let other people go first to show where the rocks were.
Last season these 4 action figures appeared overlooking Gravy Chute, but this is the first time I got all of them in one picture.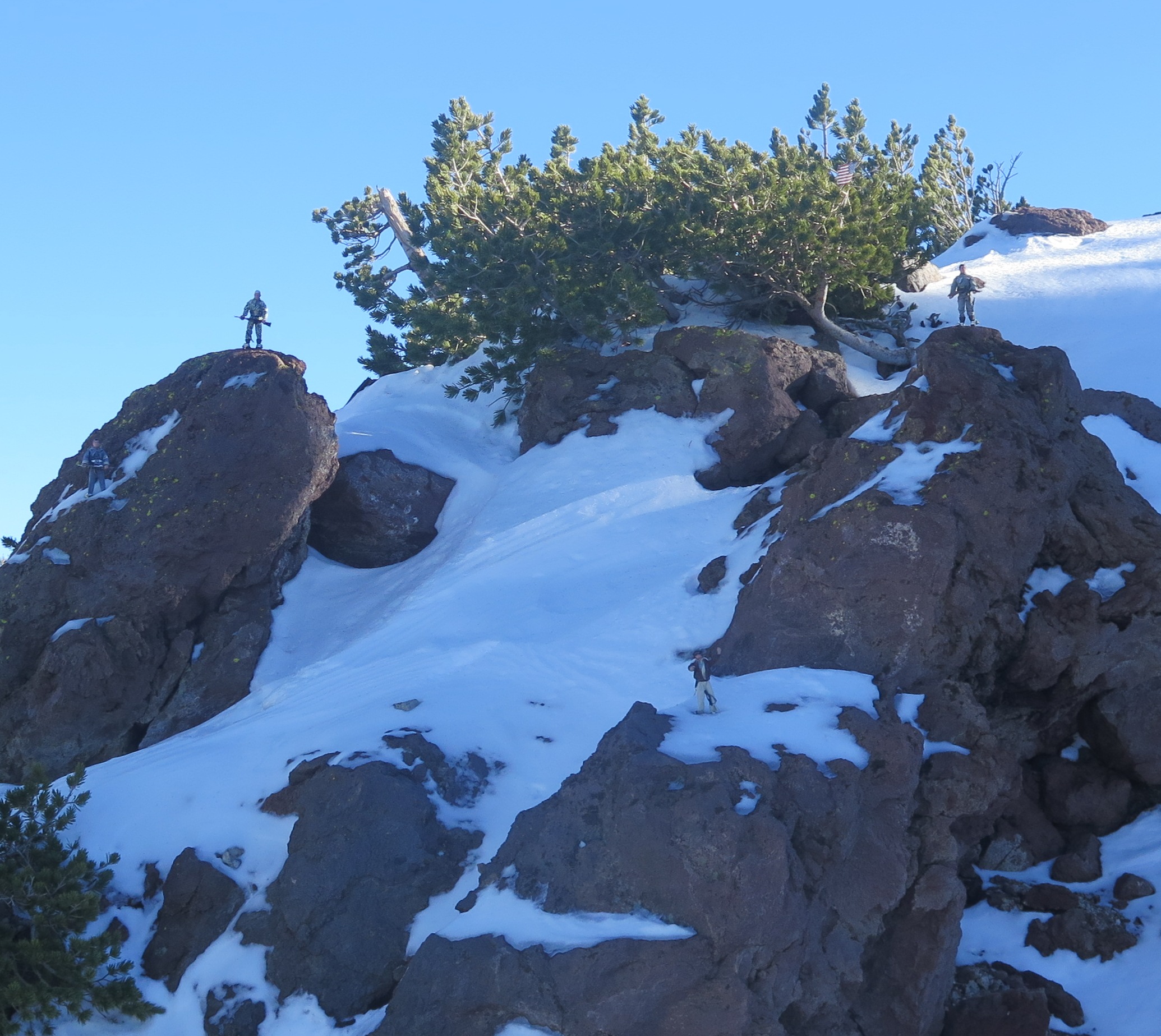 I finished up with some cruisers, totaling 23,700 for the day. There was a benefit to being on daylight time that World Cup and Powder Bowl were still illuminated on my last run about 3:45.
Obviously this was impressive skiing for October 29. But it's not the overall winter conditions I saw during the first half of November in 2004 and 2015. There was another wet October storm in 2009 when Mammoth opened for 3 days (I did not ski that one) but then had to close for almost 3 weeks. This year was better because the rain came at the beginning of the storm vs. the end in 2009. However the high water content snow and warm temperatures in the 40's have created widespread spring conditions.
It would only take a few nights of snowmaking to secure the lower runs on chair 1, but low temps are predicted no lower than 31F for the next week. Nonetheless I think Mammoth will hang in there and stay open continuously, though opening day may have had the best skiing for at least a week or two.