Administrator
Staff member
Finally a mostly smooth running day at Baldy! I arrived at 7:45AM and it was obvious by my close in parking that it would be far less busy than last week. The ticket line looked shorter but it was still half an hour because there were only two windows open vs. three last week. This bulldozer was clearing some snow while I was in the ticket line.
Hopefully no one from the EPA was in that ticket line.

There was no line at all for chair 1 so I arrived at the Notch at 8:55. Thunder opened by 9:10 and I was on the seventh chair.
It was sunny and calm but noticeably cooler than Friday in the morning. The intervening days had been much colder and windier, so all snow that retained winter conditions Friday was still that way today and generally smoother with fewer death cookies. High eventually got up to 33F and most of the sunny exposures didn't soften completely to corn until about 2PM.
I'm sure that would have happened earlier on direct south facing chair 4, but it did not open despite this post which is still on Baldy's website tonight:
March 6 [that's yesterday!], 2023 - 6:00am​


CONDITIONS - Wind buffed packed powder is the prevailing condition on the mountain and is expected to remain through out the forecast period. Expect crusty conditions in area exposed to the sun before they thaw out.
OPS STATUS - Lifts #1, #2, #3 and #4 all expected to operate today. The wind kept #4 from operating yesterday, but it is expected today.
Employees in the parking lot said chair 4 would open today but those on the hill said otherwise. They said, "It needs to be groomed," which is true, but one could ask why that hasn't been done over the past 2-3 days. I'd say it's more evidence of staffing problems like the ticket window and the new policy this year to close on all Wednesdays.
Fire Road/Bonanza and Shortcut/Robins were the only groomed runs so those were my first four to warm up. Next was Emile's, which was excellent chalky packed powder top to bottom.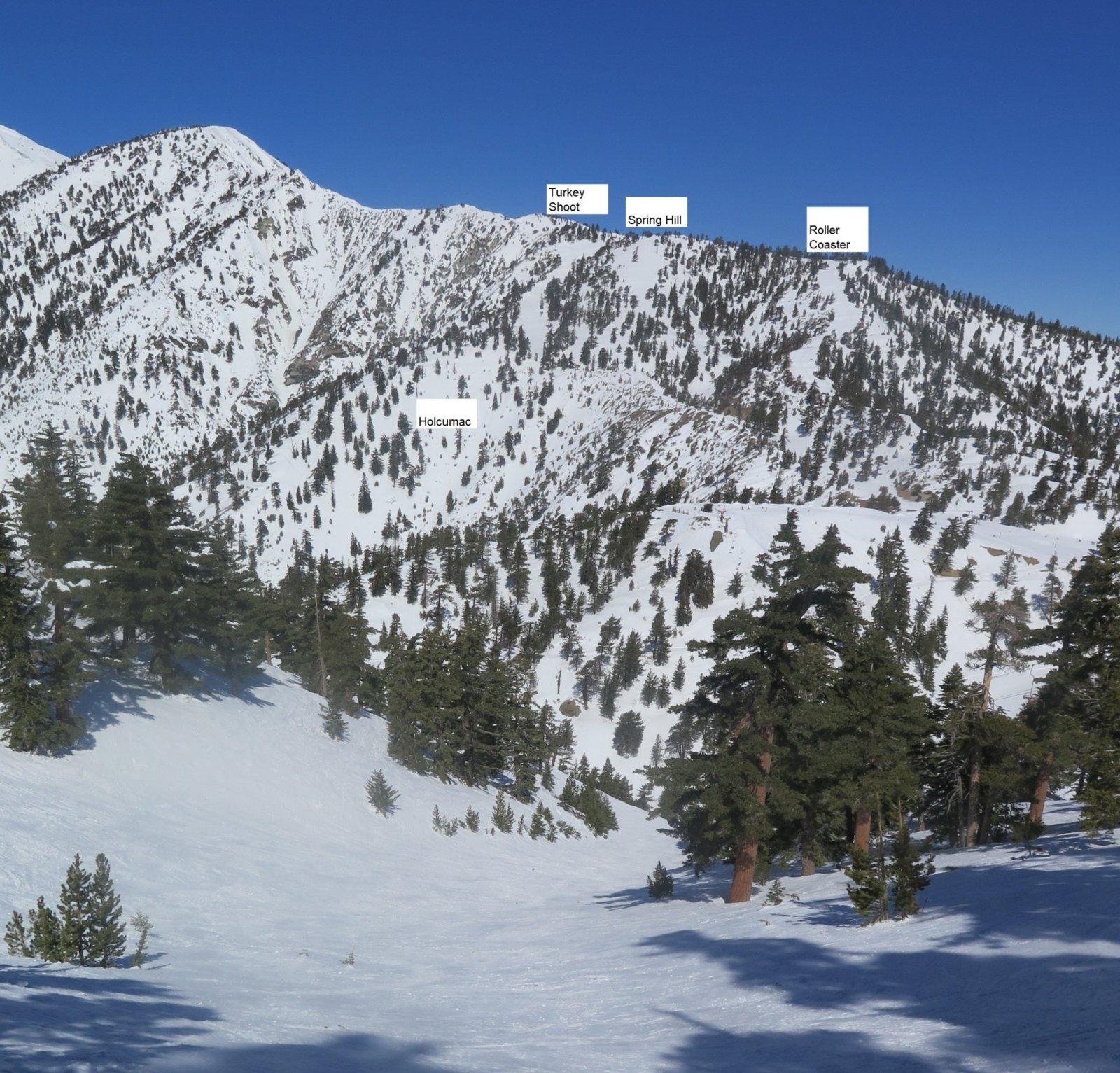 In the background I've labeled the runs accessed by chair 4. Eric's is the sidecountry behind Holcumac. Holcumac leads to Sugarpine under chair 1, while Eric's drains to the back of the parking lot.
Baldy has not groomed Skyline. It's forming intermittent moguls but they are scattered, widely spaced and very fluid skiing in sift packed powder. In the 1980's and 1990's big mogul fields would form on Skyline and Emile's, but not so much now. That's why I think crowds are overall way down at Baldy vs. the big years in those decades. Here's how wide open and sparse of traffic Emile's is in prime condition today.
I had to wait for some skiers and riders to show up to take these pics.
Dry winter snow also prevailed on other north aspects like Goldridge, Robin's Trees and Toilet Bowl. So I was confident it would be similar if I traversed out South Bowl's ridge to where it bends around to north facing.
This view is due west with Baldy's 10,000 foot summit in the background. I skied down the fall line to looker's right. If you ski out the end of that ridge, that leads to South Bowl 2 and Big Butch below the parking lot. Garry skied that today, his view of the exit from South Bowl 2 into Big Butch:
Garry got up to Thunder around 11AM, but with lack of lines and cell serivce only at very top of Thunder we did not connect until 2:15. Around 1PM I started testing the sunny exposures. Herb's and Andy's had some corn, but not for their full width. Partially shaded areas still had some crunch. The same was true of South Bowl, so I traversed left into the trees until they tilted NW with winter snow.
About 1:40 I thought maybe chair 1 would have softened faster. But when I exited chair 2 I noticed that Windslab was steep enough to have retained winter snow. View of that on the ride back up:
So I skied that down to Sugarpine, which was in full on spring mode and more pleasant skiing than usual due to its rare width after the recent dumps.
There are some chutes between Windslab and Nightmare that require lots of coverage.
I did not try these due to suspected inconsistent snow, but Garry skied this way later and reported favorably.
I connected with Garry when I returned to Thunder. Here he's looking at Telegraph Peak, which has a fracture line near the top.
Herb's was finally full on corn, so we knew South Bowl would be too. I ripped the wide open South Bowl and hit the clean traverse line back to Thunder. Garry had pushed skier's right into Bill's Bowl, which is rarely covered adequately. So I went there for my next run.
Both Garry and I overshot the traverse line from Bill's Bowl and had to sidestep back up to it.
I took one last run on Thunder at 3:20, Liftline which takes the longest to loosen after it first froze Friday. I considered the 20 minute bootpack partway up idle chair 4 to finish the day skiing Eric's. But from the top of chair 2 the late afternoon "Baldy Cloud" was creeping up the canyons.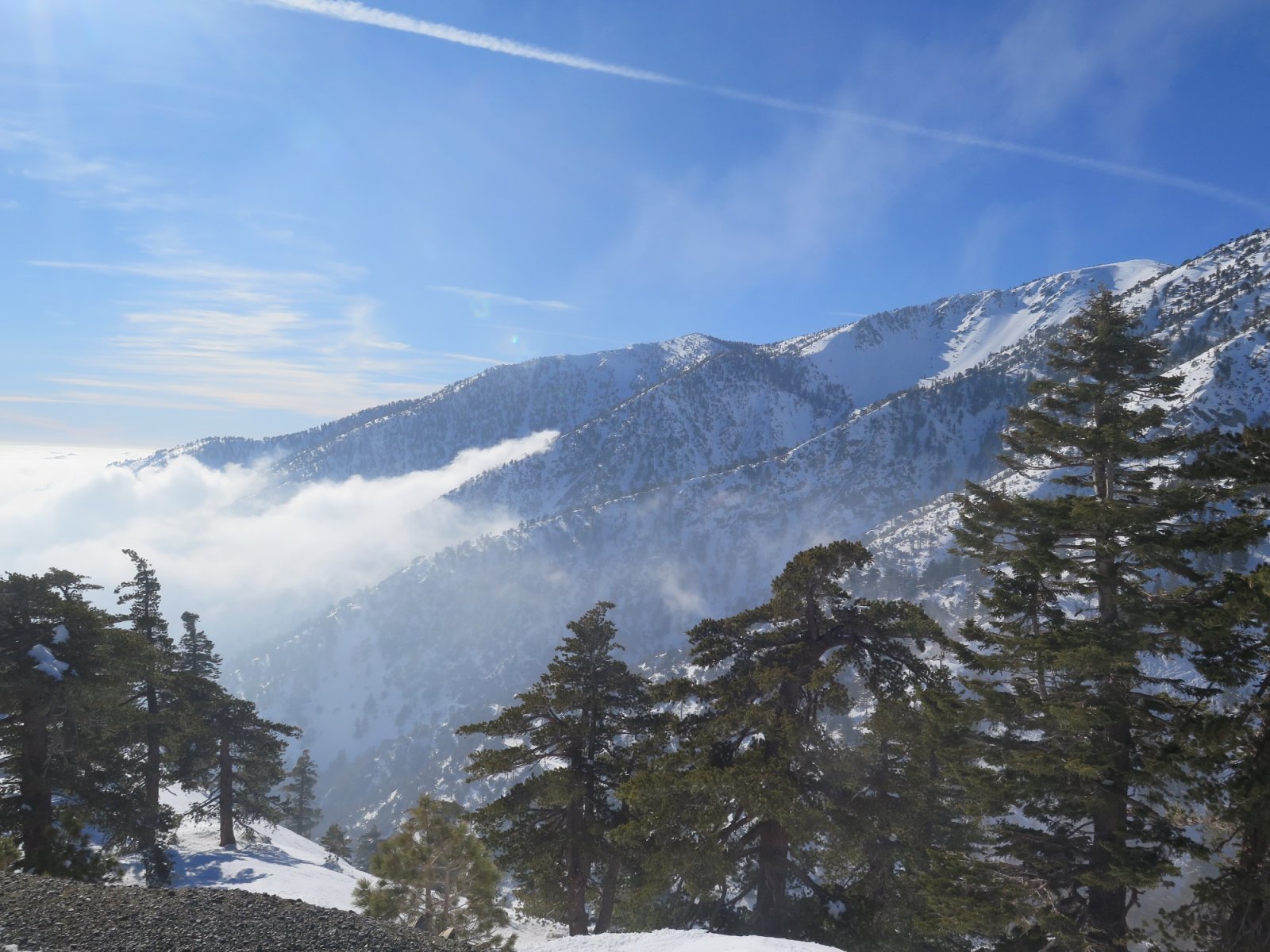 I decided to ski Psych Out, which is beyond Bentley's and the area boundary marker. The top is a wide open bowl.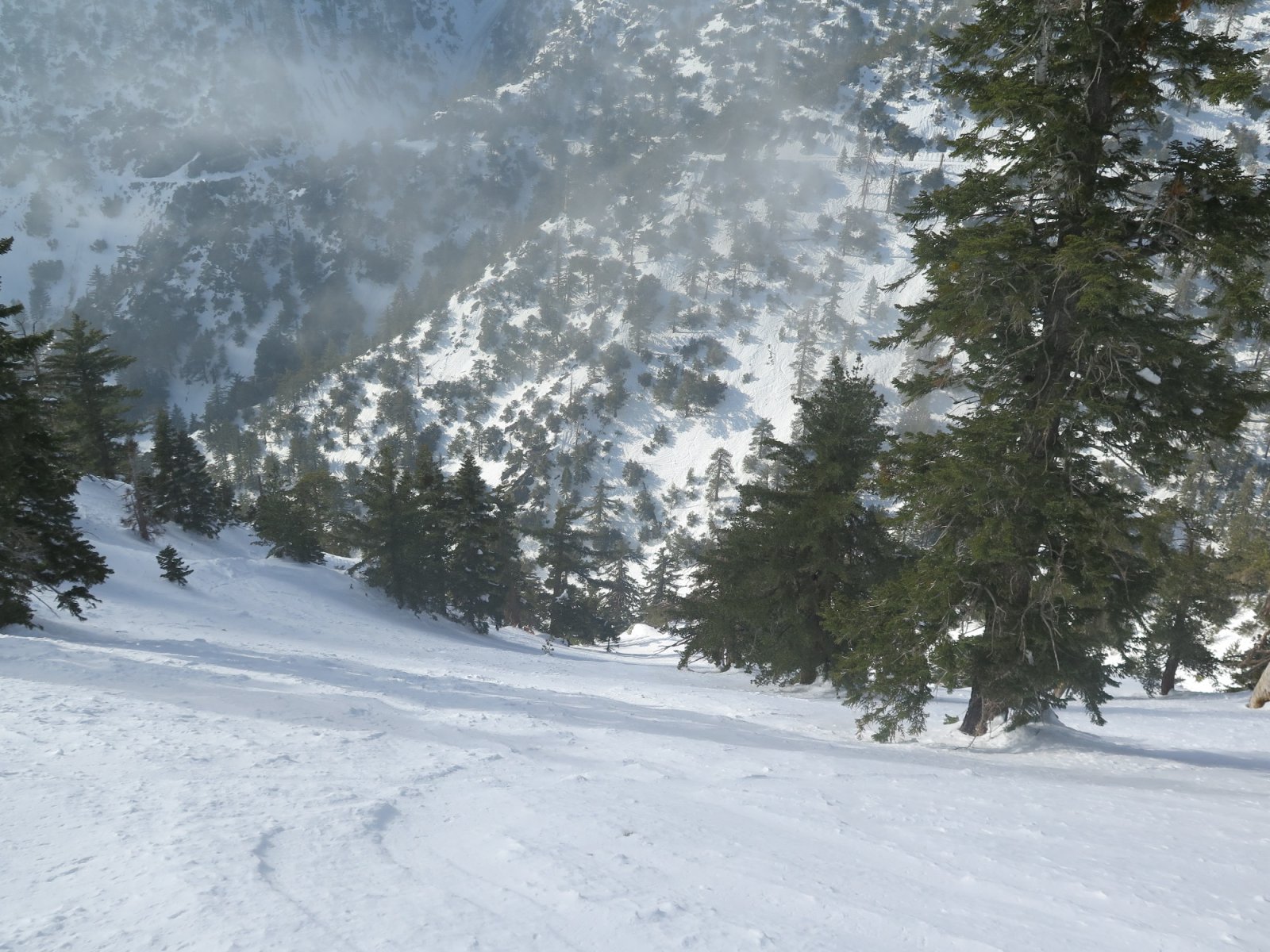 The reason Psych Out is out of bounds is this lower choke point.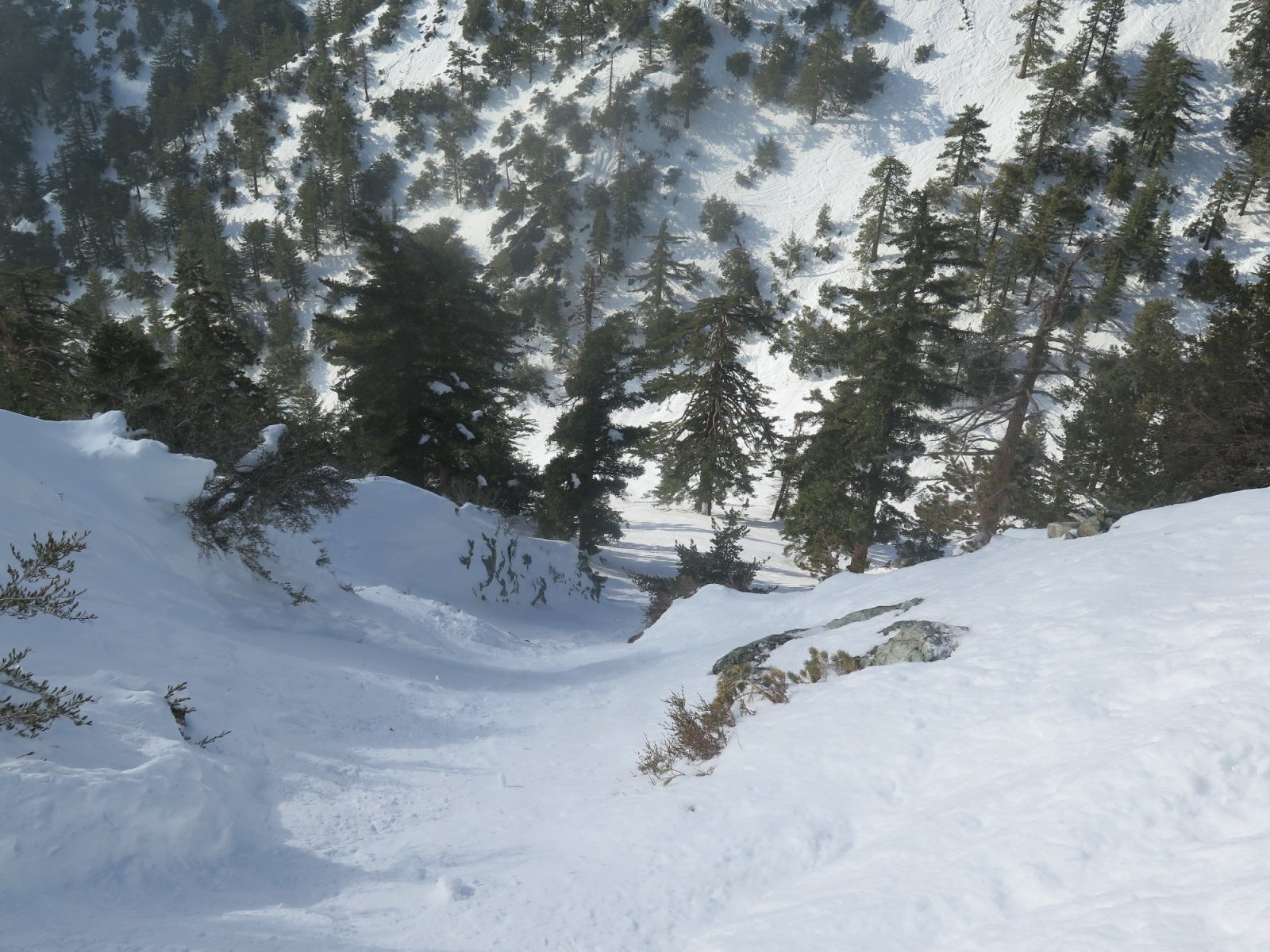 It's steeper than it looks in the pic, and there are times the bowl will have snow and the choke will not.
I finished with 26,200 vertical, almost as much as last Monday and Friday combined. As I suspected then, Baldy is skiing much better now than when snow was new. This was my best day at Baldy since the one with jojo_obrien Feb. 28, 2010.
Last edited: