Administrator
Staff member
James has used Google route mapping on some of his Euro trips and suggested that I create some after the pandemic road trips of the 2020-21 ski season.
I have had quite a few extensive road trips over the past decade+, and these types of trips were very rare before I retired.
In Sept. 1971 and June 1972 I drove cross country to college with classmates who had their own cars at home in summer but at college during the school year. Both of these were point A to point B trips with zero tourist stops, 4 days in 1971 and 59 hours in 1972. The latter trip was intended to be straight through with 3 drivers but a massive thunderstorm in Oklahoma made an overnight stop there a wise move.
From then until retirement I only drove farther than Oregon or Utah 3 times.
1) In Jan. 1990 I drove with my friend Richard and 3 of our kids to Steamboat and Vail for 10 days total.
2) In July 1995 our family rented a motorhome for two weeks and drove to Yellowstone and Grand Teton National Parks. This trip started with a July 15 ski day at Mammoth.
2) For Adam's spring break in 2001 we drove to Crested Butte, skiing Arizona Snowbowl, Wolf Creek and Monarch on the way.
While working my ski vacations were rarely more than one week at a time. Occasional longer summer vacations tended to be beyond drive distance.
So now for the retirement road trips: I'm posting screen shots here, but also linked online maps (click on date) which are zoomable and scrollable to see more detail.
March 30 - April 14, 2011
was to an Epic Ski Gathering in Summit County Colorado.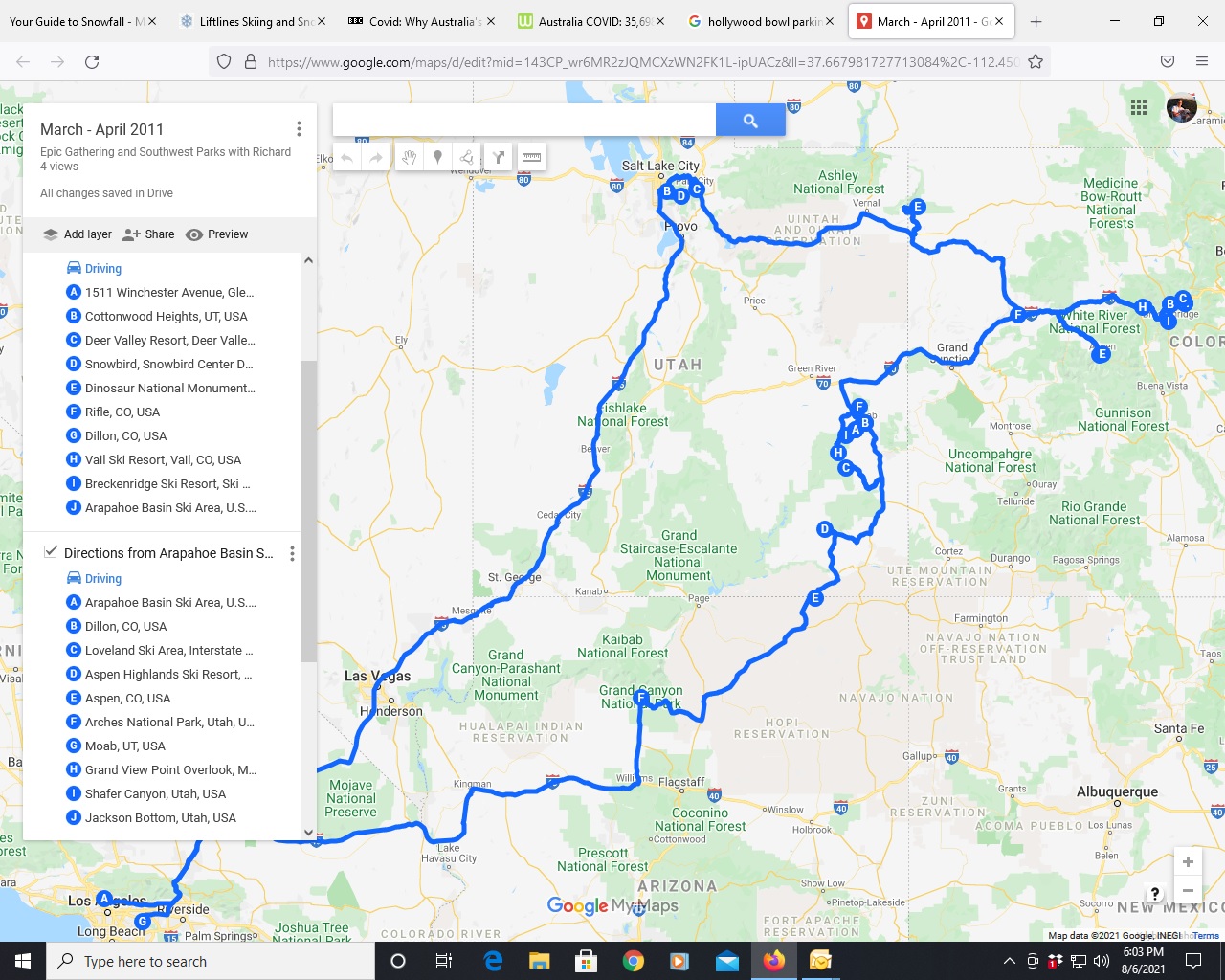 My Porsche Cayenne was brand new then and my friend Richard went with me. We visited admin and skied Deer Valley and Snowbird with him and rfarren on the way to Colorado. After skiing Vail, Breck, A-Basin, Loveland and Aspen Highlands, we drove home via Arches, Canyonlands, Natural Bridges, Monument Valley and the Grand Canyon. Total 3,100 miles, longest day 685, longest 2 day 930. Other trips below were in the Cayenne unless mentioned otherwise.
January 11 - February 13, 2012
was to snowcat skiing at Mustang and Baldface, followed by NASJA events hosted by Red Mt., Whitewater and Schweitzer.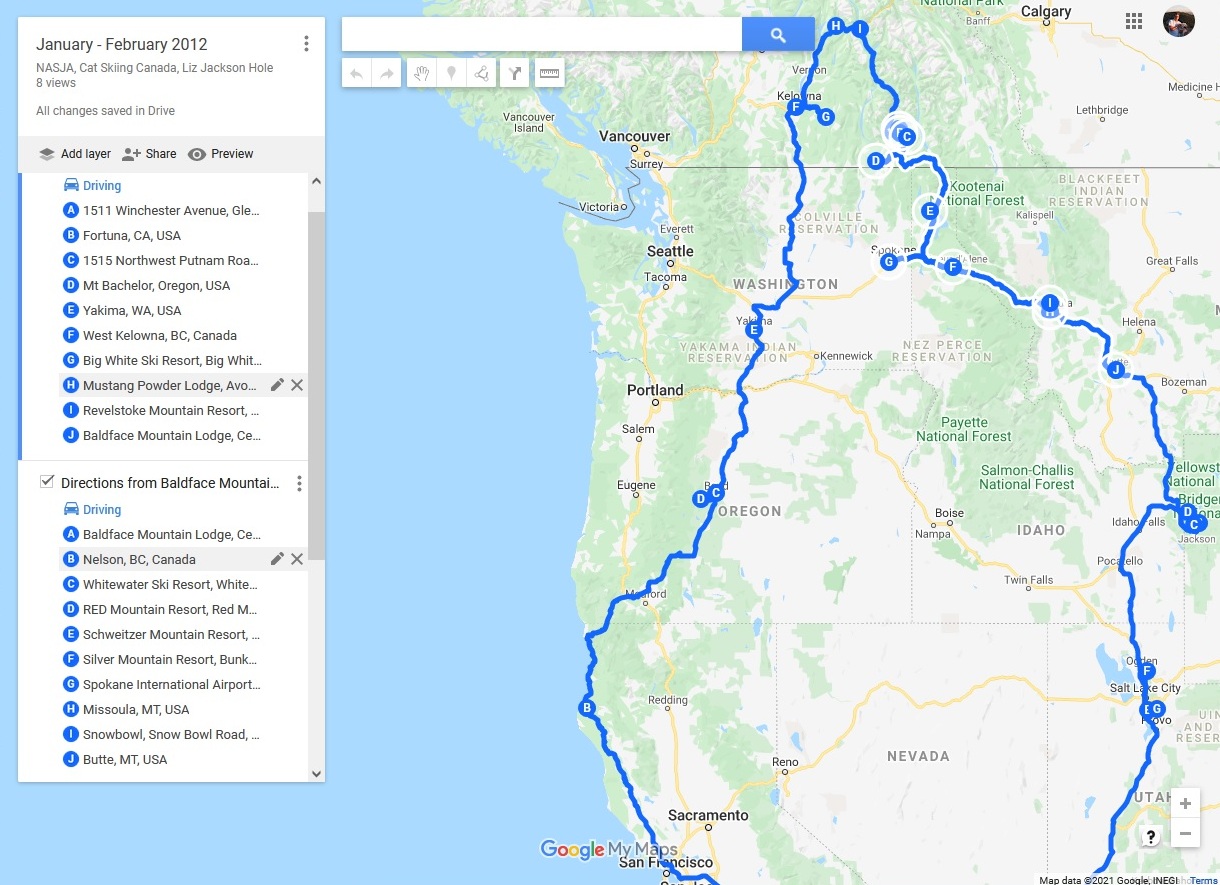 I visited Andrew in Eureka and skied Mt. Bachelor and Big White before the cat skiing. I skied Silver Mt. and Montana Snowbowl on the way to meeting Liz in Jackson Hole. We skied Targhee, Snowbasin and Alta before she flew back to NYC and I drove home. Total 4,700 miles, longest day 685, longest 2 day 977.
February 14 - March 16, 2013
started with Liz spending a week at Sun Valley with the Diamond Dogs ski club.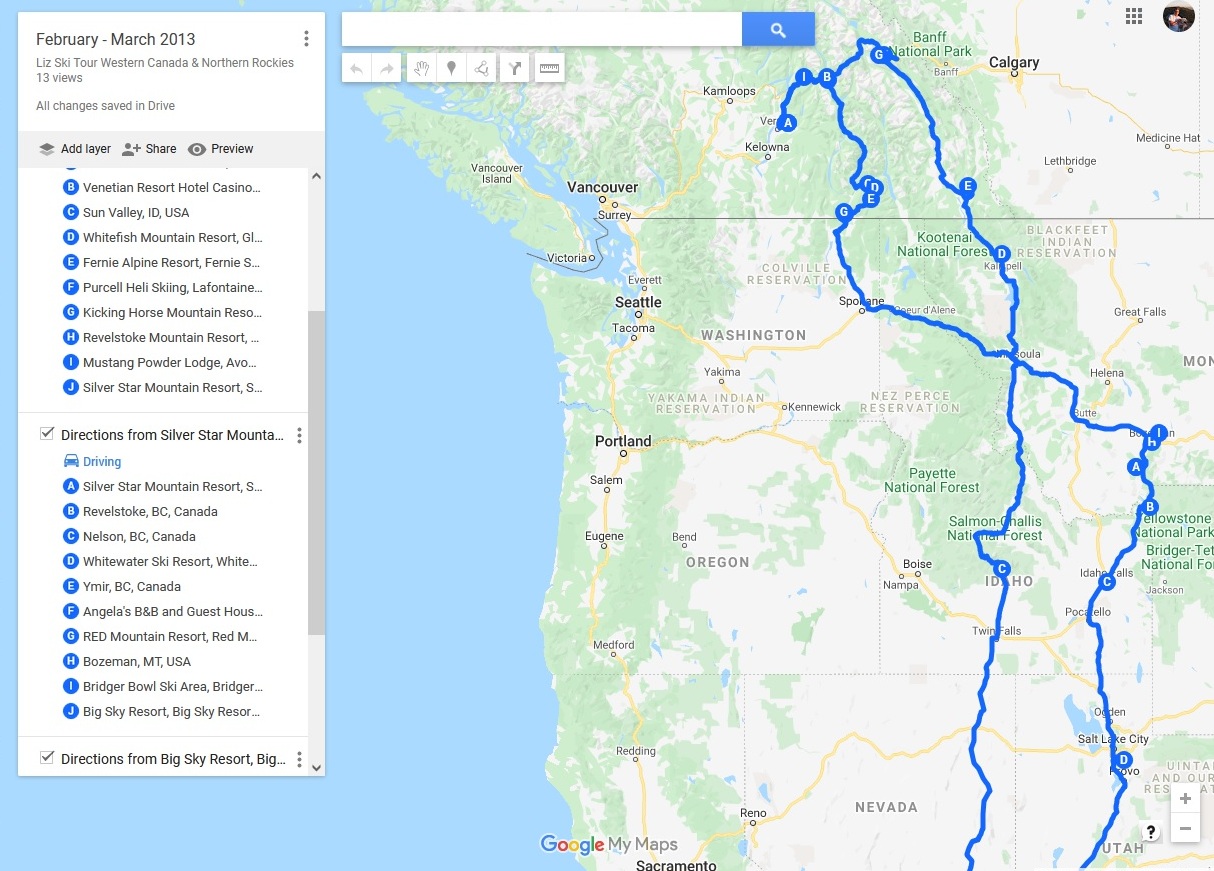 I drove to Sun Valley, then took Liz to 13 new ski areas in Canada and Montana, ending with my week at Iron Blosam. Total 5,500 miles, longest day 685, longest 2 day 849.
October 15 - November 1, 2014
was to the Solar Eclipse Conference in Cloudcroft, New Mexico.
Since 2000 these events have been held in varied locations during years when there is no total solar eclipse. We decided to drive so we could check out Big Bend and Carlsbad first. On the way home we visited Liz' friends outside Albuquerque and some spots along I-40 on the way home. Total 3,500 miles, longest day 361, longest 2 day 650.
July 14 - August 3, 2018
was a cross country drive home from Alexandria, Virginia after Liz' brother Rob passed away.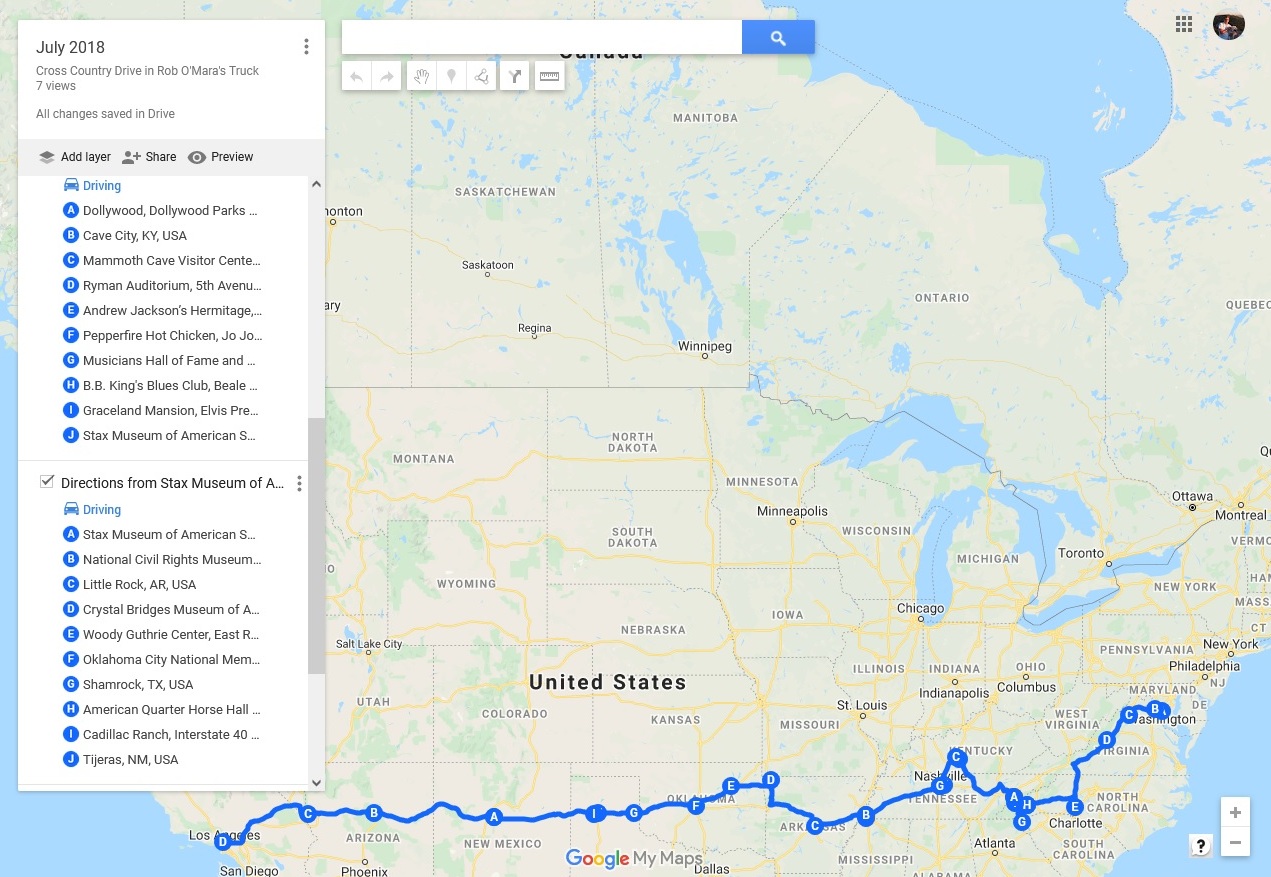 We first spent a week in Waynesville, NC, Liz' mother's last summer there before staying in Florida full time. While there we daytripped to the Chattooga River. The trip was in Rob's 1993 Toyota pickup with numerous tourist stops, particularly in Tennessee, where neither Liz nor I had been before. Total 3,700 miles, longest day 517, longest 2 day 802.
March 8-29, 2019
was an extensive tour of Southwest ski areas after Iron Blosam week.
Total 3,300 miles, longest day 685, longest 2 day 757.
May 29 - June 9, 2020
was a cross country drive to Florida because Liz was there for an indefinite period of time caring for her mother.
I went through Colorado and got in a last ski day at A-Basin thanks to friend and passholder Paul. I also visited my college friend Harold in Wichita and then admin in his RV at Lake of the Ozarks. This was in the 2019 Tesla, and totaled 3,260 miles, longest day 740, longest 2 day 1224.
August 28 - September 14, 2020
was our return home after Liz arranged in-home caretakers for her mother.
The circuitous route was due to visiting friends in Chicago and Wisconsin with an extension to Lake Superior. We visited more friends in Colorado and several parks in Utah. Total 5,009 miles in the Tesla, longest day 554, separate 2 day totals of 1059 and 961.
January 26 - February 11, 2021
was the start of extensive travel to low key ski areas to minimize pandemic crowd exposure.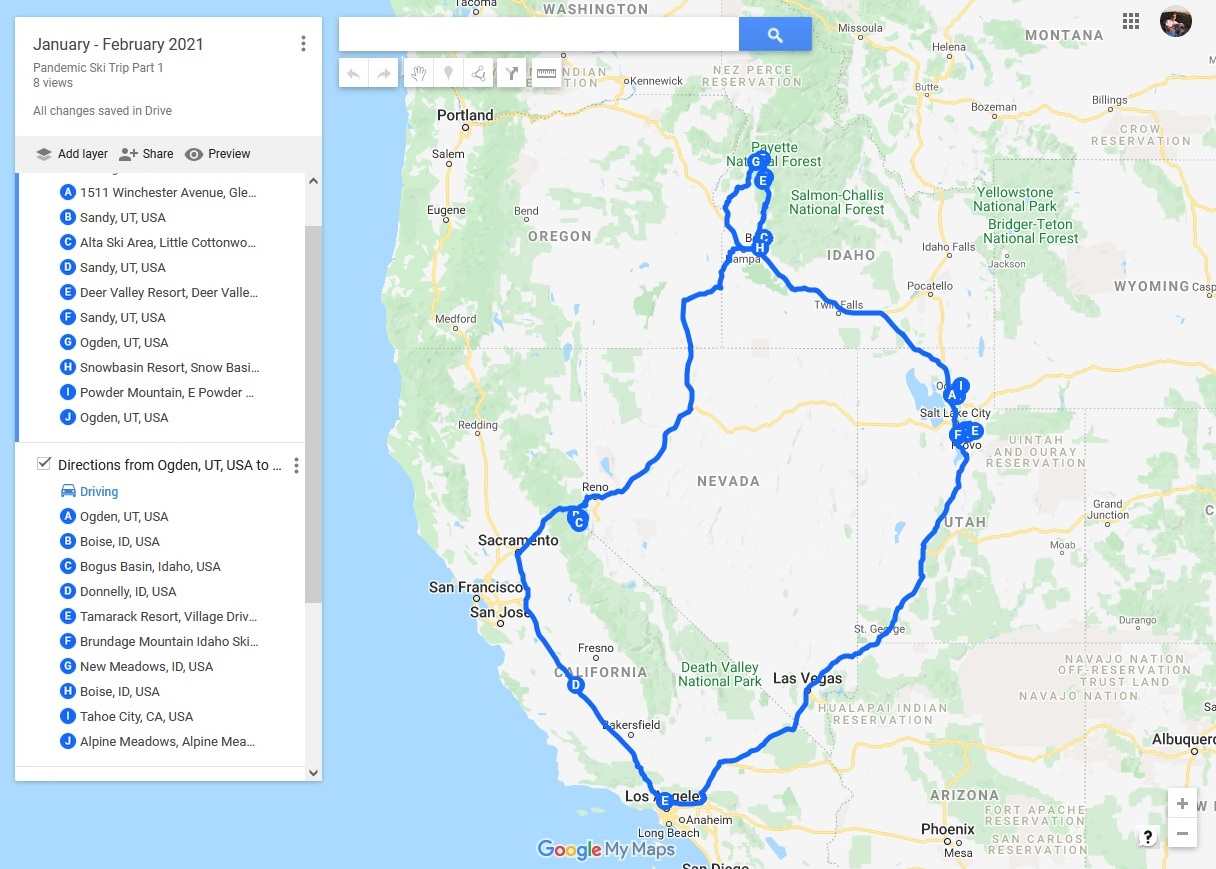 Liz' mother passed away while we were at a NASJA event in Ogden. Therefore she flew to Florida from Boise while I returned home via Tahoe. Total 2,400 miles, longest day 685, no later 2-day longer than that.
February 19 - March 14, 2021
completed the pandemic ski trip.
I skied Mt. Ashland on the way to my friends in Yakima, where Liz flew in. She had skied 10 new areas by the time we ended up at our Iron Blosam week. Total 4,300 miles, longest day 633, longest 2 day 893.
July 3-21, 2021
was a cross country drive in Liz' mother's 2004 Hyundai Santa Fe, which we are keeping as a third car, replacing my 1995 Nissan Maxima with 290K miles.
This trip started with an 8 hour all night drive to Pensacola, because we were transporting furniture on the roof to Liz' friends in New Orleans and had a short window between rains that had been hitting central Florida in daytime for a week. We got a much needed rest in Orange Beach, Alabama over July 4, before visiting the music venues at the opposite end of the state in Muscle Shoals. We visited friends in New Orleans, Austin and Dallas and my cousin in Phoenix. Tourist stops included Vicksburg, the Johnson Space Center and Tombstone. Total 4,300 miles, longest day 640, longest 2 day 1165.
I would be surprised if we do another cross country road trip. I expect a Southwest Tesla road trip to the October 2023 annular eclipse. It would not surprise me to see another road trip to Canada, linking the cat skiing there to Iron Blosam week via interior Northwest ski areas.