Administrator
Staff member
James moved south after skiing Puy St. Vincent but Liz and I remained in Serre Chevalier for one more ski day and a total of 4 nights at the Grand Aigle Hotel. We were on the half board plan there and the breakfast and dinners were excellent. James joined us Monday night, when we had the raclette.
Grand Aigle also had a nice spa, but it was small and had to be reserved, so we had it after dinner two nights and après ski only on Wednesday.
Grand Aigle is true ski-in ski-out in the small settlement of Bez under the Pontillas gondola.
But this slow gondola stops about 100 vertical below the Cote Chevalier chair base where I took the pic above. So to start the day you must ski the 1,300 vertical Bez run and not far above the hotel take the Route Frejus cutoff to the Frejus gondola or Casse de Boeuf chair. At the end of the day the ski-in is easy coming down from Cote Chevalier or Vallons.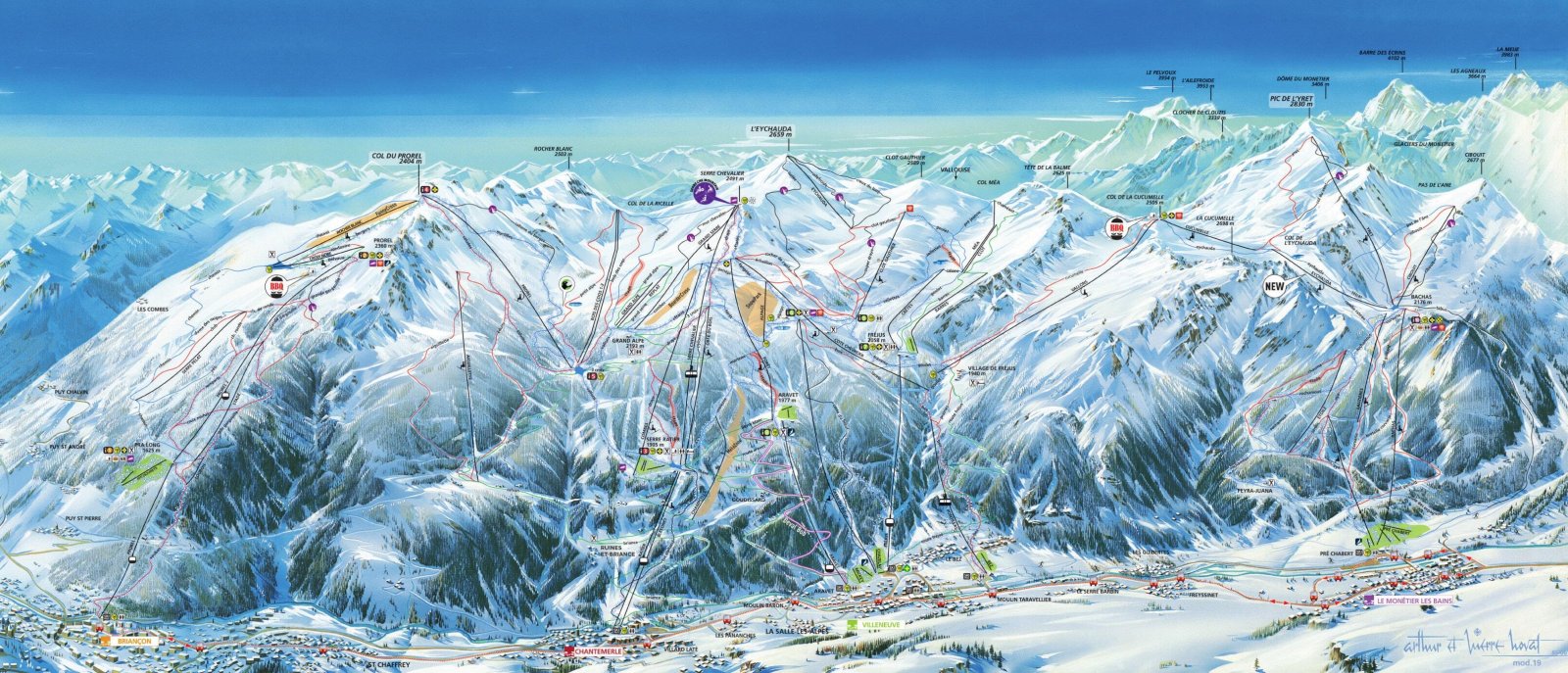 Neither of us mentioned in our prior report that the wind came up Monday afternoon, most evidently in our face skiing high NW facing runs like Goulet from Cote Gauthier and especially the long Eychauda run leading to Bachus. There was some wind Wednesday in the same places as Monday but not as strong.
Wednesday was warmer, perhaps reaching the mid-30's F. I forgot to bring a mid layer but didn't need it with the yellow jacket Liz found for me in Val Thorens last spring.
It was now a week since the storm we enjoyed in Via Lattea. Serre Chevalier had reported 7 inches, but the area is so wide that it was probably double that in its eastern side. At any rate, a week later we prioritized the higher alpine areas.
Unfortunately the Eychauda poma (pic below is from Sunday) was closed due to a race being held on the Clot Gauthier run adjacent to the poma base.
I curled around under the Cote Gauthier lift and found that the wind had stiffened the snow and created some sastrugi near the top. Lower down on the ungroomed Super Draye run Liz found softer snow, especially in depressions where wind had blown in some loose snow.
While we were disappointed to see that poma closed, it's possible much of the snow up there had been degraded by the wind. One of Serre Chevalier's strengths is that it is fairly easy to explore its alpine sectors without a guide. There are not a lot of cliffs or blind terrain traps so you can scout lines you want to ski while riding the lifts.
After the one Cote Gauthier lap we skied Goulet into the alpine sector above Frejus.
This view is across the valley where there is a narrow zigzag trail climbing up, perhaps used for avalanche control on the steeper backside.
Adventurous skiers could skin up that track to ski the couloir.
The Frejus alpine is quite mellow terrain with good snow and you can run laps in there off 3 surface lifts, of which we used the highest one Mea. Coming from Gauthier you can drop off Goulet early and ski towards Sellettes. This is wide open low angle off piste that would be great in powder.
We moved on to Vallons (pic is from Monday).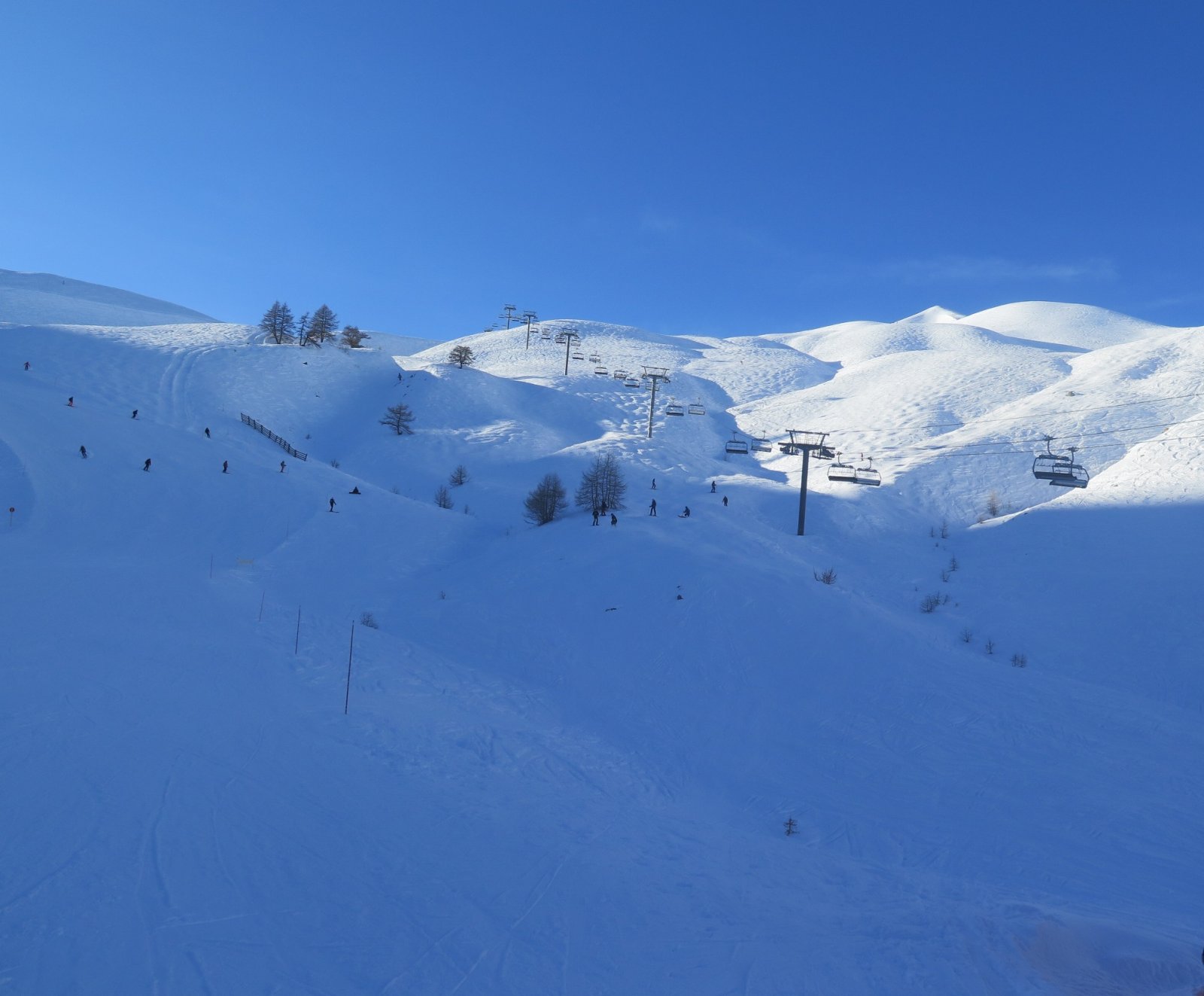 It was midday so those gullies were illuminated and had quite a bit of blown in snow so we took a lap. View down after emerging from gullies:
We moved on and skied a long run down Eychauda and past Bachus to the Monetier base.
This area is all Larch forest and is
touted by Fraser as the prime area at Serre Chevalier on storm days
. Fraser is referring to visibility/orientation on-piste, but like the sector Julien showed us Sunday, Monetier has similar tree skiing,
recommended by Powderhounds as the best tree skiing in Europe
. Serre Chevalier's mix of quality ski terrain both above and below tree line is quite rare in my extensive experience.
We came back up to the Cibouit chair.
This is some more enticing terrain for powder days.
We went the other way for more north facing sheltered snow.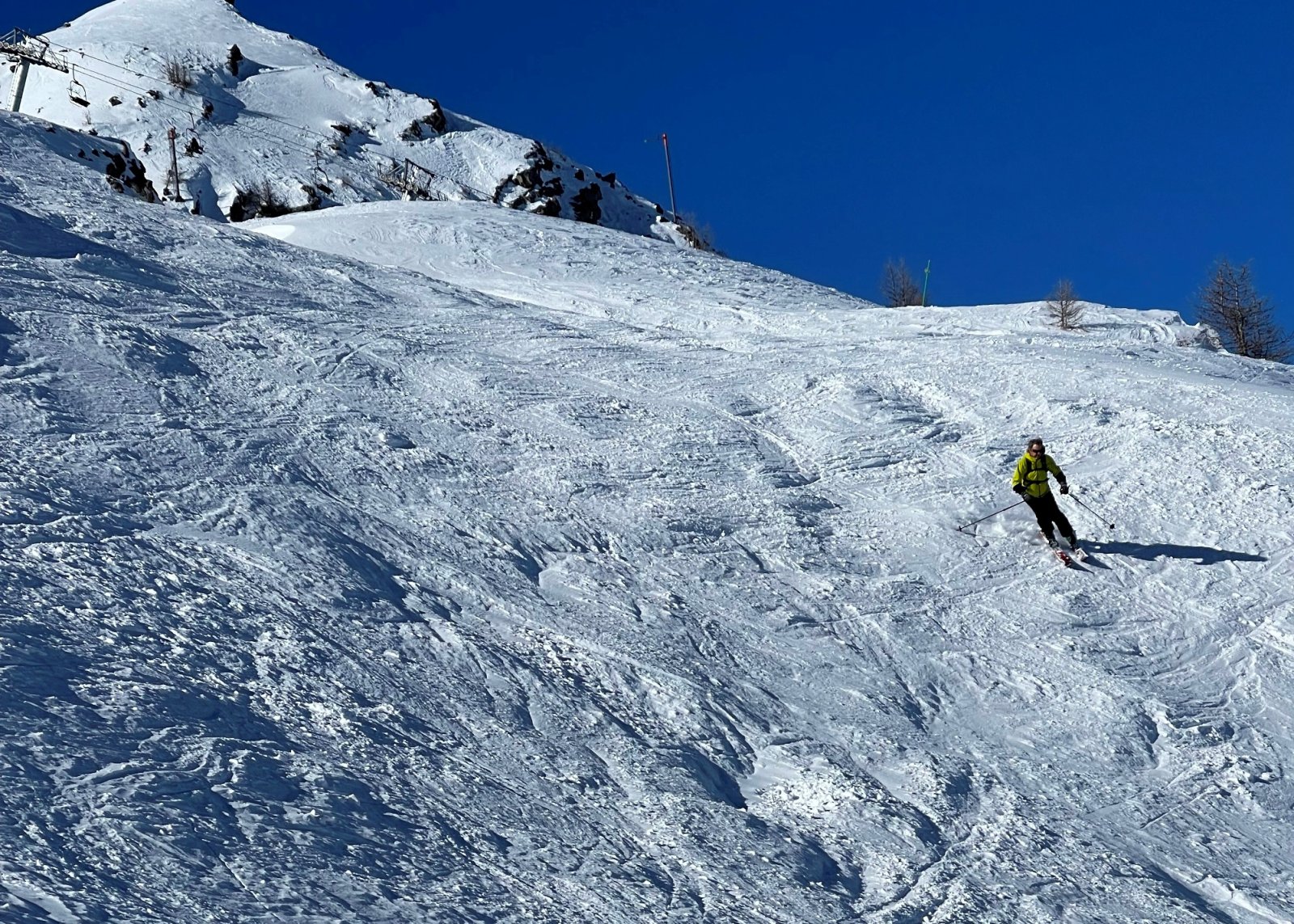 We moved on to Yret, the lift in profile behind Liz here.
This was one of the 5 lifts closed during French general strike Tuesday when we skied Puy St. Vincent with James.
Riding Yret we get a good view of its steep front face I'm going to ski next.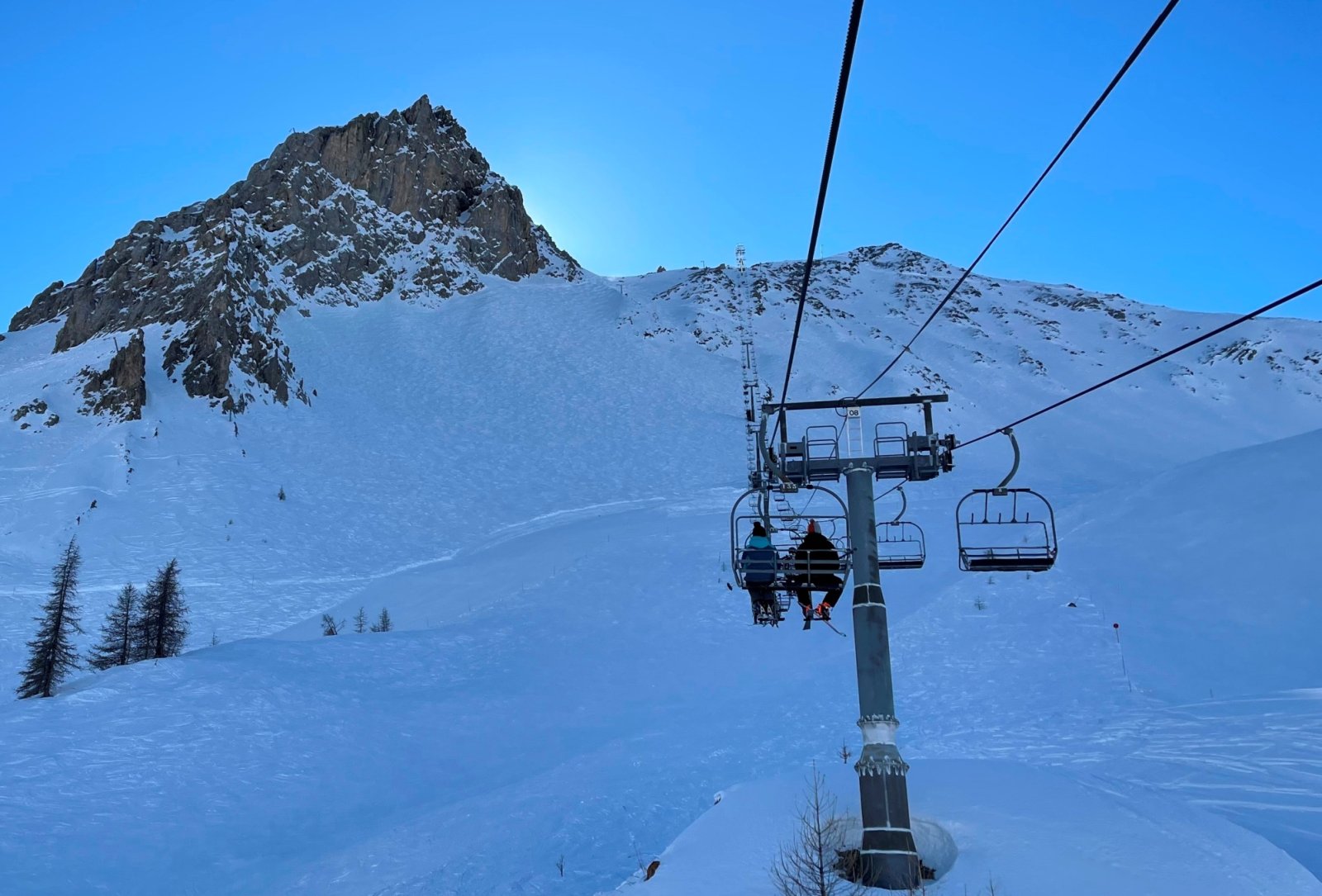 Liz split off the other way and skied another Vallons run on the way back to Grand Aigle.
View down the off piste under Yret: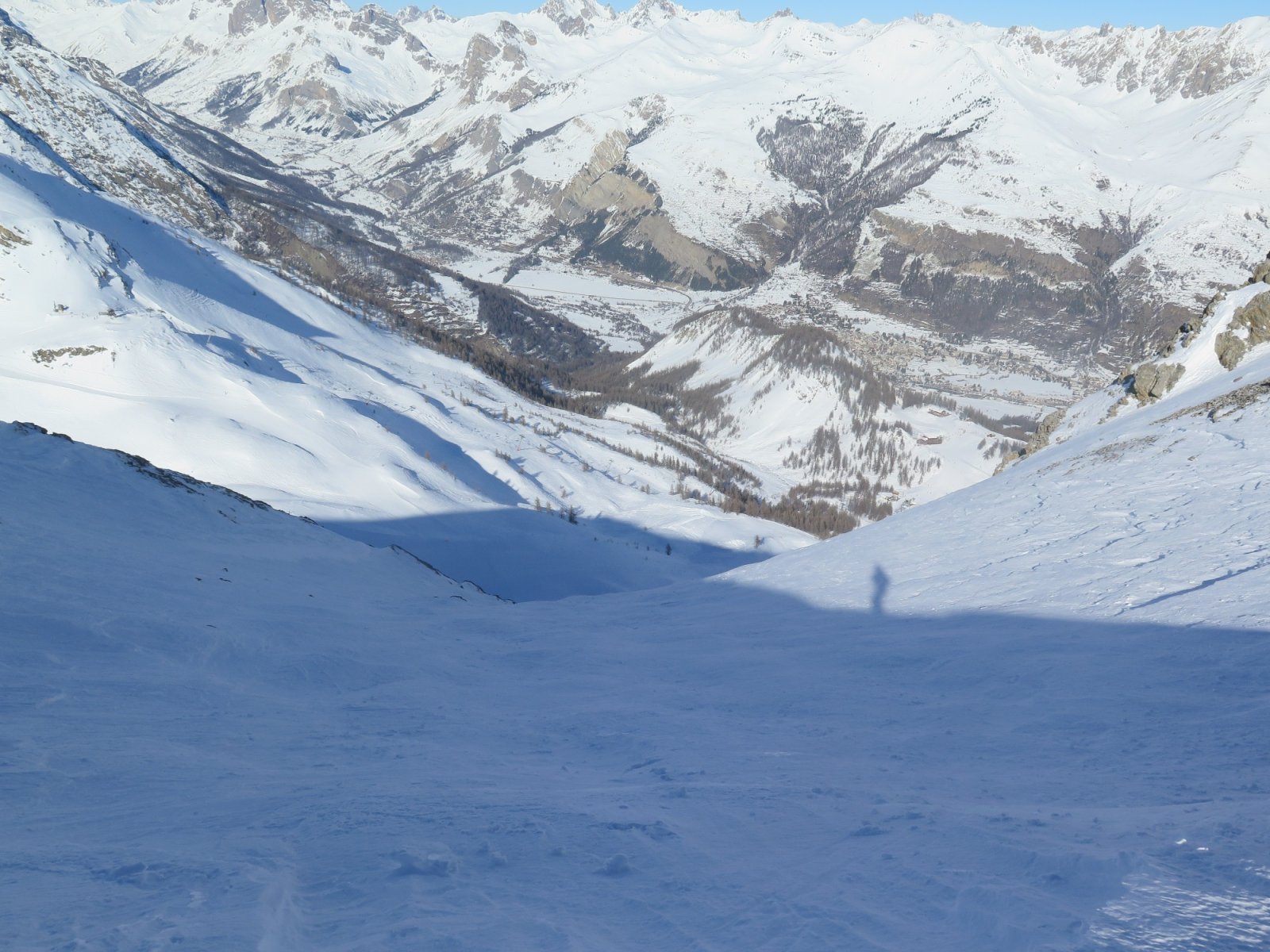 The skiing was more difficult that it looks from this pic. The snow was not uniformly smooth so I had to pick my spots to make turns in a consistent 35 degree fall line.
I returned to the same area but skied the other way on Col de Vent.
Col de Vent was not groomed but here the wind had been beneficial so it had butter smooth windbuff top to bottom.
After skiing Vallons' deepest gully I returned to Cote Gauthier hoping the poma would open after the racing but it did not. I skied Super Draye and the Selletes off piste before returning to the Grand Aigle for our 4PM spa appointment.
At Serre Chevalier I skied 19,400 vertical Sunday, 21,800 Monday and 27,100 Wednesday.
Last edited: