Administrator
Staff member
We thought the final two months of Liz' 12 month season would be easy. We are in Norway and the ski area Galdhøpiggen is on a glacier on Scandinavia's highest peak between 6,070 and 7,200 feet and normally open May-October. But we found that it closed Aug. 14. This was not due to the scorching summer that closed all but Hintertux among the Alps' summer areas. Most of Norway's summer was cool and rainy, but it was a sparse winter so last year's snow melted down to the glacial ice, which even the racers deemed unsuitable at both Galdhøpiggen and Fonna, another ski area near Bergen.
Not only was there no lift served skiing open, it was hard to find anyone who would rent us skis. After much research we found Ice Troll, a company that runs guided glacier walks on the well known Nigard Glacier and the higher and more remote Austdal Glacier. Both of these are fingers flowing out of the Jostedal Glacier, the largest in Continental Europe. Austdal is accessible only via a 6km boat ride across Styggevatnet, a lake which was frozen over until July 8.
Ice Troll agreed to rent us AT skis, which is all they had so Liz had to rent AT boots with tech interface also. My Lange XT3's have tech interface.
The "EL" is not Spanish. All electric vehicles in Norway have E as the first letter in the license plate. As of now that's about a quarter of cars on the road and 86% of new car sales.
Ice Troll took us across the lake with the morning tour group and left us there to do our skiing until they came back with the afternoon tour that we joined.
Here's where the boat dropped us off.
Here the Austdal Glacier meets the lake, leaving some ice caves and occasionally calving icebergs off that 100 foot wall.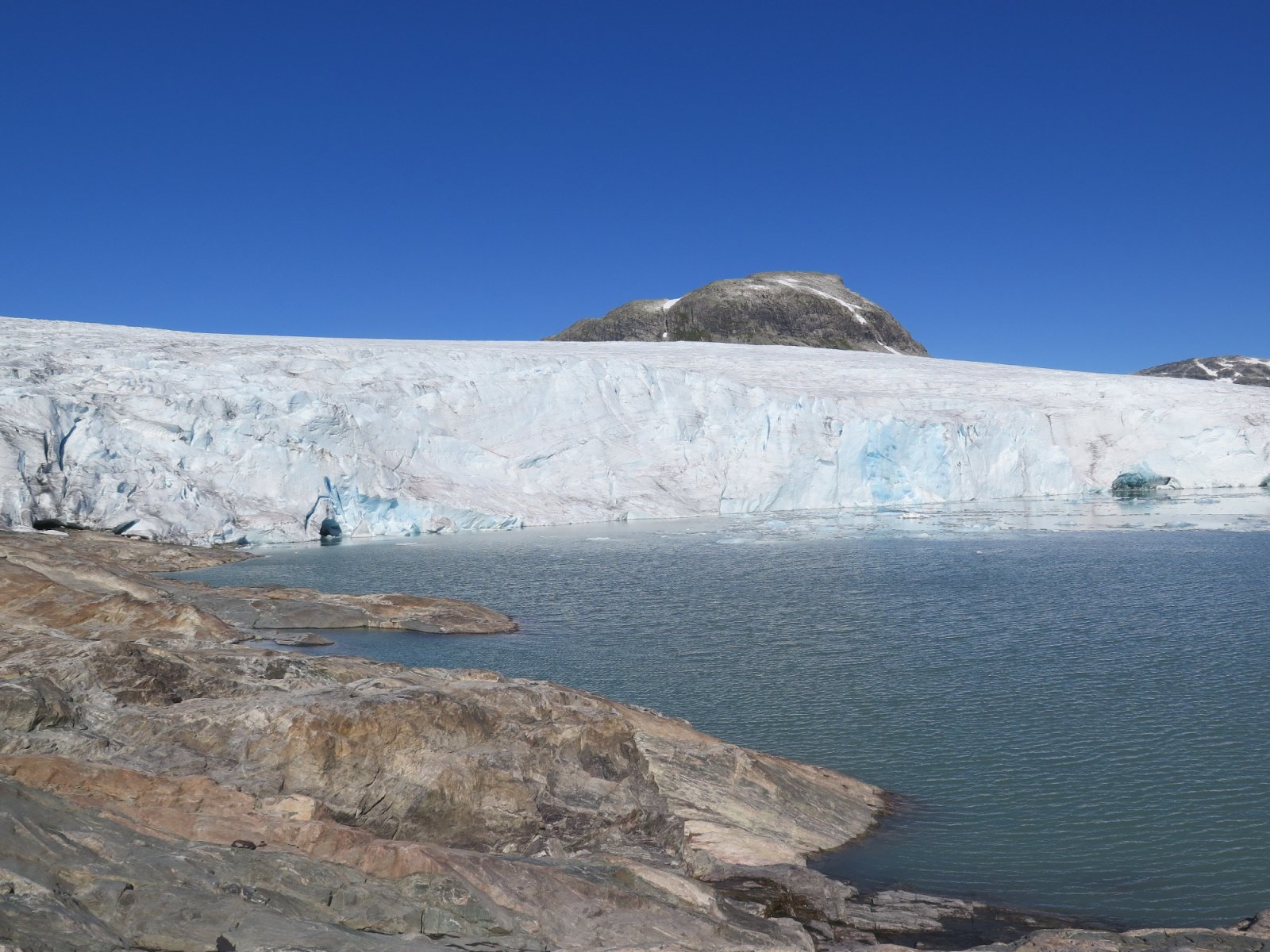 I'm hiking up from the boat landing with a few of those icebergs in the background.
Liz and I are suited up and ready to start our hike.
We hiked up along the looker's far left edge of the glacier.
The red line follows the boundary between remaining snow along the edge and the glacial ice. Yes there's a wide line of snow higher up but it was heavily suncupped and there was crevassed ice between that and what we skied.
We have to start hiking on gravel because the boundary ice looks too thin near the bottom.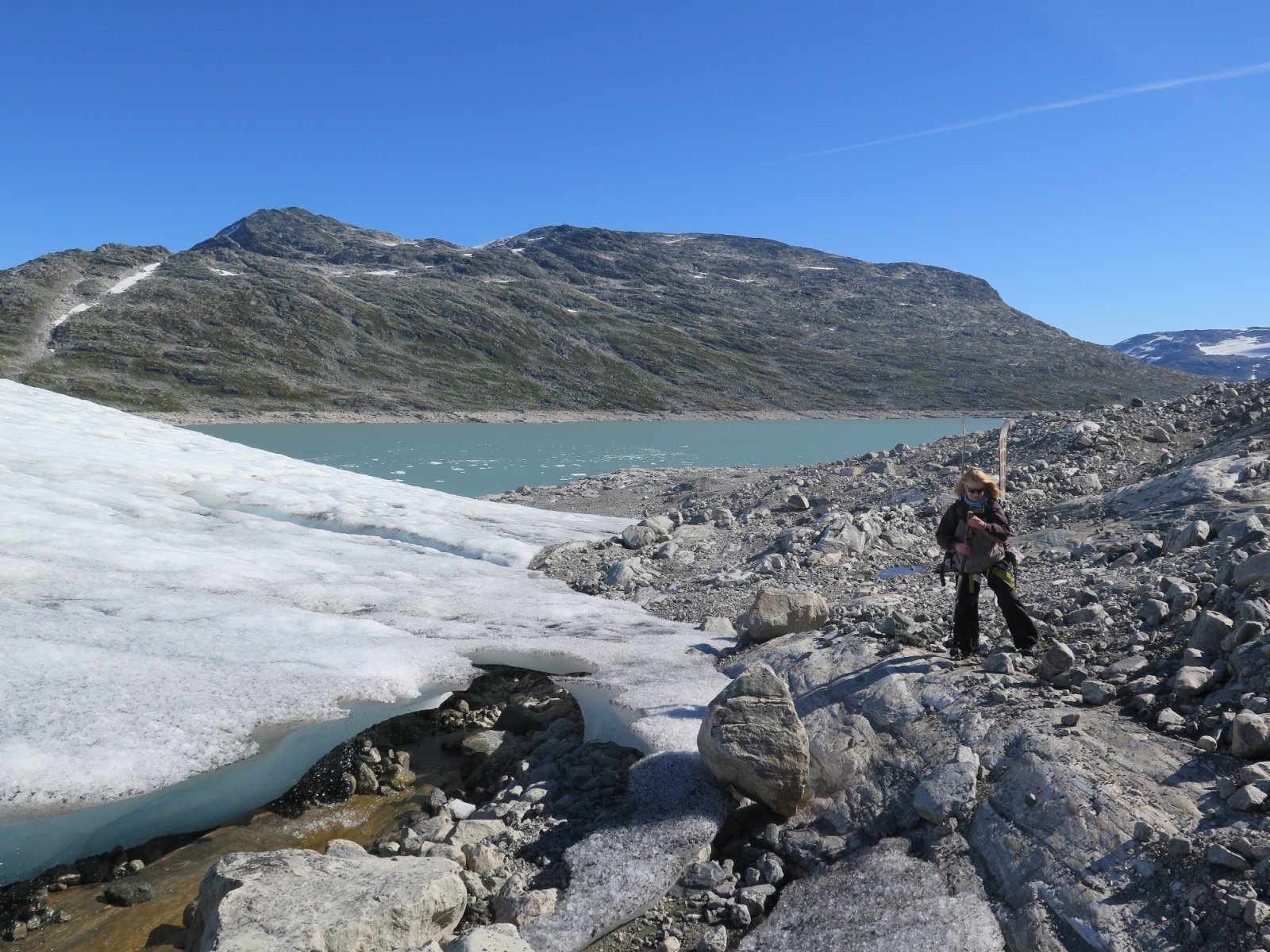 There were a couple of sections where the ice was still adhering to the rock so it was easier to hike on the ice with the crampons supplied by Ice Troll.
Finally we can start hiking in snow.
Higher up the snow widens considerably.
Liz settled on this rock to switch to ski mode while I went a little higher to a larger rock that had a boulder for me to sit on as well.
It took about an hour to get here, and it's now 1:45PM. The snow consistency was good, soft but supportable. The suncups were the main impediment but they were not too deep and I have skied much worse.
Liz skied the wide part first.
I followed.
Liz' changing rock is behind me in the first pic above and mine is off to the left from there.
We then skied the narrower lower section.
Liz skied 190 vertical feet. There was a short snow patch lower down but I had to go out onto the glacial ice for a couple of turns to get to it. That bought me up to 250 vertical. The gravel and boulder downclimb from there in AT boots was tedious. In retrospect it would have been easier to ski about half that distance on the ice. However Liz wanted no part of that and I didn't want us to get too separated.
We got down about 2:45PM safely and with mission accomplished. We had some snacks and waited for the afternoon tour group that arrived at 3:30PM.
Last edited: