Although these two have been linked for years, this Interconnect would formalize the relationship.
Growing up, my family would join a large group from the Triple Cities NY to travel to Smugglers' Notch for a week in February. It's really the first 'big mountain' I skied - loved the place and its glades, twisty trails, and vertical. (An earlier trip to Killington does not really count since I was on the Snowshed slopes the entire time).
You could ski over to Stowe (Spruce Peak) from Smugglers' Sterling Mountain for either a run or a full day by purchasing a single-ride ticket for the Big Spruce or a day ticket. See connector trails 14 and 15 on the Smugglers' Trail Map below.
Stowe/Smugglers' Notch would ski larger than Killington (maybe not stat-wise) and be fully linked since Stowe now has a gondola linking Spruce Peak to Mansfield. Sometimes I think it is too bad that Sugarbush never got to develop the Slide Brook area between Lincoln Peak/South and Mt. Ellen/North. You can still see the old potential lifeline from Mt. Ellen to Mad River River Glen.
Smugglers' Notch Trail Map - 1979
.
Here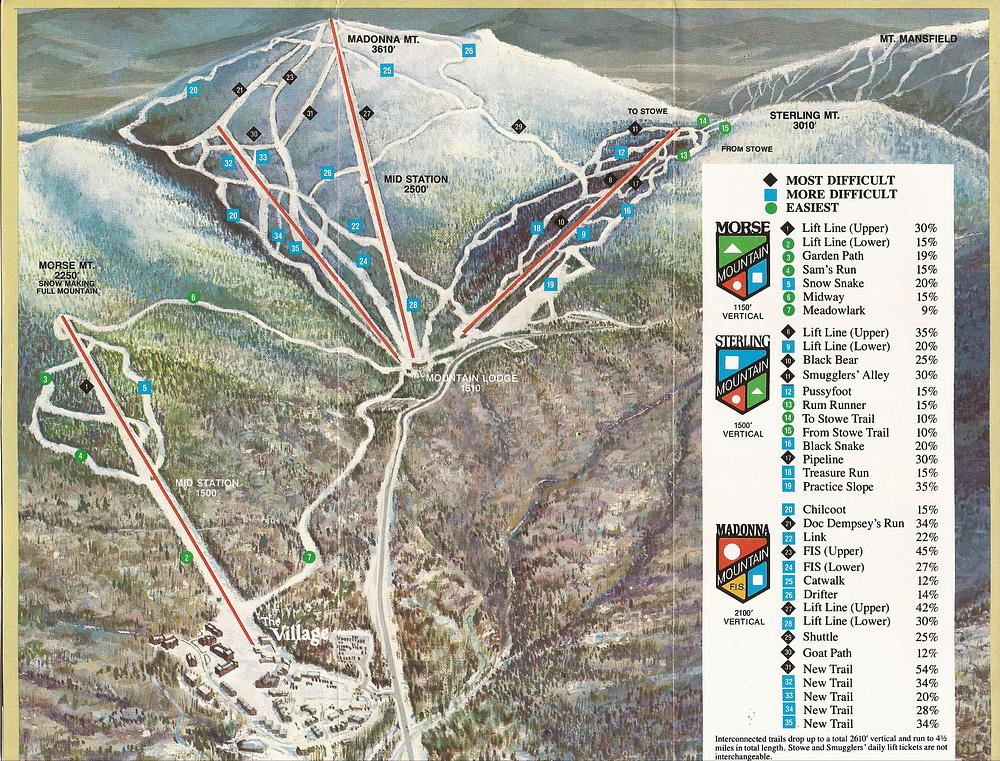 Peter Landsman
Jun 1

Two of Vermont's largest ski resorts could be connected by gondola under a plan uncovered by the Morrisville News and Citizen. Stowe Mountain Resort parent Vail Resorts and longtime Smugglers' Notch owner Bill Stritlzer have reportedly been in talks for several years and sought to keep details of the project confidential. Lawyers for the State of Vermont recently determined that documents could be released under public records law.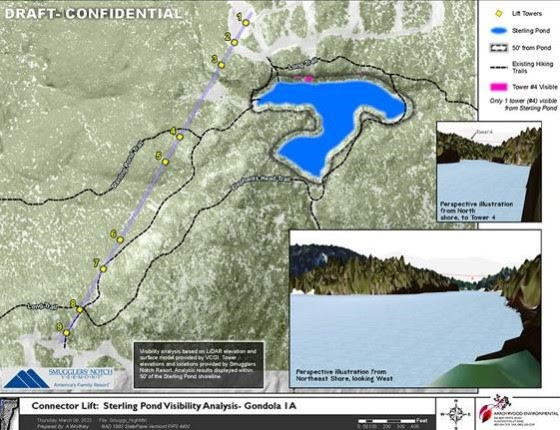 Under the proposal, a 9 tower gondola would link Spruce Peak at Stowe to Sterling Mountain at Smugglers' Notch along a relatively flat area home to an alpine pond and the Long Trail. A ride across the 2,600 foot connector lift would take just over five minutes and link two very different mountains. Vail-owned Stowe currently operates a fleet of six high-speed lifts while Hall doubles service narrow New England trails at Smuggs. One mountain accepts the hugely popular Epic Pass while the other shuns multi-mountain passes entirely and charges $85 for a day ticket. If connected, the two resorts would encompass 17 lifts and 194 trails.
The gondola would only rise about 350 vertical feet and no new ski trails would be cut between the two mountains. The lift would be designed with only 26 cabins and a modest hourly capacity of 1,200 skiers per direction. As part of the project, Smugglers' Notch would place 72 acres of private land under conservation easement and Stowe would protect 92 acres to offset the development of the gondola. A portion of the Long Trail could also be rerouted to reduce visual impacts. If approved by state regulators, the project would take two years to implement.


Two of Vermont's largest ski resorts could be connected by gondola under a plan uncovered by the Morrisville News and Citizen. Stowe Mountain Resort parent Vail Resorts and longtime Smugglers…
liftblog.com