Administrator
Staff member
Last week's storm was cold enough to snow 1-2 feet in the Southern California mountains, so 4 areas opened by today. I chose Snow Summit for several reasons:
1. The storm snowed more at Big Bear than in the closer San Gabriel Mts, the opposite of the normal pattern.
2. The other 3 areas opened Thursday or Friday, so I figured that Summit's snow would be less chewed up on its opening day.
3. Snow Summit's long established reputation of management competence in grooming and snowmaking.
This is the probably the first October opening of Southern California ski areas on record. Thus it was a very different experience from a typical day at Snow Summit.
See my report and pics from last January 10 to compare
.
Snow Summit was caught off-guard by the early storm. Its normally informative website had almost no info. The 800 number snow report said 4 lifts would run today, so I was convinced to go. Snow on the walk up to chair 1 was still in its natural state.
But the snow machines are on to try to keep core runs going in November.
Early morning grooming was up to Snow Summit's usual standards.
Chair 10 was not running but it was worth skiing for the powder, a bit heavy this far down,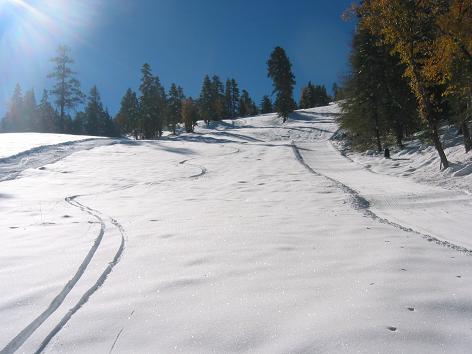 East Why was quiet enough for two powder runs.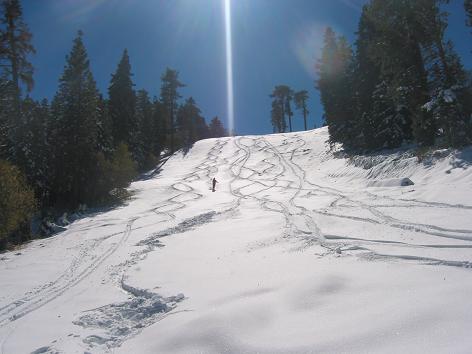 Riding chair 2.
View of San Gorgonio:
Bare spots are emerging late in the day on Log Chute.
I skied 26,000 vertical, 6K of powder, probably the best day I've ever skied at Big Bear. Nornally I'm at Baldy for SoCal powder days.
Last edited: