Administrator
Staff member
Today was completely sunny but coldest temps of the week. It was -13C at noon and we heard -20C in the early morning. I thought we better ski St. Anton with its widespread south facing terrain before the expected warmup for our last two days. As expected the snow remained powder/packed powder even down low.
The locals thought we hit a lucky week to see both sun and cold temperatures as that is not normal in the Alps. The dry cold air was coming from the east where it also generated massive "lake effect" snow from the Adriatic in Italy's Apennine mountains and an ensuing avalanche destroying a hotel.
We took the free bus to Zurs and then the new Trittkpopf/Flexen gondolas (reputedly cost $50 million) to Rauz, the western end of St. Anton's terrain. Rauz had lots of wind funneling through the Arlberg Pass. Fortunately there was not very much of it within St. Anton's ski terrain. However, it may have blown more overnight, because untracked snow high up was definitely wind affected, which we had not seen the past 3 days.
We took a warmup cruise on Ahlenmahder. From there we had a view up where a tram from Galzig was on the way to the first Valluga station.
The chute under the tram in that pic is where I skied my first run on Schindlergrat.
I thought we should get up there right away in case the wind shut the upper lifts. The Galzig tram was closed much of the day but Schindlergrat remained open. We saw 3 Gasex installations on Schindlergrat and there are probably more along the steep upper peaks, as there is fairly continuous pitch down to the bottom of the valley containing piste 55, one of St. Anton's busiest blue thoroughfares.
View from top of Schindlergrat SW toward Rauz:
View east over Schindler Kar and ski route 86.
At left you can see skiers on a step-up traverse to a saddle. That leads to the equally vast Mattun bowl and skiroute 90, which I skied with Piste-to-Powder guides in 2013.
Zoom of the lower and upper Valluga stations: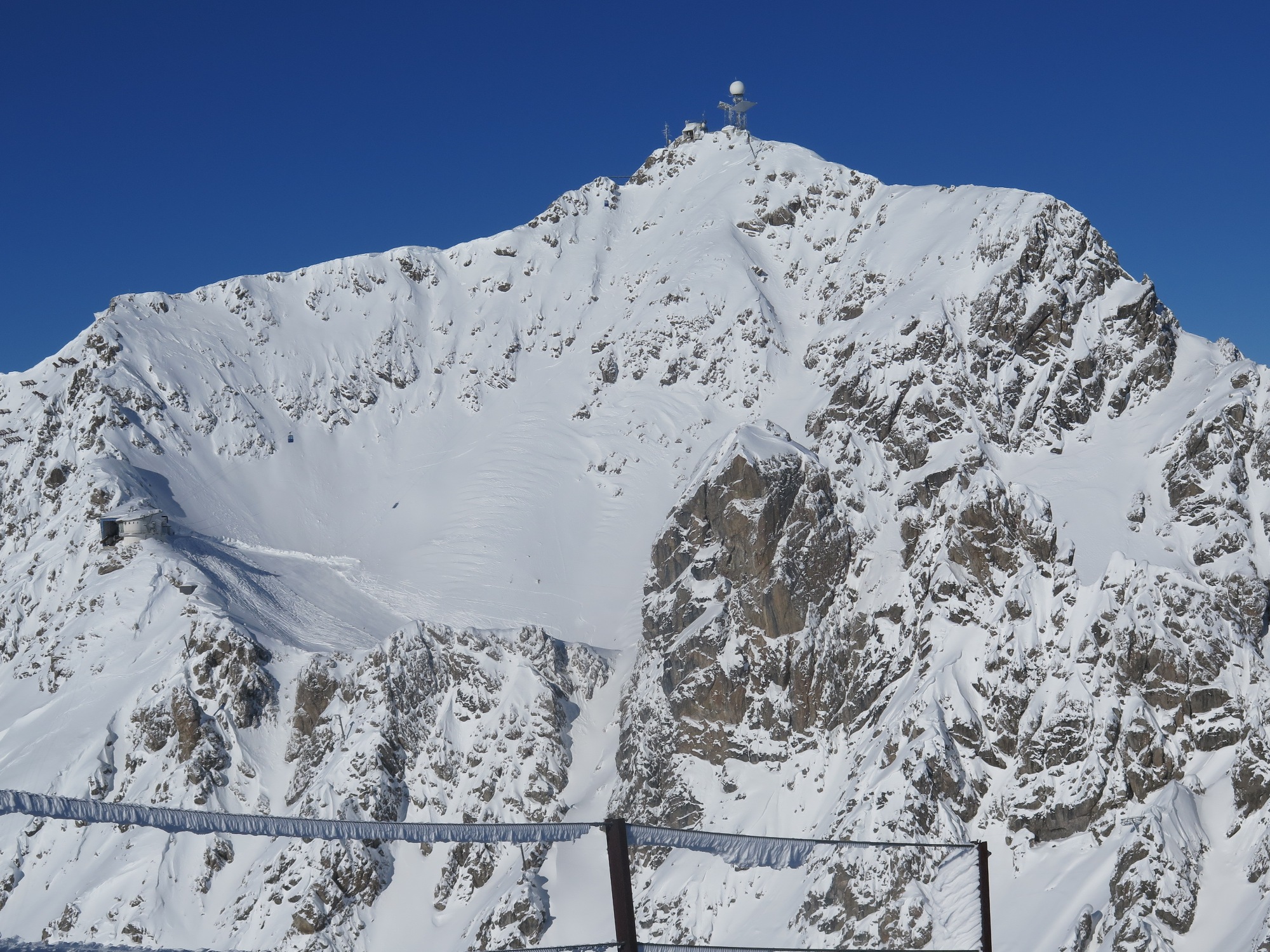 Liz skied piste 85 while I was in this chute of chalky snow reminiscent of Mammoth.
At the bottom of the chute I traversed left to some wind affected powder.
We regrouped and skied the scenic ski route 66 overlooking the Arlberg pass.
It turned left and opened up into some powder, better than what was up high.
Liz took a break so I returned to Schindlergrat and skied skiroute 86. I then traversed left looking fo some fresh lines down to the valley piste 55. It was still cold enough to see this sundog reflection at noon.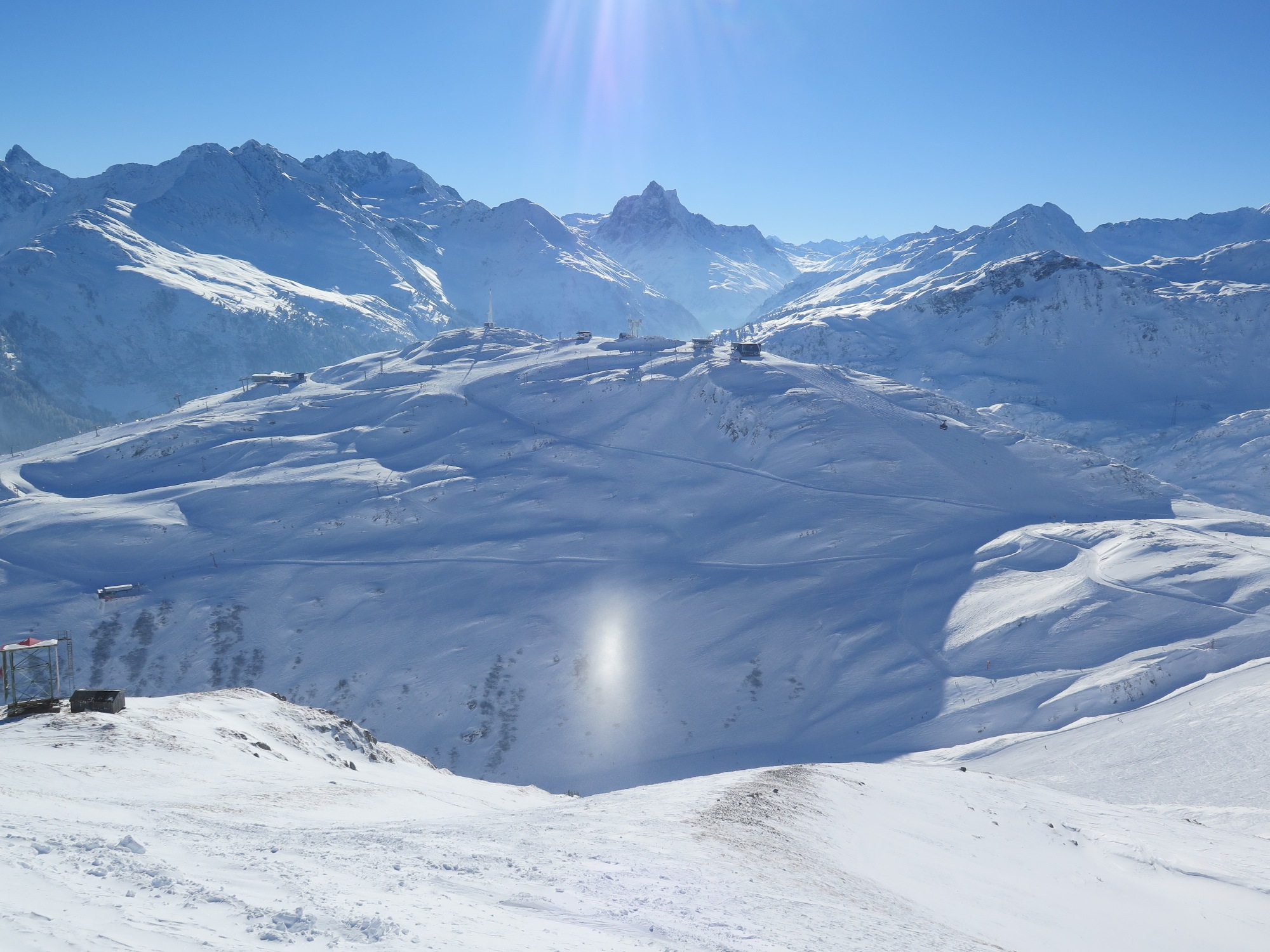 I started down this chute with a few tracks.
There was one tight spot where one of the skiers had exposed some rocks that I had to traverse above and side slip past.
The lower chute with the piste in sight was still untracked though snow was a bit heavy in the direct sun.
Riding the Zammermoos chair I got a good overview where I had skied, diagonally in the pic from upper center to lower right.
We had a snack at Galzig then skied down to St. Anton and took the gondola to Rendl. On a cold day past 3PM I wanted to be on the SW facing slopes there.
We took two long runs and there was a bit of powder leftovers here too.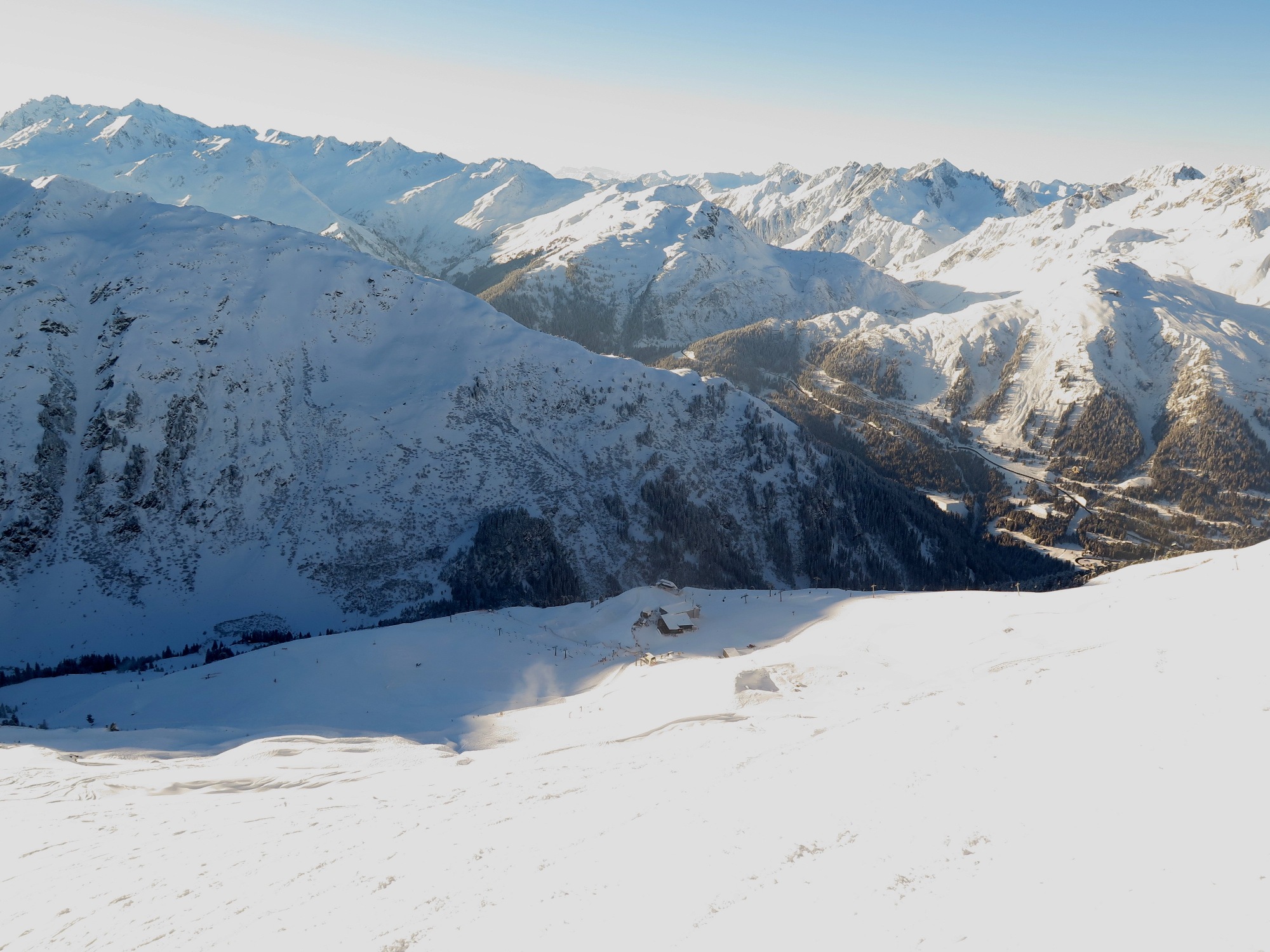 We skied back into town (my total 22,500 vertical, about 3K of powder) and then walked up to the Arlberg museum.
It describes the tough travel over the Arlberg pass, which is less than 6,000 feet but high on winter snowfall. So the first tunnel was built under it from 1880-1883. Of course there were several exhibits about the early development of alpine skiing, led by Hannes Schneider starting around 1905. Alpine skiing was rare in other regions of the world until lifts were developed in the 1930's. But in St. Anton, vacationers would come for several weeks at a time, earning all their turns and generally having two lesson runs per day, one before and one after lunch.
Then Liz and I had a drink at The Underground, one of the après-ski spots where I went after my first guided ski day in 2013.
View of Galzig gondola base and what must have been bitter cold night skiing.
We caught the 6:10 bus back to Lech.
Last edited: