Thought I would post this TR very belatedly since I am a big fan of Verbier, and had these photo albums assembled..
I have tried to ski there unsuccessfully a few times:
Early January 2015 - one day. There was maybe a bit over 100cm base which is way too low for the type of terrain. Basically, a rock fest with few if any itineraries open. Ski at your own risk. Even the advanced red runs were hurting. Meanwhile, Chamonix was highly skiable on a 150+cm base.
Early February 2016 - one day. Not much better. Maybe a 120-130 cm base. Some itineraries were open, but off-piste was not very accessible.
Returning from a work & ski trip in February 2019, I was able to stop off on my return to the USA for a Tuesday-to-Friday - catching Verbier in a storm cycle with a 200 cm base.
Verbier is an incredibly expensive place to stay - primarily because there is so little real estate, no original core village, and a high number of chalets (likely many private). Yes, Zermatt and St. Moritz have reputations for being high-end, but they sprawl down valleys and were historic towns so there is some heterogeneity of lodging at different price points. Verbier is more equivalent to the USA West Coast model of selling lots of private homes that likely sit vacant most of the year, and have inflated hotel, restaurant, and bar costs due to scarcity. Being close to banking capital Geneva helps too.
I was able to find decent lodging with breakfast, parking, and a 5-10 minute walk from lifts for $120-140 at the Hotel La Rotonde. The friendly Swiss manager was kind enough to put in a double with views for my stay. I would include Le Chable in searches too since the Gondola connection is open early/late and near the train station. There are some reasonable bars and restaurants. Perhaps the best deal is the Farinet bar which was live music every night inside and sundeck patio without cover.
Is Verbier's off-piste reputation justified? I thought so and would rank it up there with Val d'Isere/Tignes and St. Anton/Suben/Zurs/Lech. While it does not sprawl attractively and easily as these other two, Verbier's off-piste requires almost no effort to access (10-15 minutes is an exceptional effort) and its steep terrain is co-located so you are not wasting time transferring between sectors. Compared to Chamonix, you probably could get 2-4x the vertical on a powder day due to ease of use and lift system. I also found Verbier less rocky then Zermatt, larger than Andermatt/Engelberg, etc. BTW, I like this list of best
Off-piste/Freeride European skiing
.
Who might not like it? Intermediates. There is surprisingly little terrain. And the 4 Vallees do not connect well since there is very challenging terrain from Verbier to Tortin. And the connection to Thyon is 1970s/80s disaster of Euro surface lifts. And Savoleyres is also cut off from the rest of the area. Too many Buts/Ands. Not sure why the high-end skiers chose it over other destinations. Probably the same type who goes to Aspen and just yo-yo the HSQuad at the top of Aspen Mountain all day.
Here is the piste map for Verbier/4 Vallees. You could buy individual tickets, but if you want to ski Mont Fort, an all-mountain pass is required - a small price difference. Also, you notice the yellow itineraries on the map. I understand in Switzerland their definition is: not pisted, marked, and patrolled? But I don't know for sure. These itineraries are on maps at Zermatt and Davos.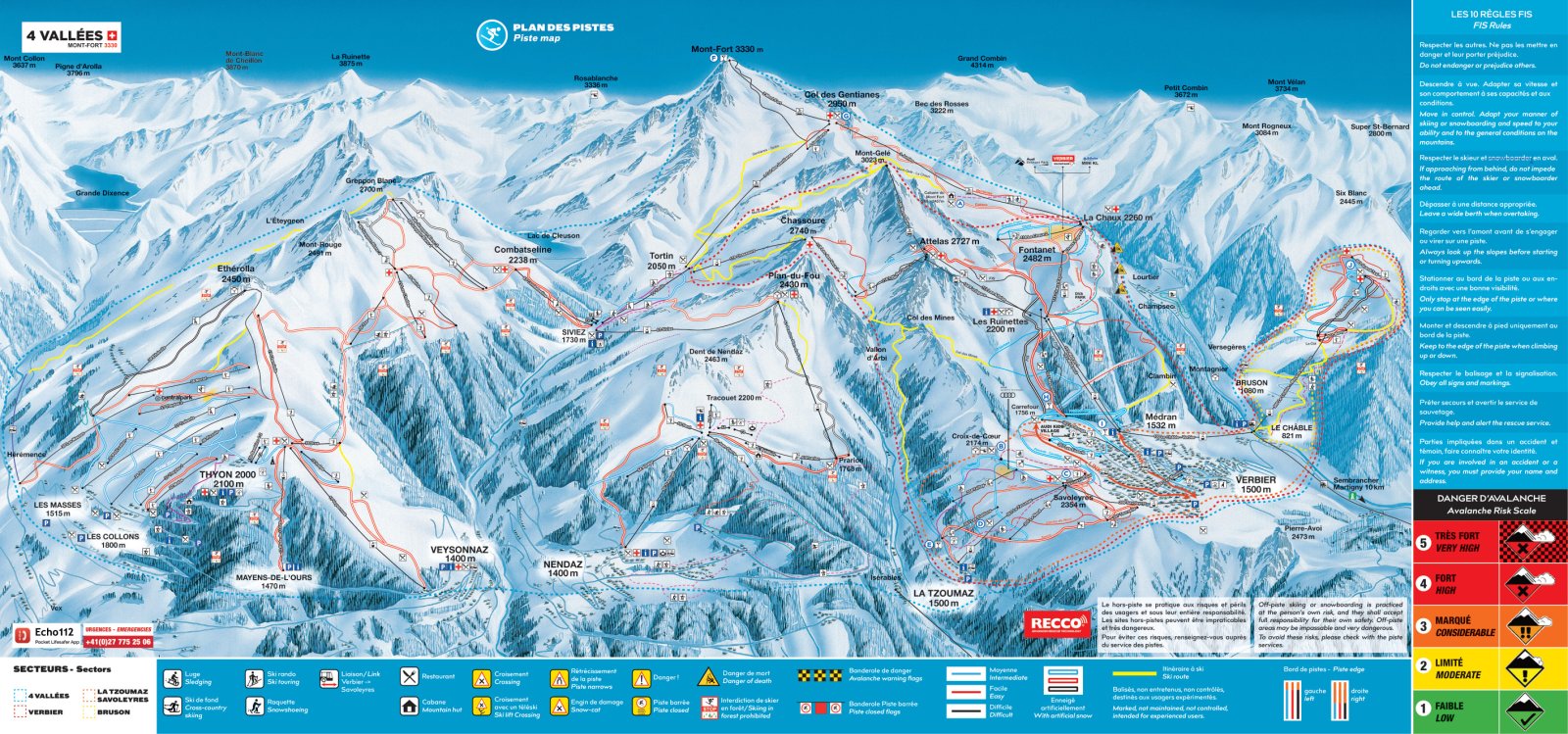 This is a good map of the many Freeride lines in Verbier by Fatmap. You can see a sea of blue. The only area without lift access/significant hike is the Bec des Rosses where the Xtreme Verbier Freeride Competition is held every year. Super serious area.
More lines all over larger 4 Vallees area: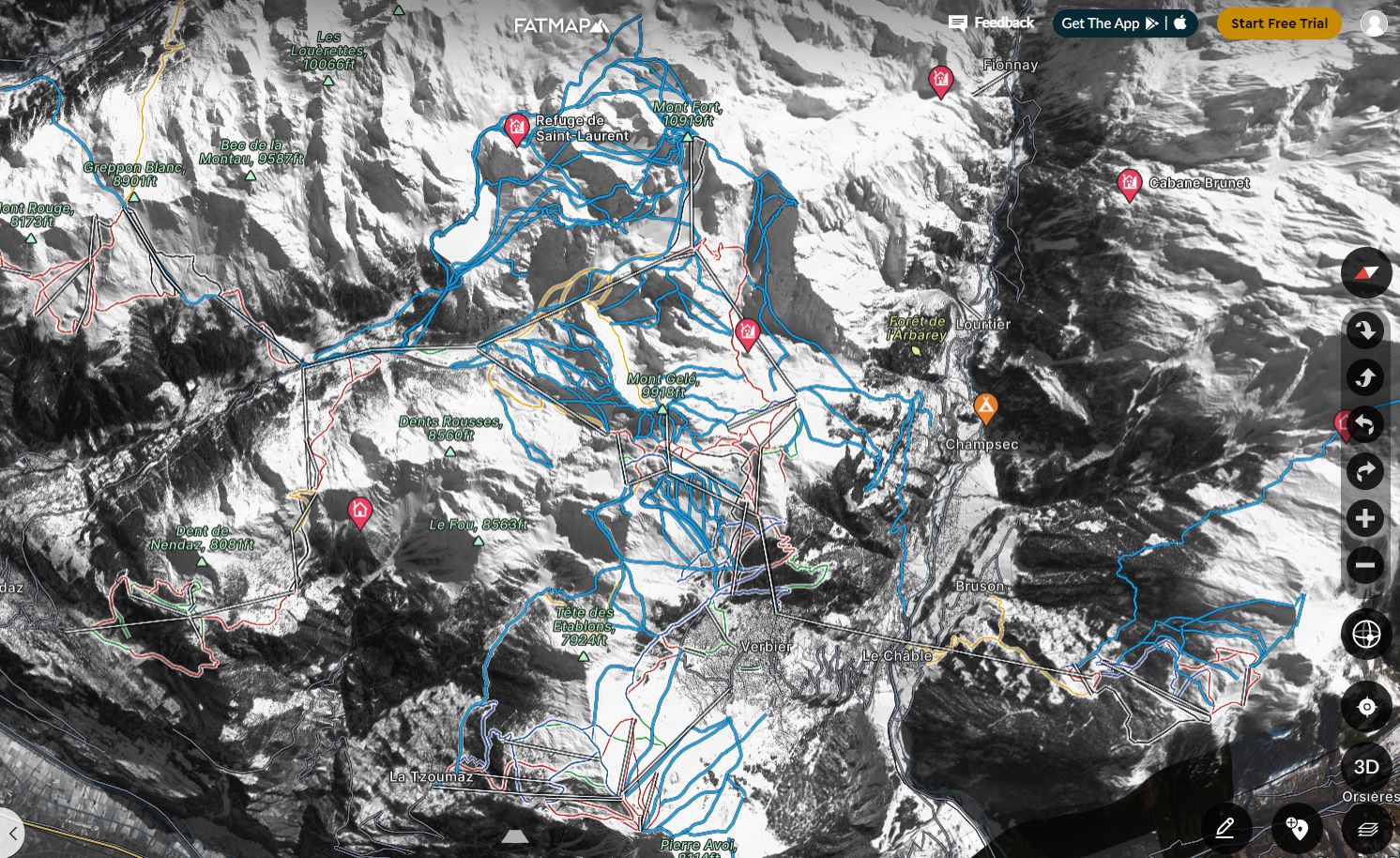 Also, this is a really guide guidebook that can be purchased at the Verbier Guides Office.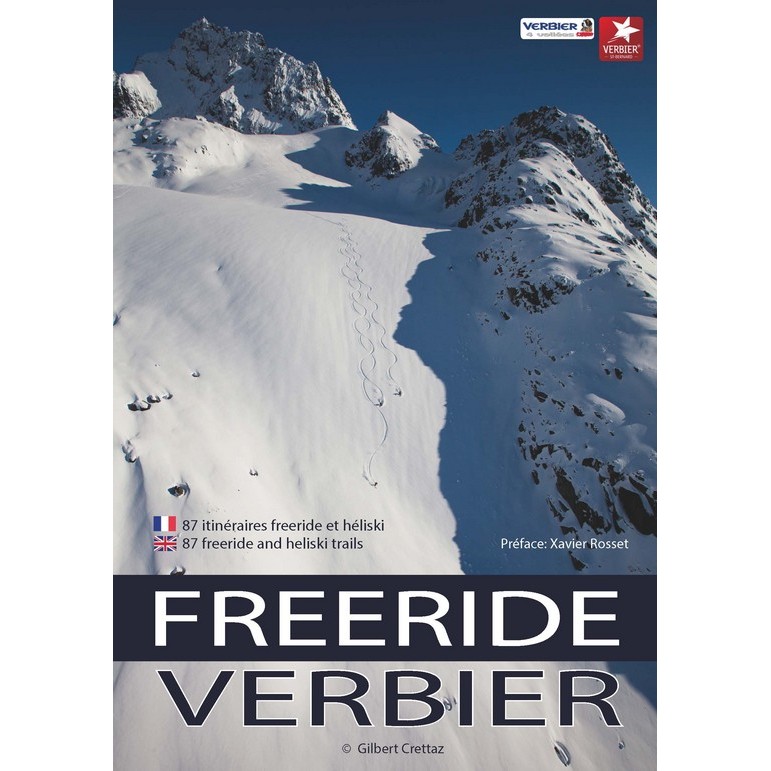 When I arrived at Verbier late Monday, the valley rain/snow changed to all snow by Le Chable and the switchbacks to Verbier were tough to navigate. The result was still snow coming down the next morning with about 30 cm +/- wind-loading or scouring. The rule of thumb for storms is to head to the Bruson sector since it's lower, has more trees, and is less prone to wind closures. However, Verbier was running its main Medran gondolas, the Funispace to Attelas was expected online, and lifts out of La Chaux were running. If it was awful, I could always retreat and go over to Bruson.
Slightly ominous start. But hey - it's a powder day at Verbier and no one is out on the hill. No lines.
I went over to the La Chaux area. The first run was a bit braille skiing, but quickly some sun breaks/storm breaks appeared. I had 2 lifts in my own little semi-private playground for the morning:
Some braille skiing off Le Chaux 1 lift:
My tracks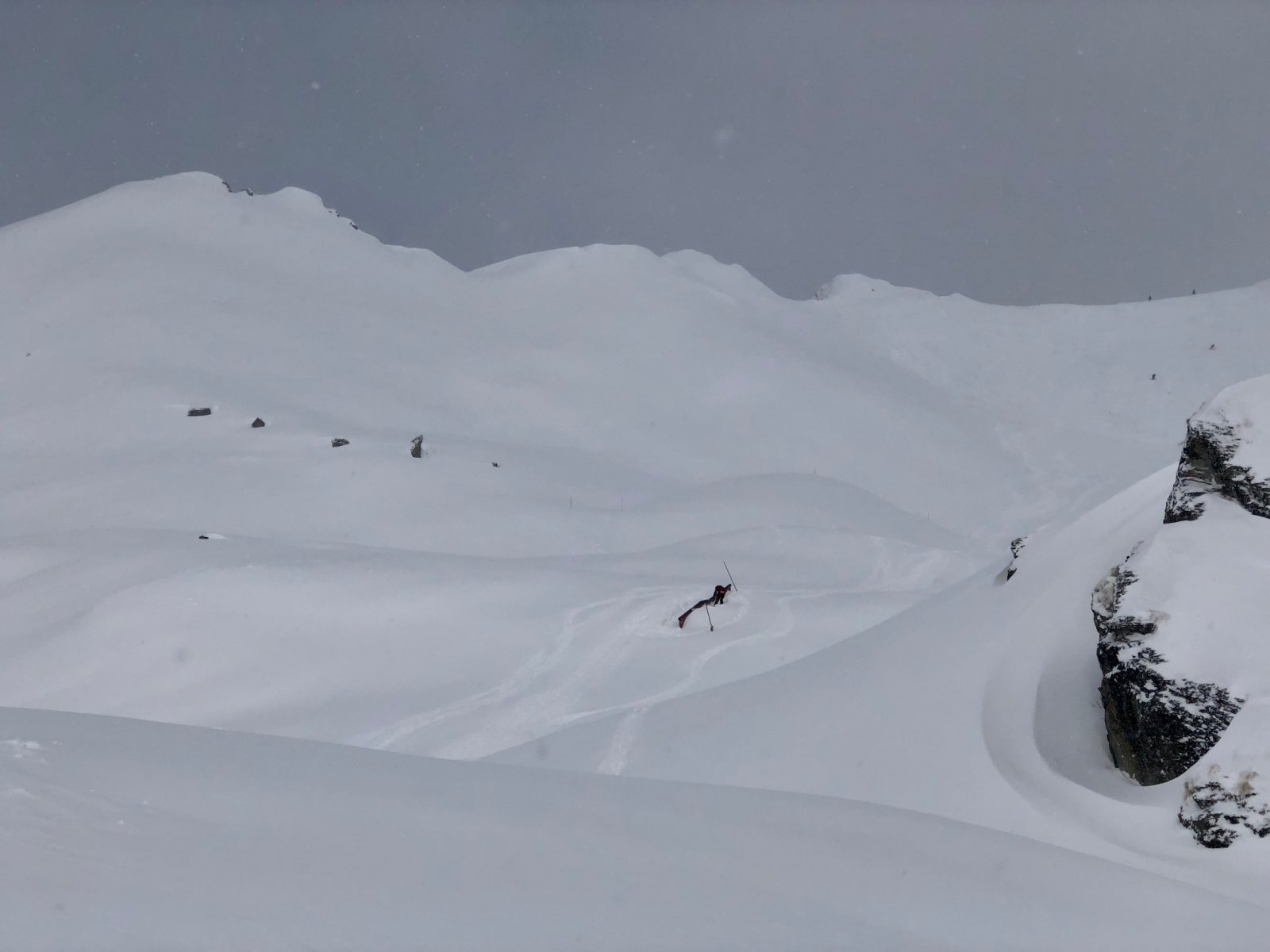 More of my tracks. Others started to follow.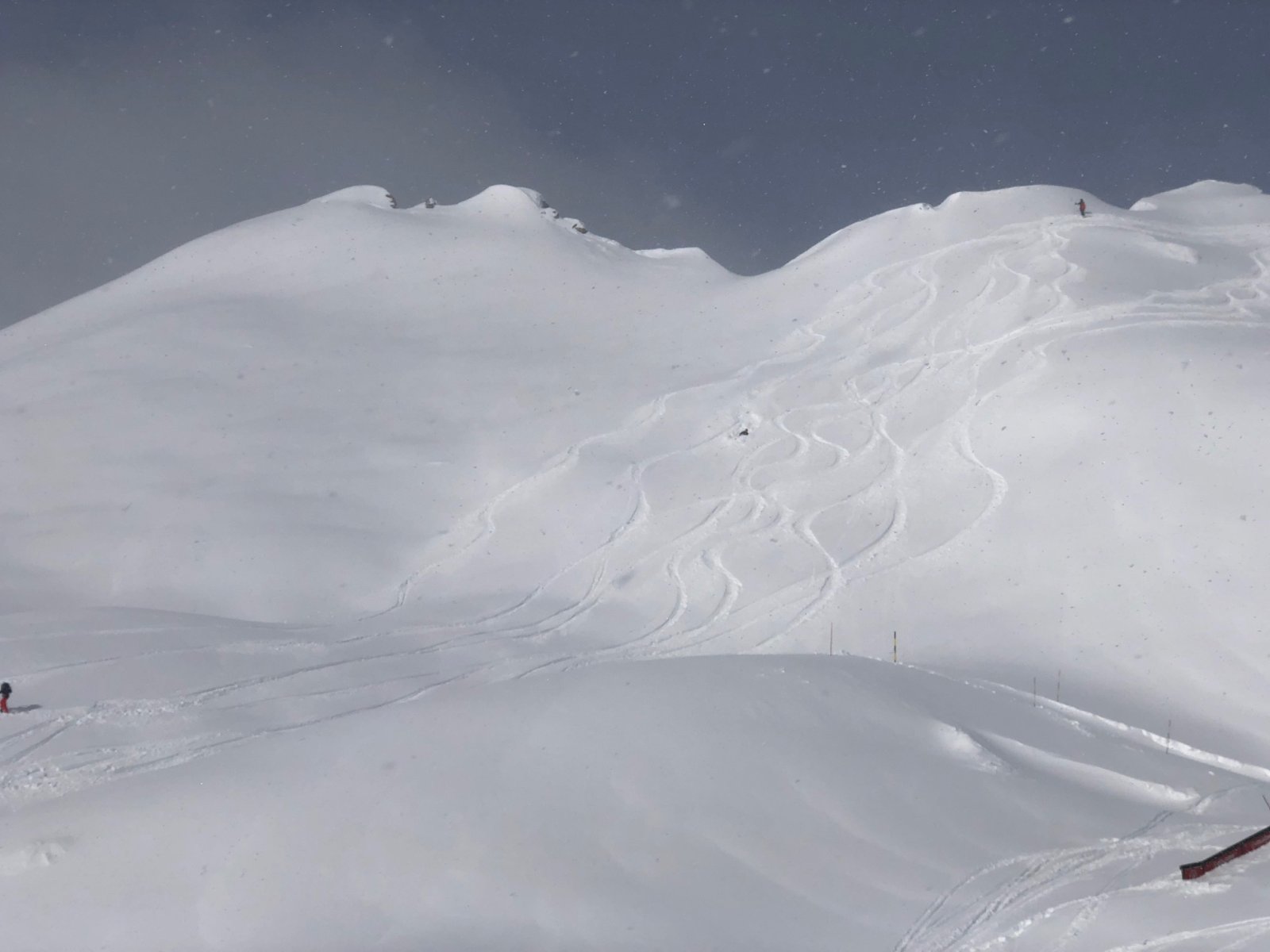 Switched other Le Chaux 2 lift after an hour or so. Mount Gele in background.
While not the steepest powder morning ever, the quality and quantity were there. After a quick lunch warm-up, I saw that the Funispace was running and went over to that sector. I think Mount Blanc was also helping to slice up the storm a bit on this aspect since it faces into the range.
(Continue for PM pictures)
Last edited: