The selection of Courmayeur for a Guys Trip was done in June 2022. I am not keen on booking Europe trips that far ahead - especially Italy. However, Courmayeur (and La Thuile) are quite close to the Northwest edge of the Alps and get much more reliable snowfall than other Aosta Valley Italian resorts like Monterosa, Cervinia and Pila.
The other candidate was Lech. As it turns out, Lech and the Arlberg were under a massive Northern Stau storm during our stay that unfortunately did not extend westward past Jungfrau/Interlaken resorts. Oh well. Lech and Courmayeur were candidates since they had day heli-skiing available - to help celebrate a 40th and 50th birthday in the group.
Courmayeur ski area by itself is one of Europe's smallest that still attracts major press. However, it is one of Europe's best freeride areas due to easily accessible off-piste from the Arp or Youla cable cars, the SkyWay/Punta Helbronner cable car serving glacial routes to Courmayeur or the Vallee Blanche to Chamonix, and heli-skiing on the Mont Blanc massif. Also, La Thuile is only 20-30 minutes away which has significant off-piste terrain. Plus the setting under Monte Bianco in a well-preserved historic town - it's quite an attractive combination.
Some top 10 lists including Courmayeur for off-piste:
Ultimate Ski - Best Off-Piste Skiing in the Alps.
here
(I actually like this list a lot.)
57 Hours - Best Places for Backcountry Skiing in Europe
here
Ultimate Ski and Snowboard has a special section regarding Courmayeur off-piste
Outsider Magazine -
here
We stayed outside Courmayeur in the village of Entreves near the Skyway Cable Car, Val Veny Cable Car, and entrance of the Mont Blanc tunnel. I was a little disappointed to be outside such a historic town, but our inn, setting, and surrounding restaurants more than made up for it.
Day 1: February 2, 2023
Overview of Courmayeur: Courmayeur Resort and Monte Bianco SkyWay cable car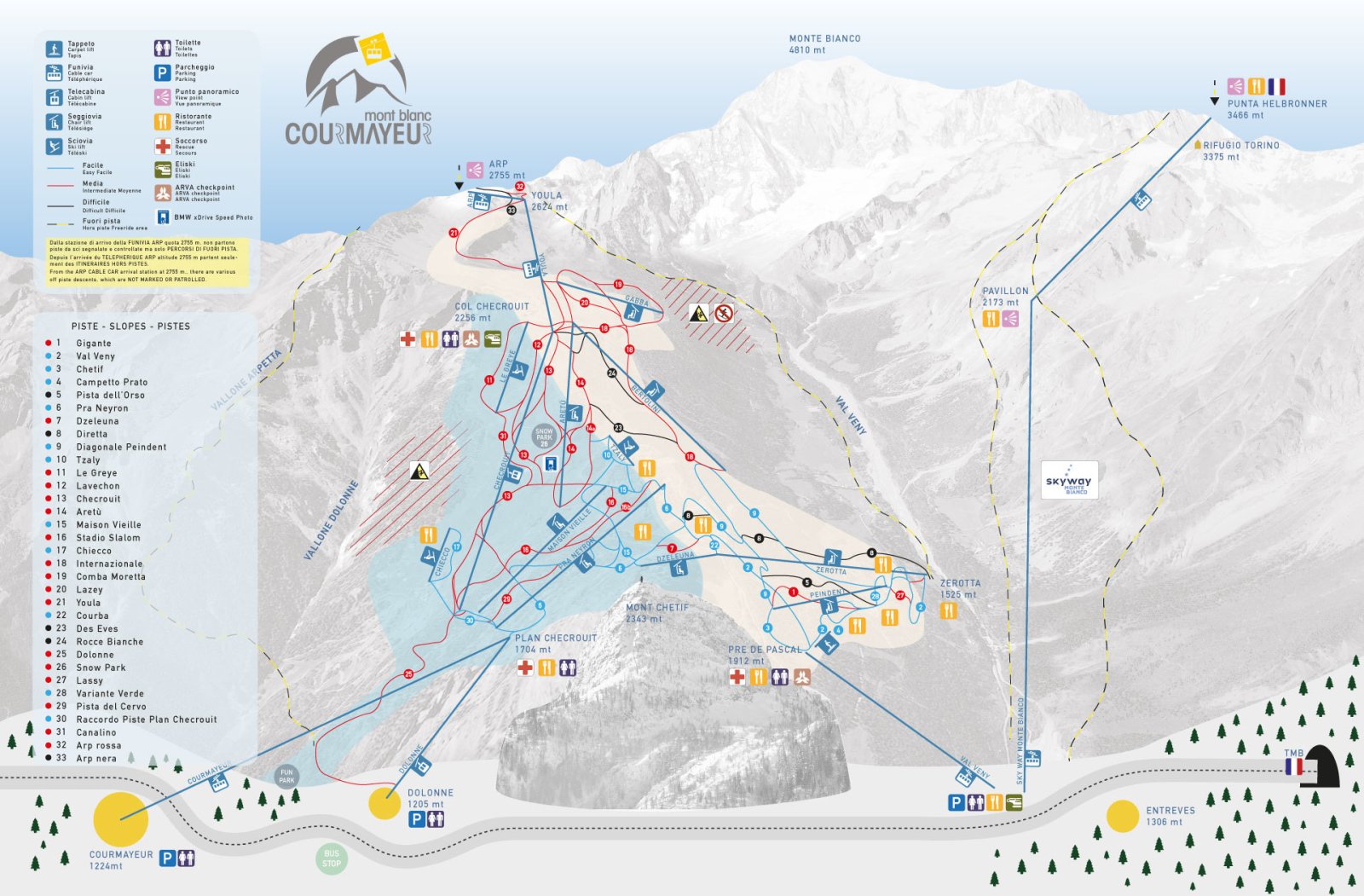 East-facing Pistes: Checruit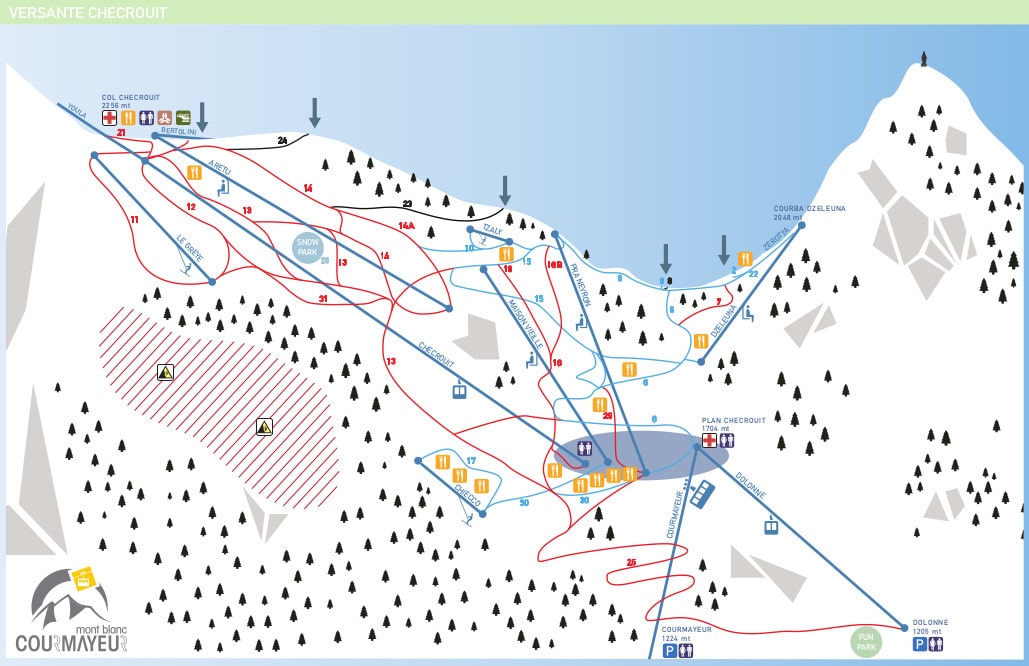 North-facing Pistes: Val Veny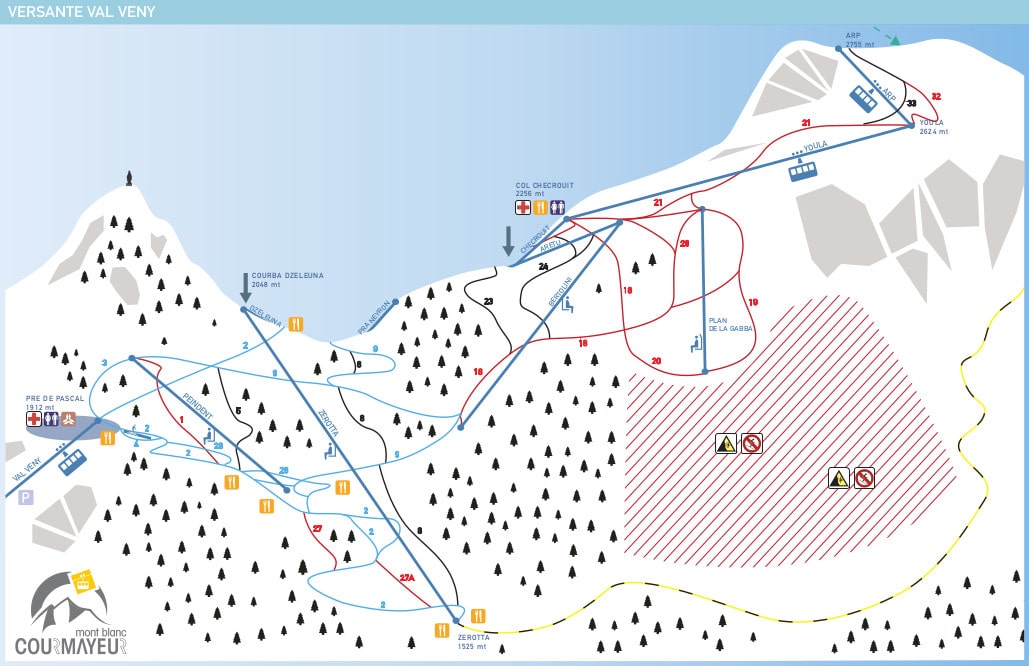 Arrival in Courmayeur. Mt. Blanc/Bianco alpenglow.
Our lodging was at La Vallee Blanche Entreves. Relatively inexpensive $100/night split 2 ways. Breakfast was pretty amazing with eggs, bacon, lattes and all types of baked goods, fruits and cheeses. I was a bit out of control most mornings gorging myself:
The rhythm of our resorts days became as follows:
Pile into the 2 rental cars
Head to Val Veny tram. Free parking and no crowds.
Ski Val Veny steep groomers off of the Zerotta and Bertolini lifts
Possibly some trees off the Gabba lift, Youla cable car bowl, or Gondola runs on Chercuit side
Sundeck lunch
Off-piste afternoon
We mostly ate around Plan Chercuit - specifically Chiecco (day 1) and La Chaumière (day 3/4). The food was top-notch, and always reasonable for the quality.
I didn't really take too many photos of the groomers since it was more of a Chinese downhill around the mountain. Overall, the snow quality was very good - no ice. And no crowds on weekdays. Much, much better than Monterosa. The top base was around 100cm/40 inches and coverage was not an issue. No protruding rocks or scrub. Some areas of powder could still be found in high bowls and trees.
Morning on Val Veny. Views of Mont Bianco.
Day 1 Lunch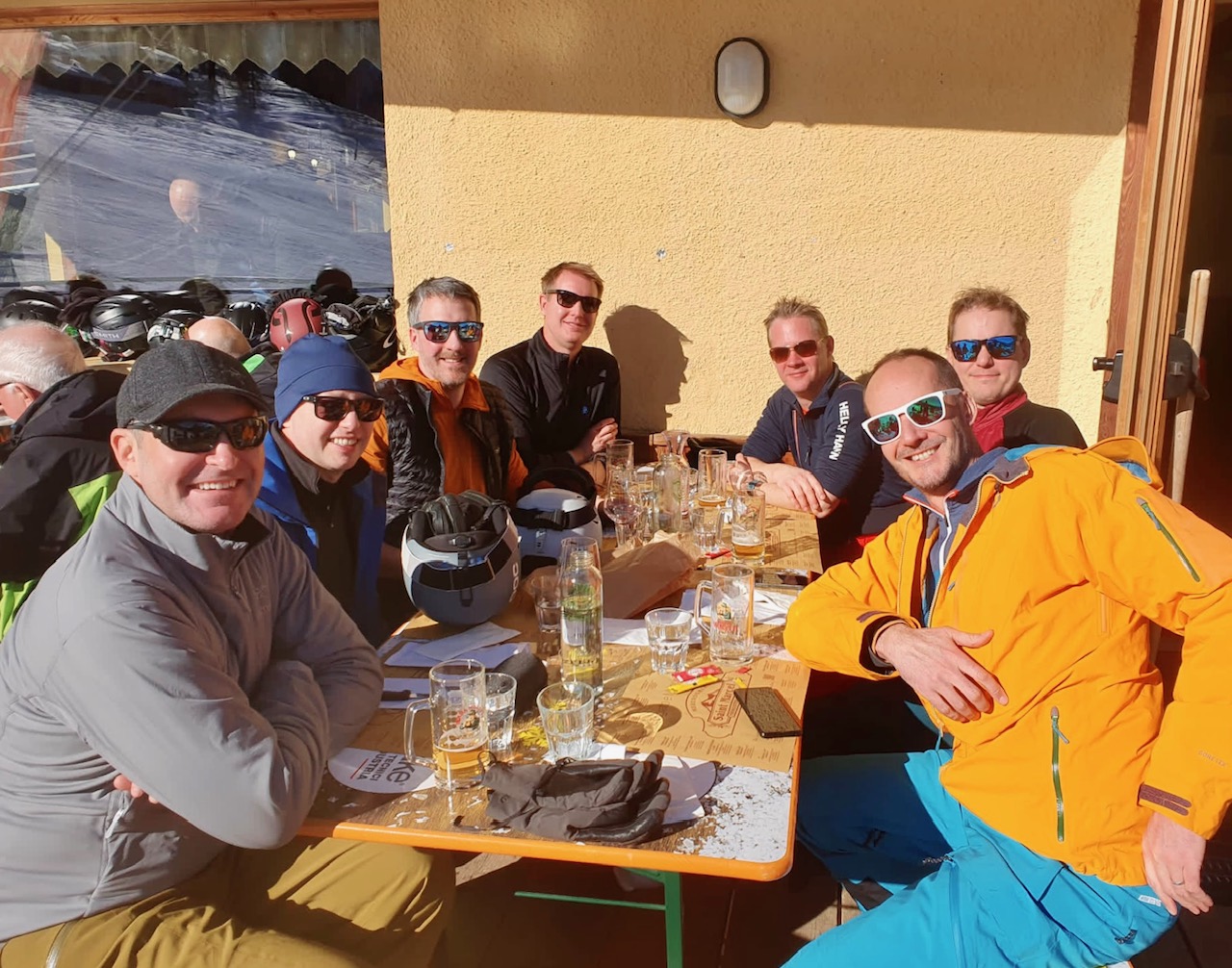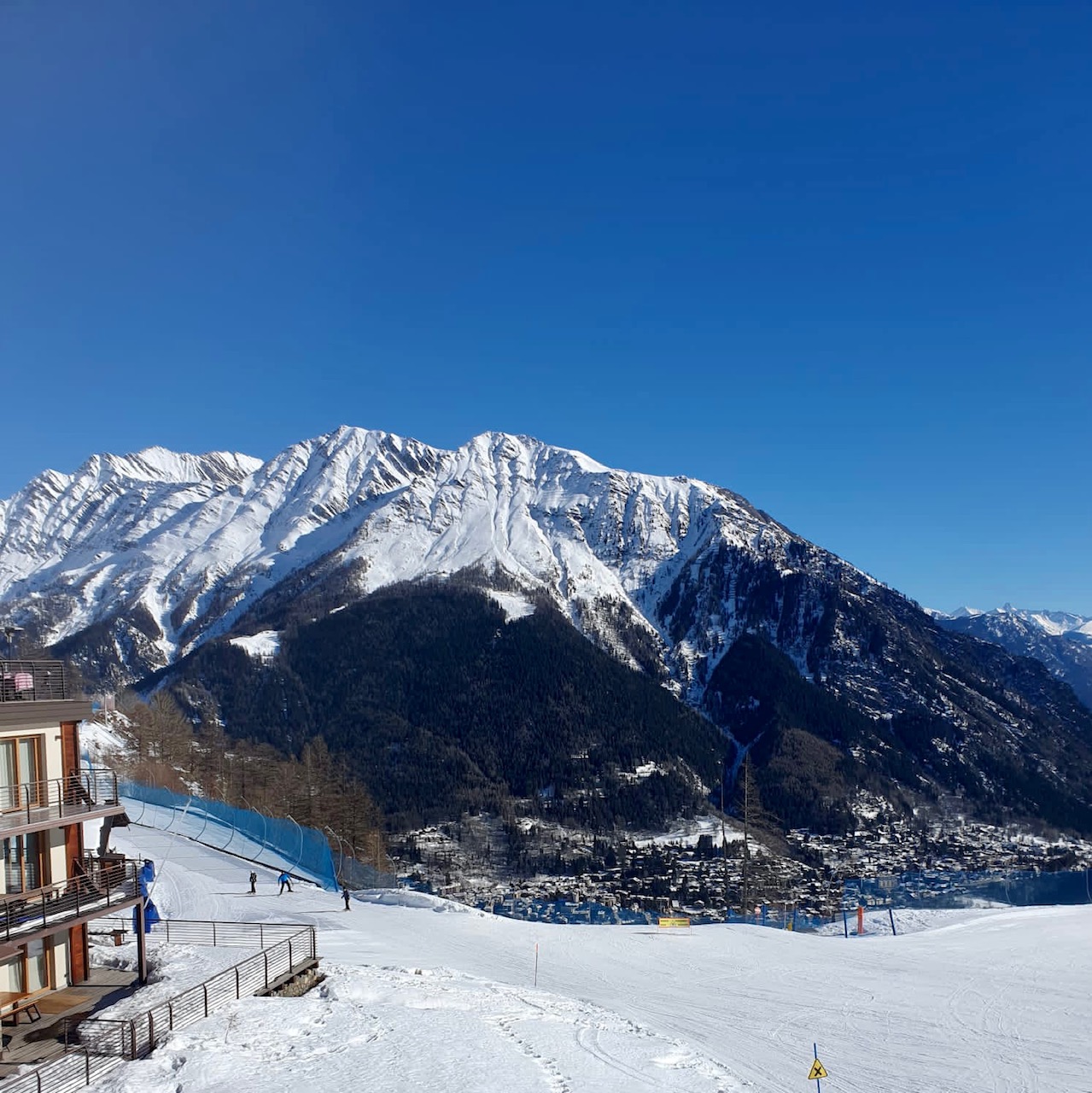 After lunch on Day 1, part of our group ascended both the Youla and Arp cable cars to the summit of Cresta d'Arp. You have to love the Arp cable car - it's 1963 vintage and only holds 15 passengers. And most of its riders are just sightseers. Effectively limits who can get to the amazing off-piste.
Mont Blanc massif (heli-ski terrain across the valley)
The goal of the outing was the large north-facing bowl to the Vesses Couliors. 3-D view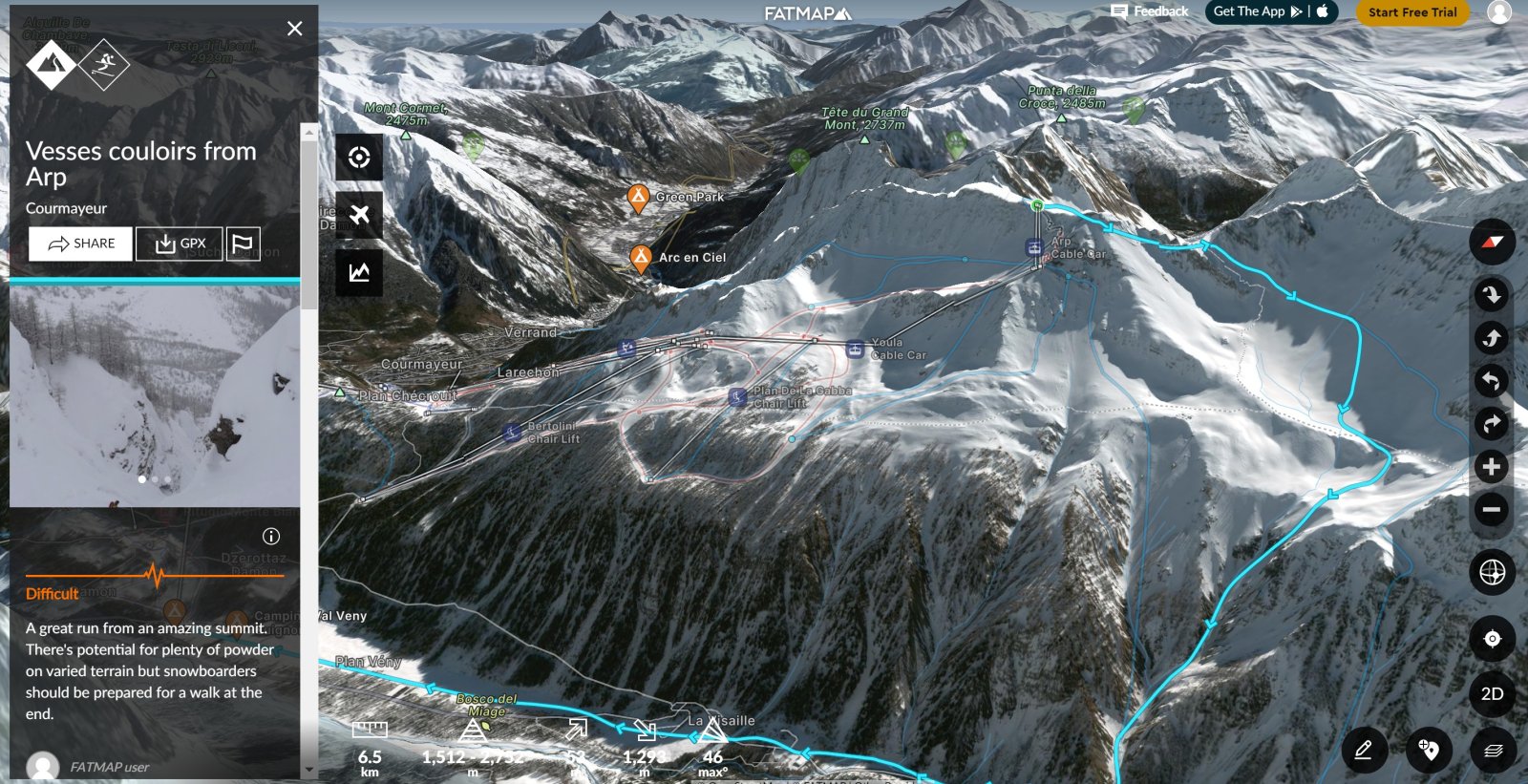 2-D view
Top of Youla Cable Car. Still need to ascend Arp. Looking out to the bowls. You can access the off-piste from Youla, but you miss out on a lot of vertical and cannot get to the untracked areas.
Arp Cable Car. Like your own private freeride lift. Mont Blanc backdrop.
The pass into the high Vesse Bowls. Wind-blown entrance but lots of protected powder far in the shade protected by the ridge.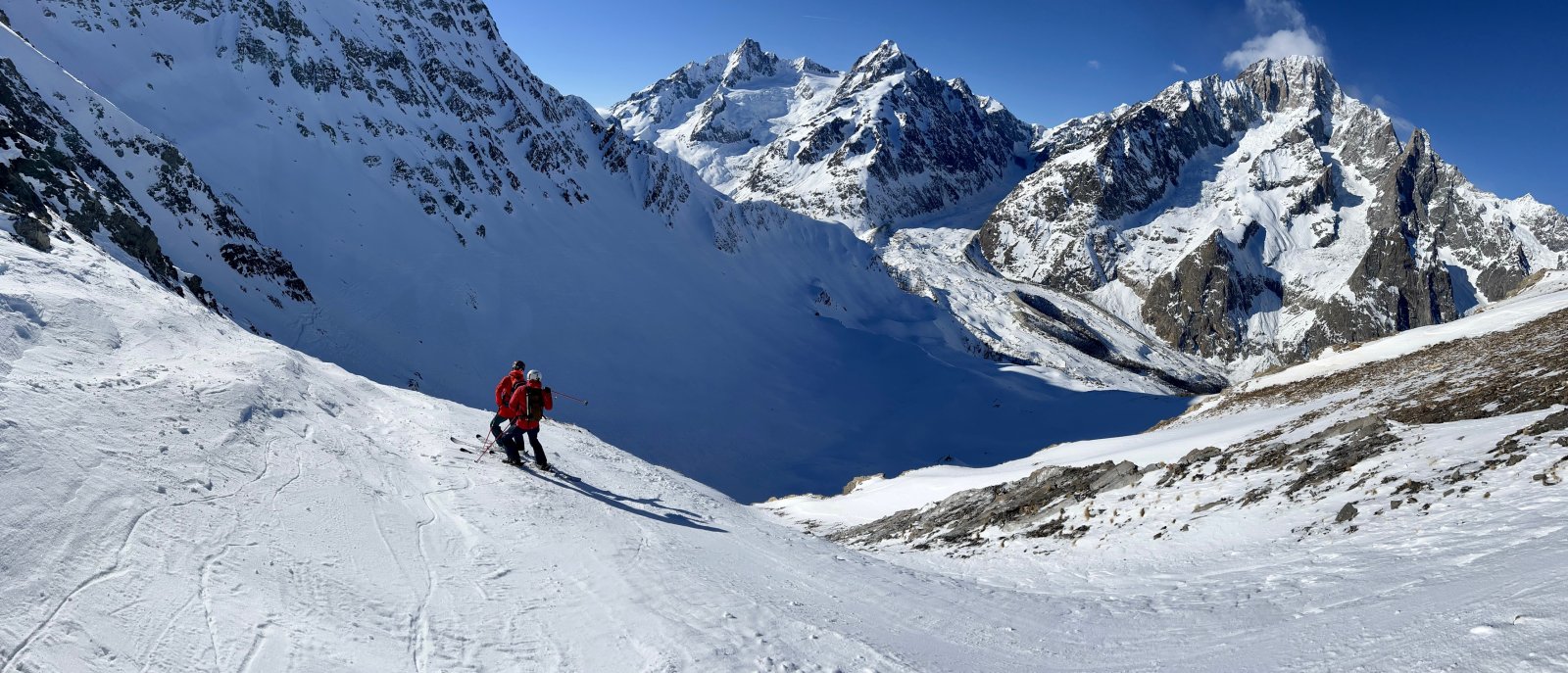 Entering the Coulior. This was skier-packed powder. Skied really well.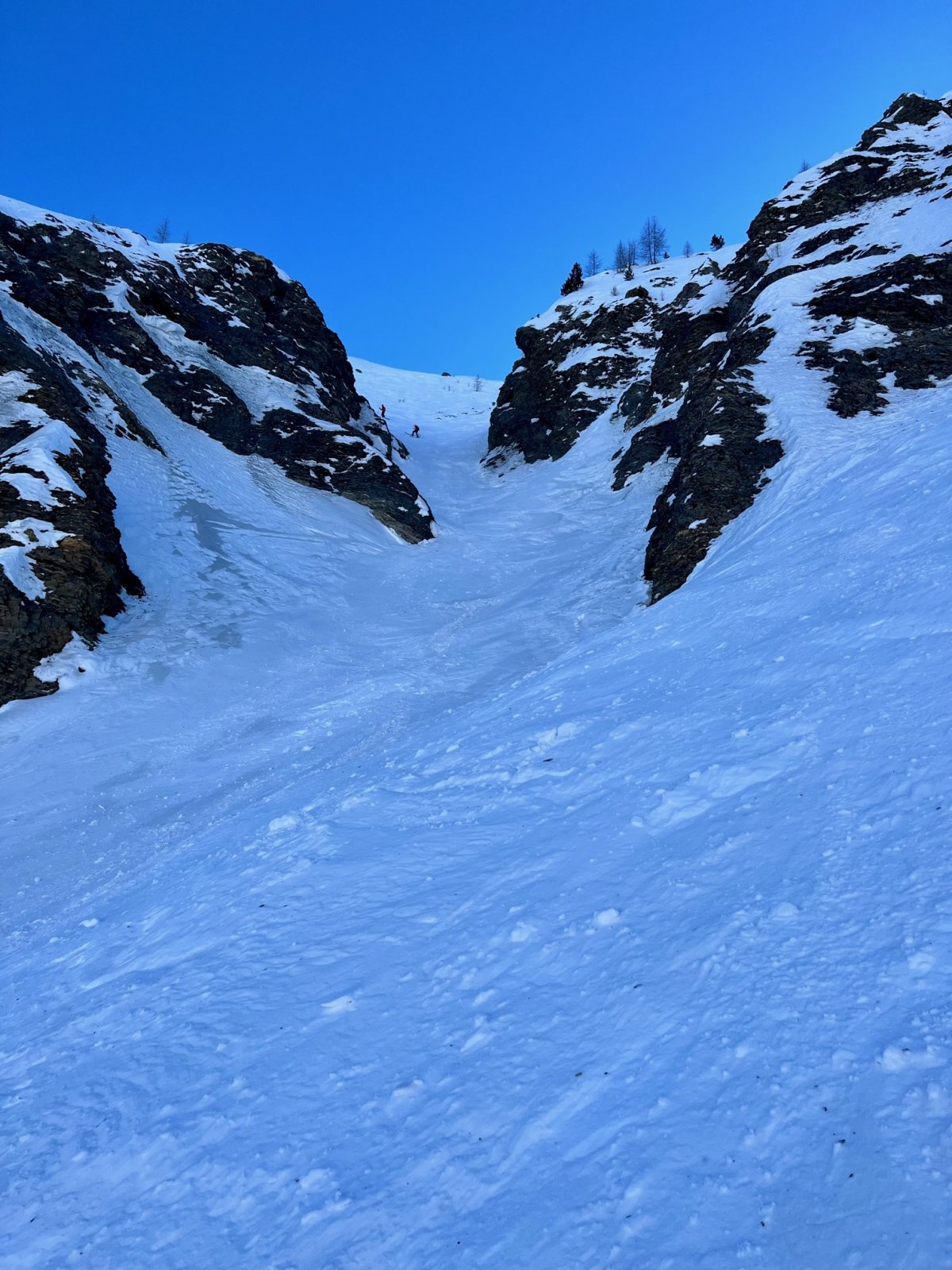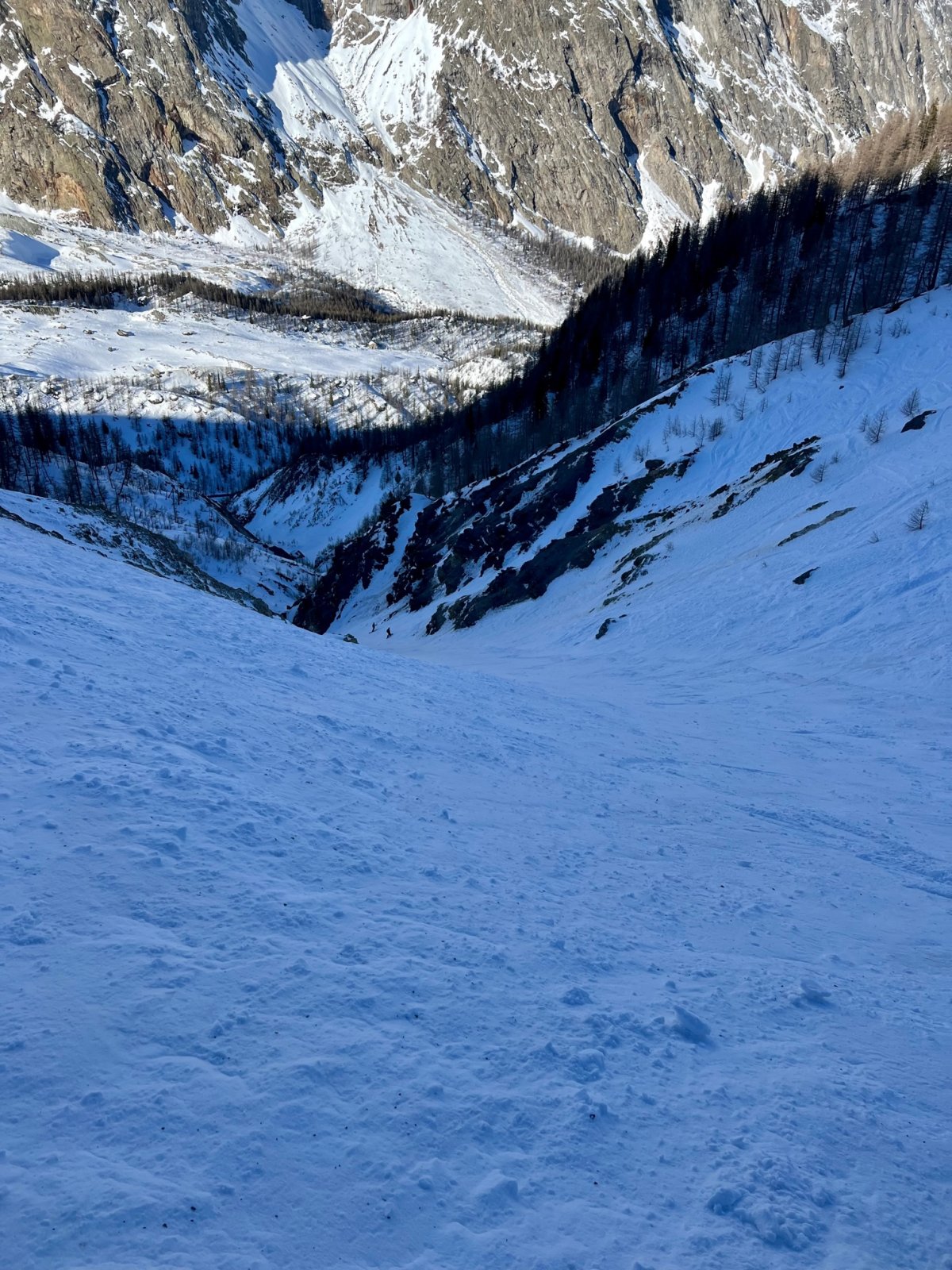 We returned to the Zerotta lift after skiing about 4,000 vertical feet. Great skiing! Still powder on top 10 days after the last storm. Snow preservation on the Val Veny side is amazing. Note: There are substantial flats right before the Zerotta requiring some poling for about 5-10 minutes. Likely tough for borders.
Afterward, we made our way to Val Veny cable car for a beer before descending.
Mont Blanc from Val Veny cable car base
After dinner Limoncello at pizzeria. Always nice little freebie gestures in Italy.
I really started enjoying the fast AM skiing - excellent lunch - PM off-piste. Followed by some Apres drinks with free snacks. Beers, Aperol Spritzes or Negronis ran about $5-6 USD. There is a lot to like about Italy. If only we picked up a few inches of snow......
Also, Cresta d'Arp is a special place. 5k vertical ft off-piste descents. Few skiers. Great views. Avalanche rating was either 2/5 or 3/5 during the week.
Last edited: