In early March one of my daughters came to visit and I skied with her and my son for a couple of days. I have four adult children spread around the world and it's a special treat when I see more than one at a time. This photo was taken at the top of the Gadzoom lift at Snowbird, UT.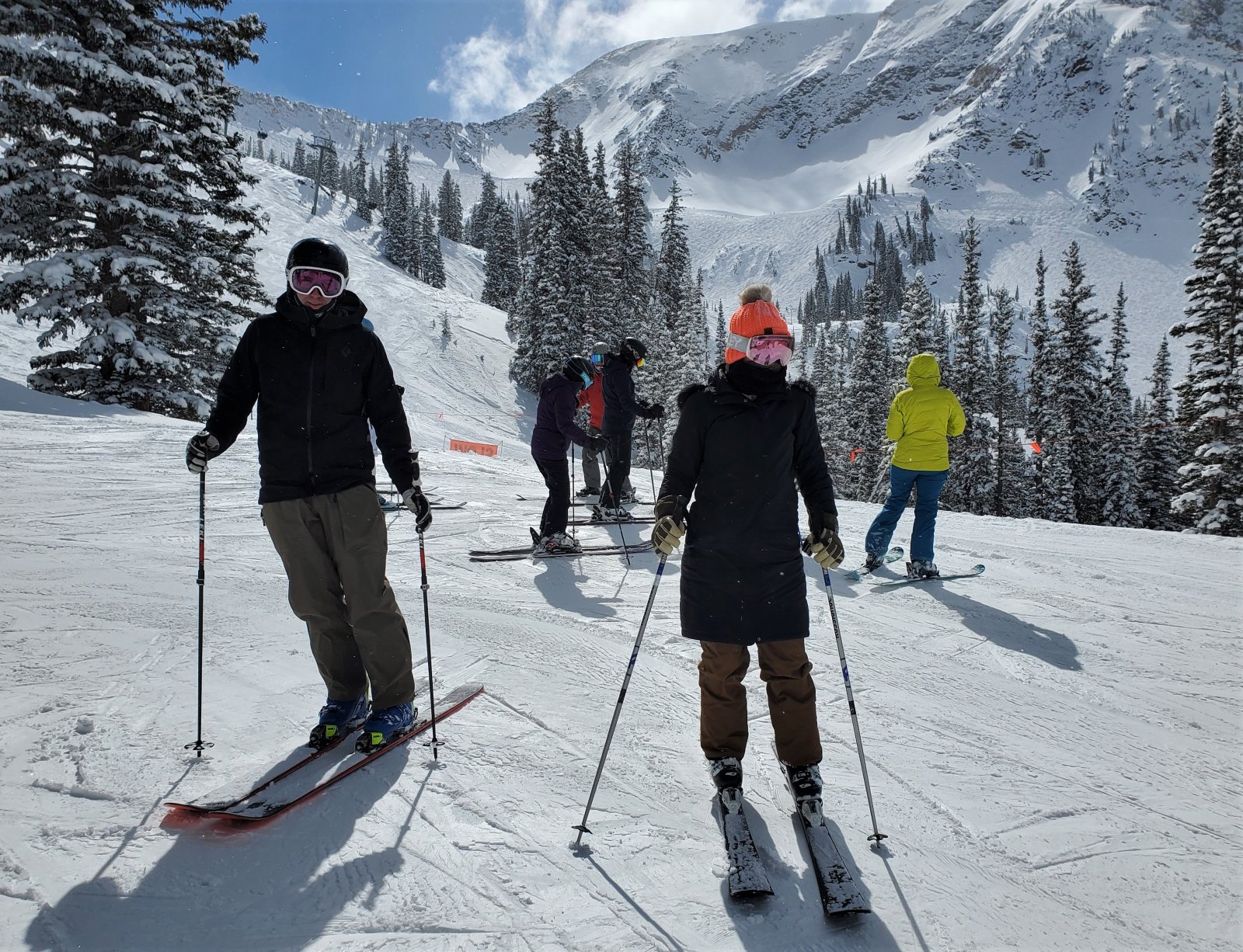 Visiting the bison at Antelope Island State Park, about 45 mins north of SLC.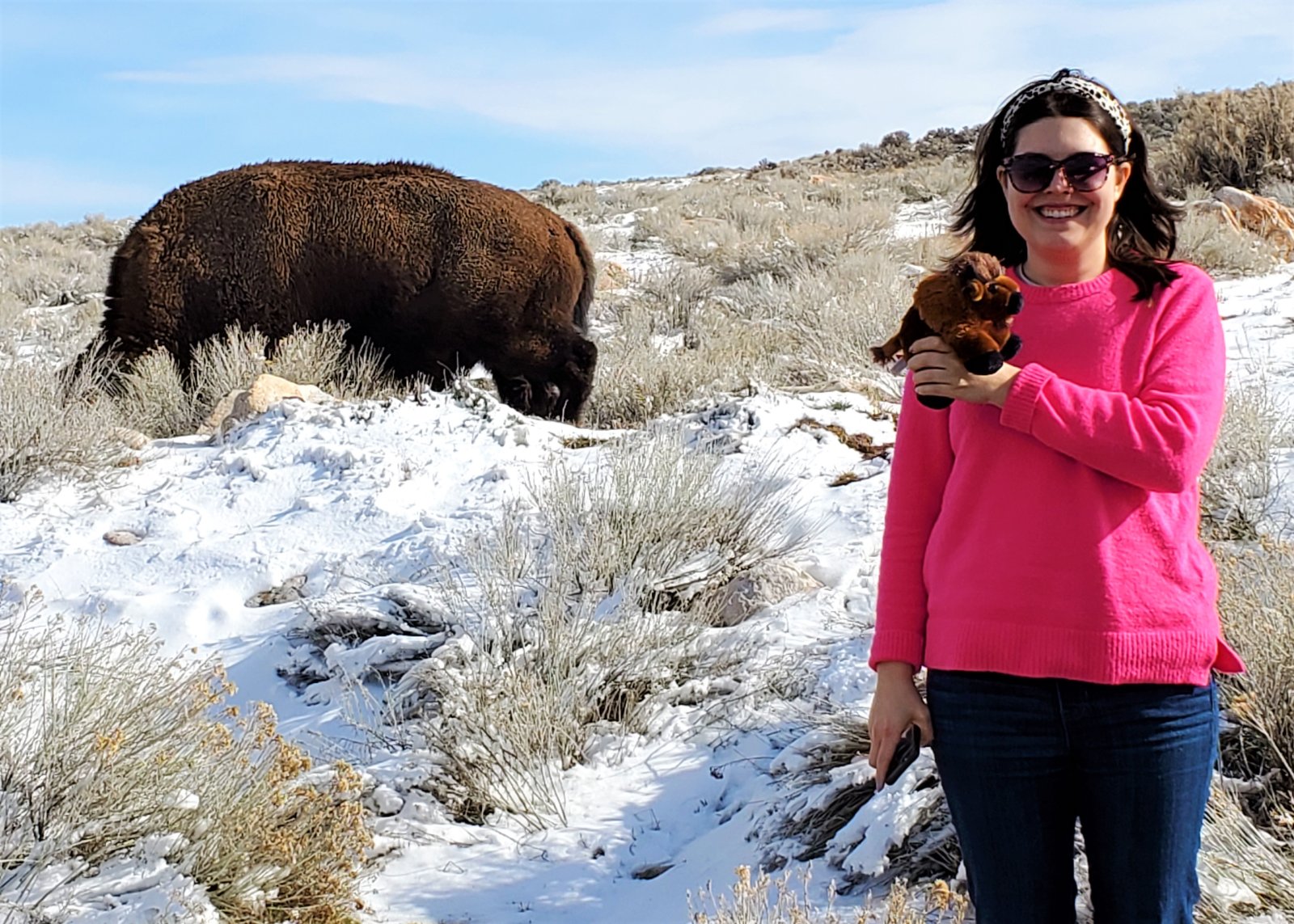 Fresh powder was hard to find in Utah for much of Jan and Feb, but by early March the snow began to start up again. This is an instructor giving a group of kids a powder lesson in Mineral Basin at Snowbird after a 4-5" storm. Sometimes those little snows can be very fun.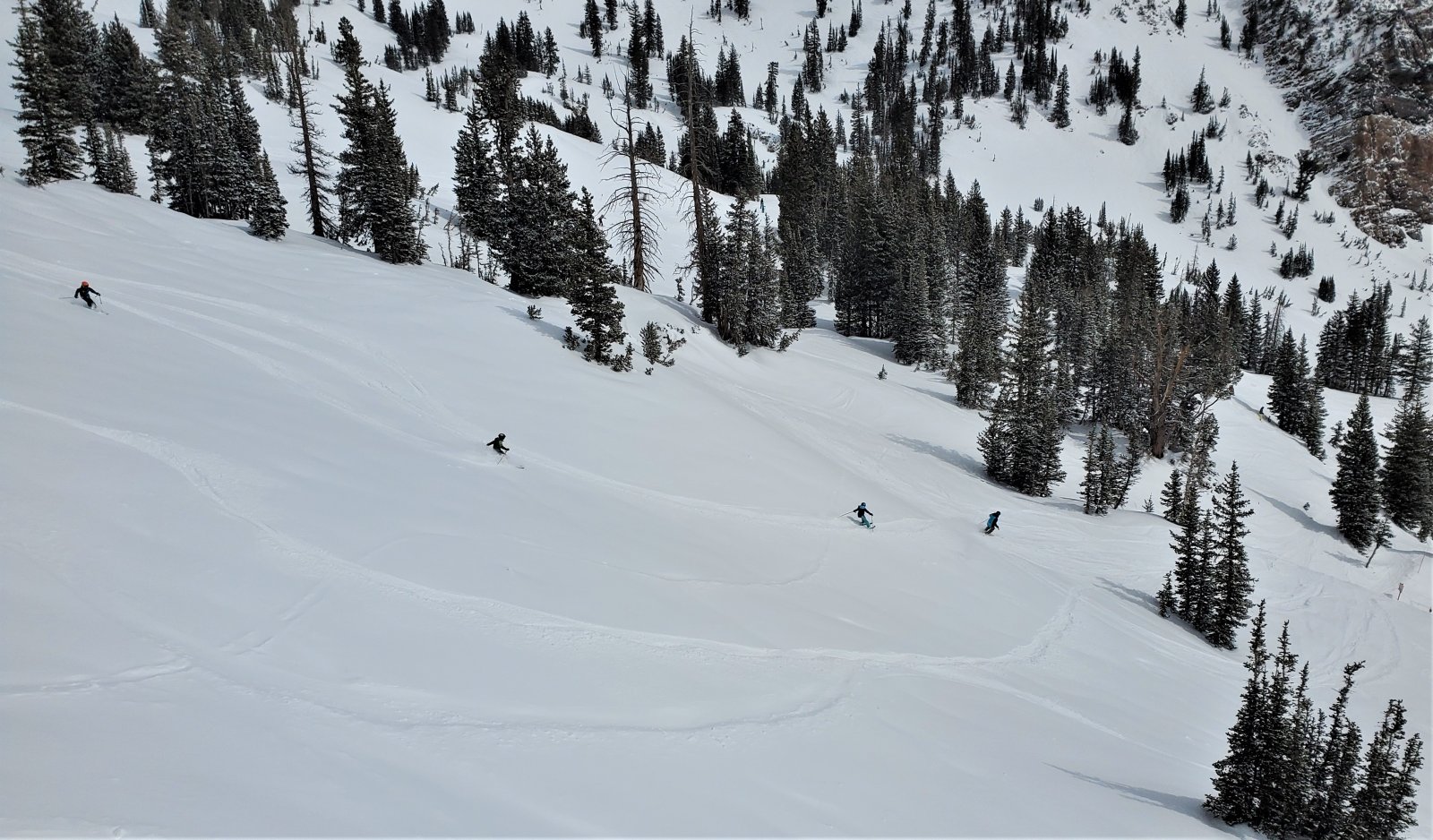 March 14, 2022, A friend leading me into an area at Brighton, UT called The Rock Garden. We watched 3 or 4 talented snowboarders rip down this chute before we got our chance. There was about a foot of fresh snow that day, and it was one of my favorite days of the season.
I made it over to Deer Valley on St. Paddy's Day. The snow wasn't very good that day (extra FIRM), but the costumes were great!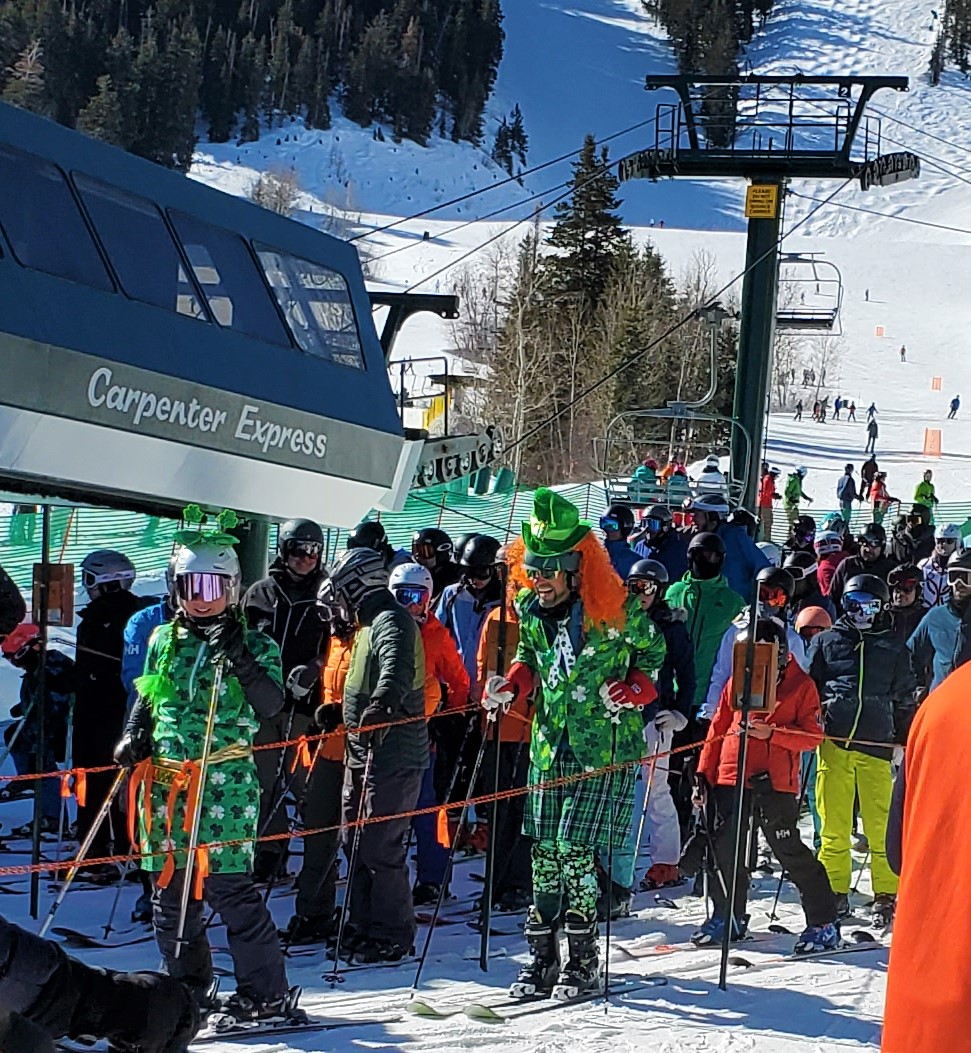 My son Vince skiing somewhere in Peruvian Gulch at Snowbird. He is a part time instructor there, PSIA L-3.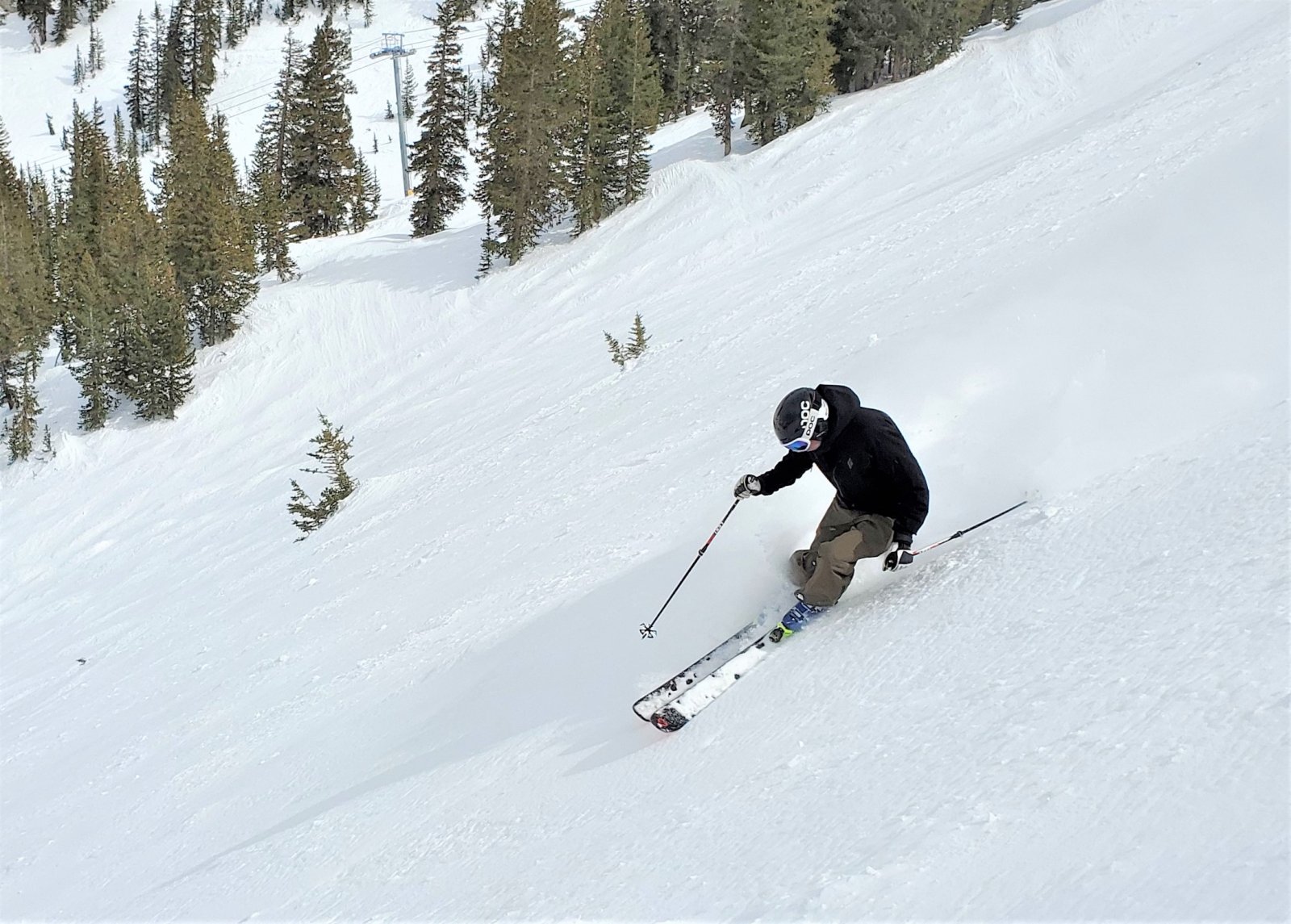 March 21, 2022, this is a view of some friends skiing the Millicent terrain at Brighton. This was the first time I ever used the Sol-Bright connector trails and skied both places on the same day. We made a concerted effort to ski every major lift at Solitude and Brighton and it was a very fun day of exploration with quite a bit of ground to cover.
My wife accompanies me for my winters in Utah, but she's a retired skier. I only ski 3 or 4 days per week and do chores at my son's house and some fun non-ski stuff with my wife. This photo was taken on a day in March when we drove to Canyonlands NP. This is the view from a very private picnic spot we enjoyed that was just a short distance off one of the main roads in the Island in the Sky section of the park.
Since my son moved from VA to UT in 2015 I've been visiting him a lot
He calls me the boomerang dad. After fully retiring I've spent the last four winters in Utah (4-5 mos each time) and I've developed a nice posse of ski friends - locals and numerous visitors passing through. Several times a season one of us will bring a grill and do a slopeside tailgate party at various ski areas. This is Bypass Road at Snowbird in late March.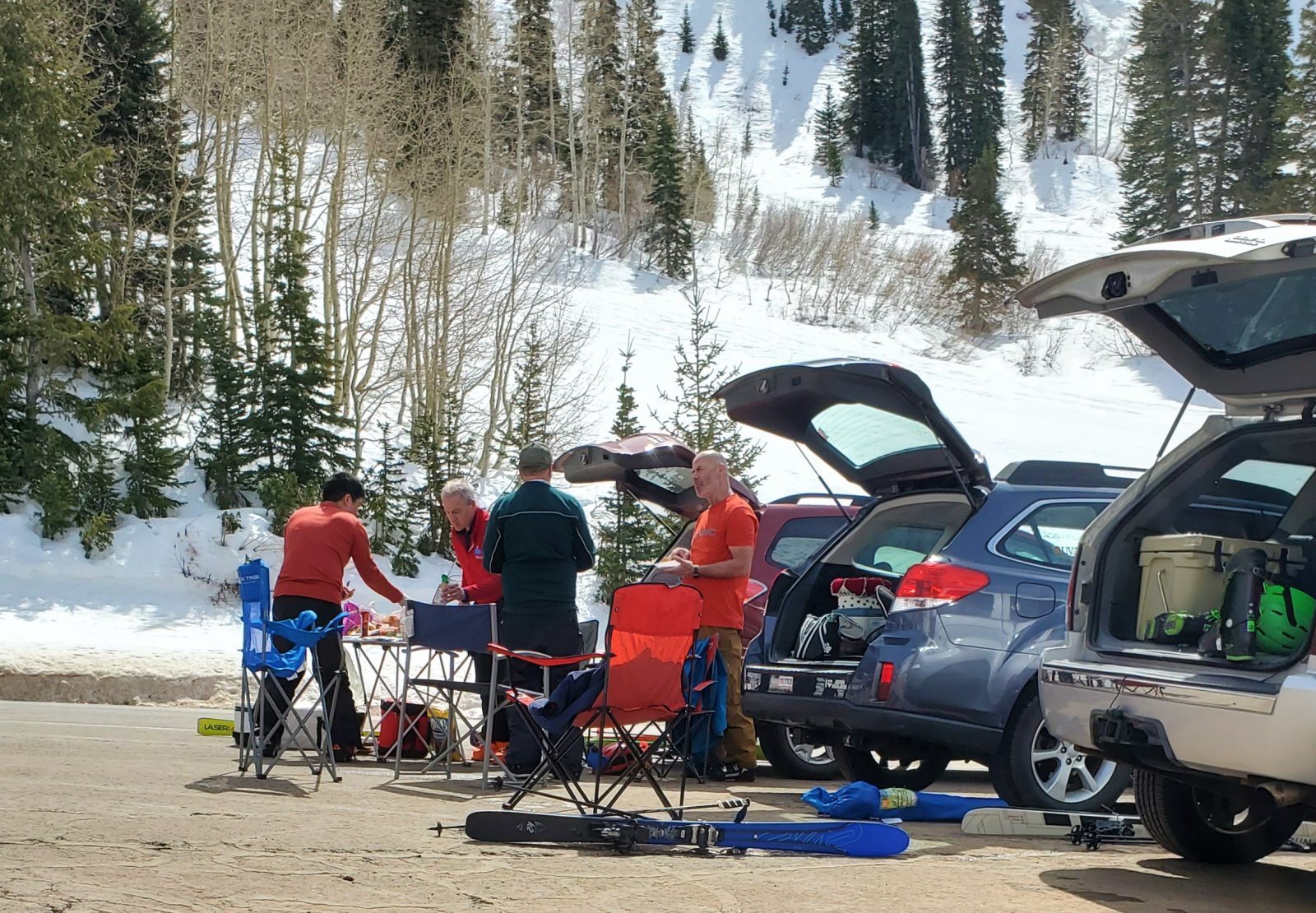 To be continued...April is when the Wasatch snow machine really kicked into gear.
Last edited: