Krasnaya Polyana, Russia – Sarah Hendrickson was uncharacteristically off the World Cup podium on Sunday as three U.S. women cracked the top 10 in day two on the Olympic jump in Sochi. Austria's Daniela Iraschko and France's Coline Mattel tied for the win.
Lindsey Van came from behind to lead the USA in sixth, with Hendrickson seventh for her first time off the podium in 14 World Cups. Abby Hughes had a career best ninth and Jessica Jerome was 19th with a strong second round jump.  All four young women are from Park City, Utah.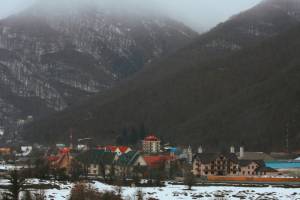 Japan's Sara Takanashi was third to move into the World Cup lead over Hendrickson. Organizers battled rain and 50 degree temperatures to prepare the venue, which drew strong marks from teams.
"Our first impression about the venue is good. The potential to be one of the best venues in the world is clear," Women's Ski Jumping USA Head Coach Paolo Bernardi said of the 2014 Olympic venue. "The crew did an amazing job to prepare the hill with almost impossible conditions under heavy rain and temperatures around 50 degrees All the venues are surrounded with beautiful mountains and great views but also surrounded by construction. I can't wait to see how this place can look next year when all the works are done."
"It's a new country for me and a new adventure. The organizers did a good job and I was really excited to jump here," added Hendrickson.
The World Cup women ski jumpers now head to Ramsau, Austria for a pair of events next weekend.
OFFICIAL RESULTS
FIS Ski Jumping World Cup
Krasnaya Polyana, Russia – Dec. 9, 2012
Women's HS106
| | | | | | | | |
| --- | --- | --- | --- | --- | --- | --- | --- |
| Rank | Bib | Name | Year | Nation | Jump 1 | Jump 2 | Points |
|  1 |  45 | HENDRICKSON Sarah | 1994 | USA |  103.5 |  103.0 |  264.2 |
|  2 |  46 | TAKANASHI Sara | 1996 | JPN |  106.0 |  104.0 |  258.0 |
|  3 |  44 | SAGEN Anette | 1985 | NOR |  101.5 |  98.0 |  245.1 |
|  4 |  41 | IRASCHKO Daniela | 1983 | AUT |  103.5 |  95.0 |  242.1 |
|  4 |  40 | MATTEL Coline | 1995 | FRA |  102.0 |  97.5 |  242.1 |
|  6 |  42 | INSAM Evelyn | 1994 | ITA |  100.0 |  96.5 |  239.1 |
|  7 |  38 | SEIFRIEDSBERGER Jacqueline | 1991 | AUT |  102.5 |  103.5 |  237.6 |
|  8 |  43 | VOGT Carina | 1992 | GER |  97.5 |  101.5 |  231.6 |
|  9 |  37 | POZUN Katja | 1993 | SLO |  100.5 |  96.5 |  225.7 |
|  10 |  35 | WUERTH Svenja | 1993 | GER |  99.0 |  95.0 |  220.4 |