Wrightwood, CA – The Year Of The Snake is upon us, and Mountain High is celebrating with discounted lift tickets to ski  or ride the slopes of the Southern California resort today through Friday.  Any guest who presents a Chinese New Year voucher found at www.mthigh.com/news/happy-chinese-new-year will receive an adult eight-hour lift ticket for the reduced price of $49.
"I'm thrilled Mountain High is celebrating the new year like this.  It will be great to see so many Chinese on the slopes," says Xiaoyan Cindy Li, a Chinese snowboard instructor at Mountain High.  "Come ring in the Year Of The Snake with me at Mountain High."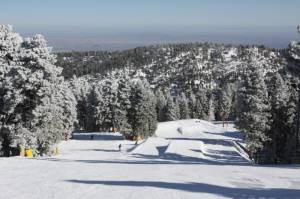 The Chinese New Year special reflects a $10 discount off the regular price of an eight-hour lift ticket. To celebrate Valentine's Day this Thursday, Mountain High is also offering couples two adult eight-hour lift tickets or two night tickets for the price of one ($59) when they mention the "Valentines Day Special."  Mountain High offers night skiing every evening until 10 p.m., and both parties must be present at time of purchase. The resort's Bullwheel Bar and Grill will host a special Valentine's Dinner that night, where for $50 per couple guests will receive one complimentary rose, two splits of champagne, two jumbo chocolate-dipped strawberries, two orders of soup or salad, two entrees (choice of grilled chicken, salmon or steak), two non-alcoholic beverages and two desserts.
Dinner reservations are available by calling Katrina at (760) 316-7816. For dinner guests who won't be skiing or riding, Mountain High is offering complimentary chairlift rides to the top of its West Resort.
Mountain High has both of its East and West Resorts open with terrain available for every age and ability.  All roads are open and clear as well, so guests will have no trouble reaching the resort.