Ripton, VT – Snowmaking has long been a staple of alpine ski resorts to ensure the reliability of snow cover, but most cross-country ski areas have been slow to follow suit.
Rikert Nordic Center, a 50-kilometer nordic ski area located in Ripton, Vt. that's owned and operated by Middlebury College, has added snowmaking to five kilometers of of its ski trails, the equivalent of about 3.1 miles. It's the most extensive coverage at a cross-country ski center in the Northeast, according to Mike Hussey, Rikert's director.  The new $850,000 snowmaking system will extend the cross-country skiing season and all but ensure that there will be snow when the college hosts the NCAA skiing championships in March.
Rikert now has 20 snow guns manufactured by HKD Snowmakers of Natick, Mass., to make its snow. At full capacity, Rikert's snowmaking system uses up to 250 gallons of water per minute. For comparison purposes, Hussey estimated that a major alpine ski area such as Killington pumps about 10,000 gallons of water per minute. At 250 gallons per minute, the staff at Rikert can produce enough snow to cover five kilometers of trail in about 200 hours' time.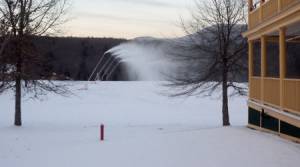 The system designed by Sno.Matic Controls and Engineering of Lyme, N.H., pumps compressed air and pressurized water through above-ground lines to each of Rikert's moveable snow guns. As long as the temperature is below 32 degrees F. and the humidity is low enough, compressed air mixed with water droplets at the head of a modern snow gun will produce ice crystals, or man-made snow. And once a portion of trail has been covered sufficiently, the apparatus is moved to another section of trail while the staff grooms the newly made snow.
The acquisition of a snowmaking system at Rikert was made possible by the generosity of Middlebury alumnus John Tormondsen and his family. A former first-team All-American Nordic skier and member of the Class of 1982, Tormondsen serves on the college's board of trustees.
Prior to the winter of 2011-2012, the college completed construction of a five-kilometer trail that was certified by the International Ski Federation (FIS) as a "homologated" race course. In order to be certified, the trail had to meet FIS standards for width, climb levels and total elevation. Rikert's new snowmaking capacity covers the FIS-certified course, which has been newly named the Tormondsen Family Race Trail.
Hussey said snowmaking should increase the Nordic center's number of skier days and serve as a "tremendous benefit" to the Addison County region of Vermont.
"The real value of this system is to be able to make snow in the early portion of the season, to give skiers an early start and get them excited about cross-country skiing," Hussey said. "In this region, we have world-class lodging, restaurants and arts and culture, but most of our businesses and institutions are underutilized in the winter. Now that we have state-of-the-art snowmaking on our FIS-certified course, we should see more skier days at Rikert each winter and more business generated in the community."
As of early February, the college has raised $600,000 toward the $850,000 cost of snowmaking at Rikert. Fund raisers are working to raise the remaining $250,000 before the end of the 2012-2013 ski season.