Pincher Creek (AB), Canada – Pulling into the town of Pincher Creek, Alberta, one certainly doesn't feel that they've arrived at a ski mountain. Situated 30 miles east of Castle Mountain Resort, though, the 600 or so beds contained in a number of motels constitute the closest lodging to the ski area. The town is a dusty crossroads in the wide-open Albertan prairie, and many of the motel parking spaces are occupied by work crews spending the night far from home. If you've arrived after dark you may well wonder where in the world you'll be skiing in the morning. We marveled at the $41.50 CDN per person ($28.22 USD at the exchange rate of the day) ski and stay package as we bedded down at the Foothills Motel for the night.
In the morning, we were thrilled to not be able to see very much at all. After seven days in western Canada witnessing only the occasional flake falling from the sky, the new day dawned with an honest-to-goodness snowstorm. We walked next door for a greasy-spoon breakfast before making our way westward along deserted but easily negotiated two-lane roads to Castle Mountain.
WHERE THEY CALL THE WIND "A GROOMER"
Castle Mountain's
front side (click on image to open a full-size version in a new browser
window)

Castle Mountain's
back side chutes (click on image to open a full-size version in a new
browser window)
New arrivals are greeted by a huge massif looming above them at the terminus of a dead-end valley. Roughly two-thirds of Castle's ski terrain exists above timberline, and all of the 2800 vertical feet cascade down a consistently steep pitch on a convex, bald dome of a mountain covering 1500 acres. Lift service is provided by a triple chair, a double chair, two t-bars and a handle tow. The mountain's annual snowfall average is just over 200 inches (500 cm) at its base and 350 inches (750 cm) at the upper elevations. No snowmaking supplements nature's bounty here.
Castle Mountain has been nicknamed the "Sastrugi Capital of the World"
by First Tracks!! Online Contributing Writer and former Calgarian Jim Crowley, thanks to its infamous winds. The warm Chinooks are known to howl northward here along the Rocky Mountains' Front Range, turning much of Castle Mountain's snow into firm styrofoam. Once above the lower chairlift, little to no natural features exist to check the wind's fury. In fact, despite ample snowpack on the entire mountain, areas around the summit of the Tamarack Double chair just below the South Peak of Gravenstafel Ridge had been scraped down to bare rubble, adding an eerie moonscape feel to an already ethereal day.
Optimistically seeing the glass as "half full," Castle's management likes to refer to their wind as "grooming by nature," supplementing the 150 acres managed by three Bombardier BR-400s. On this day, however, it kept us out of the mountain's notorious chutes on the south side of the mountain, where couloirs such as Murphy's Chute and Haavy's Dream approach inclines of 45 degrees as they tumble to a narrow valley below the impressive ramparts of Mt. Haig. Exposed to the prevailing wind direction of the day, the back of the mountain possessed horrific wind slab, and in concert with white-out visibility it was enough to keep us up front.
We were by no means deprived, however, as the wind shadow of the front side delivered delight after delight. Upper mountain runs start out completely above treeline, but quickly enter terrain lightly studded with small krumholz and conifers – a real plus in the flat light during our visit. In essence, everything up here that you can see is your playground. Acre upon acre of terrain is served up in a snow sliding smorgasbord, waiting to be devoured.
Crowds under Castle's
Tamarack Double chair (photo Marc Guido)
Except that there's no one else there to dine! Thanks to a near dearth of skier traffic, we continued to enjoy fresh lines all day. Right up until 4:00 p.m., we could choose routes completely devoid of another skier's tracks – an experience unheard of at nearly any other resort. Even on a weekend day, elbow room of one to two acres per skier is common. A patroller assured me that these first tracks would persist for another three days. Oddly enough, we started to believe that "natural grooming" shtick as many of our earlier lines
had filled in, yielding yet another virgin slope just begging to be skied.
Although the resort's perimeter boundary contains 110 natural avalanche starting points, Castle is seldom plagued by the avalanche closure problems which vex nearby Fernie Alpine Resort. Likewise, Castle is not afflicted with Fernie's elevation woes: with a summit elevation of 7,200 feet and a base at 5,400 feet, Castle's lowest point is only 400 feet in altitude below the top of the skiing at Fernie.
As one heads further and further north along the Skyline Traverse atop Gravenstafel, the terrain becomes even more lonely. Heading out past the ridge's North Peak, runs such as Northern Delight were exactly that, with a consistent fall line through a sprinkling of trees that never seemed to end. With thigh-deep POW and face shots on many turns, we wished that it wouldn't.
LOCALS TO THE RESCUE
Castle Mountain has had what could best be described as a checkered history. The ski hill originally opened in 1967 under the name Westcastle Ski Area with a couple of t-bars on the lower flanks of the mountain. In the late 1960s another t-bar was erected to North Peak via the current Bandito trail, but financial hard times forced the operators to sell off that lift in 1971. After the uninsured base lodge burned to the ground in 1976, the mountain reopened in 1978, owned and managed this time by the town of Pincher Creek under the auspices of the Westcastle Development Authority (WDA). The WDA operated the mountain under a mandate to keep the ski hill viable until an investor could be located to
purchase the resort, and functioned with a couple of t-bars for lifts and used construction trailers for a base lodge.

Castle's South Chutes
(photo P. Waque)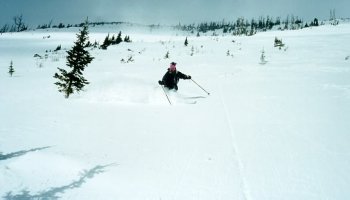 Castle's South Chutes
(photo J. Crowley)
An Edmonton consortium named Vacation Alberta Corporation entered the picture in 1989 with grandiose $72 million plans, including two 18-hole golf courses and 2,500 pillows. After granting approvals, the provincial government rescinded their blessing in the face of the developer's financial difficulties and outcry from both environmental forces and locals not ordinarily opposed to resort development. In granting their consent to the project, Alberta's Natural Resources Conservation Board (NRCB) mandated that 800 square kilometers surrounding the resort be designated forever wild, restricting or banning such elements of local livelihood as logging, motorized vehicles, oil and gas exploration, hunting and cattle grazing. In doing so, the NRCB single-handedly turned many of Castle's neighbors into opponents of Vacation Alberta.
"I think that they were concerned that someone would build Whistler here," acknowledged Tom Tataryn, Castle Mountain Resort's General Manager.
After the plan's demise, a group called the Westcastle Supporters' Association was formed, the members of which agreed to underwrite any losses sustained by the town and the municipal district in their operation of the ski hill. The
mountain operated for a number of years on a shoestring budget, in bad years sometimes finding themselves $30,000 in the hole.
Four of the key members of the Westcastle Supporters' Association decided that if they couldn't find a developer, they'd do it themselves. Castle Mountain Resort Inc. (CMR) raised a million dollars of share capital from 140 shareholders who faced a minimum commitment of $5,000, and sublet lots at the base of the ski area for cottages. CMR then approached the municipal district, which sold the resort's assets to the newly-formed corporation at a very attractive price of only $50,000.
CMR began operating the mountain under the name Castle Mountain in 1996, installing the Sundance Triple Chair to mid-mountain in their first season. The new corporation saw a one-year increase in skier visits from 15,000 to 36,000! Skiing above the lift-served terrain was accessed either by hiking or on a pay-per-ride snowcat basis.
In the summer of 1998, Castle Mountain undertook the biggest expansion in its history by purchasing the used Great Divide double chair from Sunshine Village and erecting it to the mountain's summit. This move instantly transformed Castle from a small, local ski hill to a true player with 1500 acres of lift-served
terrain strung over a 2800-vertical-foot frame. Last season, these improvements drew 65,000 skiers. Sales revenues have increased 75% each year under CMR's ownership.
MODEST DEVELOPMENT PLANS
Despite this expansion, Castle Mountain has yet to enter the destination market, drawing the majority of its skiers from Calgary two and a half hours away or from nearby areas in Montana. Castle revels in its position as the irreverent, independent mountain in the neighborhood. A Calgary radio advertising campaign carried such marketing slogans as "The moguls should be on the mountain, not running it" and "Passholders are more important than shareholders."
Although modest development plans are in the works at Castle, don't expect a "Vail of the North" anytime soon. The mountain sublets 88 residential lots on 57 acres of base property that the corporation owns, while the ski resort itself is operated through a License of Occupancy lease from the Crown. New this season is an airy 12,000 square foot day lodge. The corporation's resort development interest is limited to attracting a hotel operator to build a small accommodation property at the base of the resort.
"Our shareholders want us to maintain the same feel and ambiance that we have, and keep it sort of a low-key, affordable kind of a ski area," cautioned Tataryn. "Our shareholders didn't buy in here to make a whole pile of money. They bought into a lifestyle. Our shareholders are pretty satisfied with the number of skier visits that we've been getting and don't want to devalue
the product by overuse."
Castle's modest expansion plans are again receiving some environmental attention, in large part due to its location at the Crown of the Continent – water runs in all four directions from here to eventually spill into the Atlantic, Pacific, and Arctic Oceans as well as the Gulf of Mexico. Combined with unique plant and animal life, and the resort's proximity to Waterton-Glacier International
Peace Park, any development in the region is sure to draw close scrutiny.
View toward upper
mountain from top of triple chair (photo P. Waque)
The mountain functions under the watchful eye of an 11-member Board of Directors, and approval from a majority of shareholders is required for any financed expenditures. New shares are not presently being offered and another offering is not presently planned, as Castle intends to finance capital improvements through lot sales. Shareholders are restricted by the Alberta Securities and Exchange Commission to that province's residents.
There's no argument that Castle is a steep mountain, and Tataryn sees this as a potential obstacle to the hill's success. "Typically, the weakest skier in your group decides where you're not going," he quipped. To that end, Castle has been spending more than $100,000 per year to recontouring its existing novice and intermediate terrain to make it more user-friendly. For summer 2000, CMR plans to widen the mid-mountain novice trail North Run by 200-300%. The master plan calls for a 2300-foot (700m) beginner chairlift reaching from the current base area to North Run near its intersection with Muskrat, most likely installed during Summer 2001.
Now is certainly the time to visit Castle Mountain, before word of its prolific snowfall and deserted terrain continues to spread. If you're a local skier, Castle gives half-day rates to anyone holding a valid season pass from a neighboring resort. If you're a destination skier visiting Banff/Lake Louise, Fernie, Kimberley or Panorama, be sure to consider charting a course to the extreme southwestern corner of Alberta to sample from a true skiing buffet at Castle Mountain Resort.