Sun Peaks (BC), Canada – The
snow fell so fast that I couldn't concentrate. It reminded me of Han Solo
sending the Millennium Falcon into warp speed. Snowflakes obliterated
the dark sky with lines of white. I was transported from driving a pleasant
mountain road to steering with "The Force." I blinked and squinted,
trying to make out the edges of the snow-covered road. Five inches of new
snow covered the lines, and the speed limit of 40 miles per hour seemed irrelevant.
Driving at 20 was scary.
n
"This sucks … what am I doing out here?" I asked
myself.
The answer was obvious. It was snowing, and I was on my way
to Sun Peaks Resort.
BIG BY ANYONE'S STANDARD
I awoke to a nearly-shining sun. The snow wasn't as deep as
it had been on the highway, but that was okay. I was about to explore for
the first time a ski area that for years I had heard only good things about.
Sun Peaks is a fast-growing destination resort just north of
the British Columbia interior town of Kamloops. Just 45 minutes from the dry
lowlands surrounding the town, the ski area was buried under the spring remains
of a solid winter snowfall.
From the resort's base area, two mountains spread out across
180 degrees, and a third rises up on the other side of the valley. High above,
alpine bowls roll away out of sight. With 2,900 acres draped over nearly 2,900
vertical feet, the mountain is big by anyone's standard. So much terrain lay
before me that I didn't know where to start. I jumped on the Sunburst Express
quad for some warm up runs.
The high-speed detachable chair seemed to go forever. It climbed
up, and up, and up … exposing the upper section of the mountain, covered
in a fine coating of new snow.
It was, unfortunately, spring. The prior weekend had been warm
and sunny, melting the winter snowpack. The brief snowfall the night before
had done little to bury the hard crust, and the light overcast skies and cold
mountain air delayed the softening of the surface.
Undaunted, I took a run down the fast and fun Caribou. Three
or four inches of new snow on a grippy surface, no crowds, and first tracks.
Next up was a long groomer right down the Sunburst lift line. The smooth corduroy
had just begun to soften. It held an edge like a knife in warm butter as I
carved big turns down the plumb-straight fall line.
Sun Peaks (photo: Alan Fortune/Sun Peaks Resort)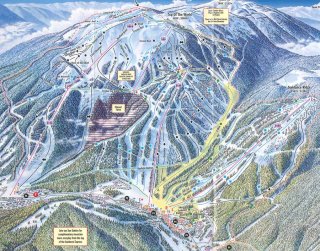 Click image to open a full-size trail map in a new
browser window.
(Photos above & below:
Don Weixl / Sun Peaks Resort)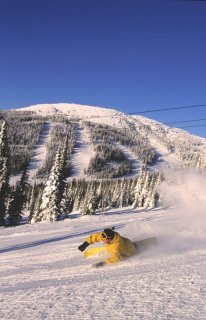 Tree skiing is a Sun Peaks staple. (Photo: Sun Peaks
Resort)
I had time for one more run before meeting my hosts. I ripped
over to Sting and pounded my body down an endless series of perfectly-formed
bumps. My legs were juiced, and I had enjoyed only three runs.
A DECADE OF TRANSFORMATION
I raced back to the bottom just in time to meet up with Francis
Argouin, director of marketing for the ski hill, and Vince Accardi, director
of marketing and media relations for Tourism Sun Peaks. They led me back to
the Sunburst and filled me in regarding the ins and outs of the ski hill.
Kamloopians have been coming to the area for snow and sun since
1961. Back then, Sun Peaks was known as Tod Mountain and it was primarily
a local destination with a few lifts, fall line skiing, and minimal infrastructure.
It remained a local destination until 1992 when the Japanese
firm Nippon Cable purchased the hill with visions of a full-service four-season
resort. They solicited local feedback in forming a master planning process,
and then went to work to achieve it. They spent $225 million CAD during their
first 7 years of ownership, and the second phase currently underway is set
to cost an additional $70 million CAD.
"Tod Mountain used to be a real skiers mountain," Argouin explained.
"There weren't a lot of services, no on-hill accommodation, and the skiing
was pretty hard." Nippon wanted a family resort with all-season attractions.
They've accomplished their objective, that they're still working to make it
better.
We offloaded at the top of the lift and went to test their rhetoric.
From the top of Sunburst we dropped down to the Crystal Chair and rode it
to the summit. From here, the entire resort spread beneath us.
A BARKEATER'S DELIGHT
Argouin led us into the woods. Tree skiing is a mainstay at
Sun Peaks. Every summer, trail crews hit the slopes to open up the forest.
There are easy intermediate glades, very steep glades, and even glades so
well-spaced that a cat can groom between the trees. All the glading opens
up much of the terrain between the named runs, making the ski area's 2,900
acres seem much larger. There are nine named glades, and countless others
waiting to be discovered.
Argouin obviously knew where he was going. The trees opened
up into lines of white. The snow surface in the woods was pleasant, and the
dusting on top flew with each turn. Our run increased in angle as it tumbled
down the fall line before popping the three of us out onto Five Mile, a long
and lazy groomed run that acts as a collector for a host of trails that fall
from the Sunburst Express. "Yes, it is five miles long," Francis assured me
as we raced along with no end to the trail in sight.
Back on the lift, I congratulated Argouin on the nice find.
He explained that there are pockets and lines of gladed trees all over the
mountain. The trail crews cut them, but the mountain doesn't publicize them.
"There are always places to explore on this mountain," Accardi added. "Francis
and I were skiing after the President's long holiday weekend, and it hadn't
snowed in a while. We explored a set of trees and found this untouched line
that had some of the nicest turns we've experienced all winter."
Argouin and Accardi wanted to demonstrate the hill's other offerings.
We turned our skis down a long, blue groomed run, aptly named Cruiser. The
trail's rolls led to a steeper lower pitch that allowed for some hard carving
action. There wasn't a bump or deformity in the perfectly groomed surface.
This, too, is thanks to the hard working summer trail crew.
All summer rocks are picked off the ski runs to ensure a smooth surface and
allow for trail opening with a shallower base of snow. In the fall, the manicured
runs are mowed to reduce the grass height. What is left is a surface perfectly
suited to skiing. With as little as 18 inches of snow, the mountain can open.
That is not to say that it doesn't snow. The ski hill is like
a pimple rising out of the Shuswap Highlands, by far the highest feature around.
As Pacific systems and northern systems hit the highlands, they crash into
Tod Mountain and the rest of Sun Peaks, bathing the resort with an annual
average of 208 inches of snow. All winter long, "snow ghosts" decorate
the upper mountain. The skiing and snowboarding lasts into April, and only
closes due to a lack of interest, not for a lack of snow. The surrounding
area is quite dry, so when it snows, it falls light and fluffy. When it doesn't,
the skies are among the clearest of any ski hill in BC, and snowmaking covers
8% of the resort's terrain.
On this day, however, snow was moving in. Argouin and Accardi
wanted to show me one more feature of Sun Peaks before the visibility closed
in. We rode all the way to the top of the Crystal Chair, and then began a
five-minute traverse and sidestep towards the northeast into Sun Peaks' backcountry.
Open faces of powder fell onto the plateau below. Argouin again
led us down the broad above-treeline slopes and into the woods. The snow had
a thin crust, but not so thin to break through. Big turns led onto a cat track
that led back to the ski area. It took 15 minutes, and this was just the start
of the backcountry terrain.
Expansion plans call for lifts eventually running out as far
as Tod Mountain, three peaks away, but until that day, all of the terrain
in between is open to skiers and riders properly equipped with shovels, beacons,
probes, and the knowledge to use them. The cat track again landed us on Five
Mile. We turned down the empty connector and cruised toward the bottom. Empty
runs had been a constant of the entire day. It was a weekday, but even so,
there were no liftlines and we encountered no traffic on the runs.
ELBOW ROOM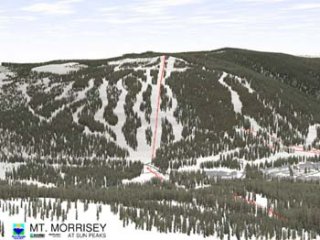 The Mt. Morrisey expansion area
(photo Sun Peaks Resort [above] and Adam Stein / Sun Peaks Photo [below])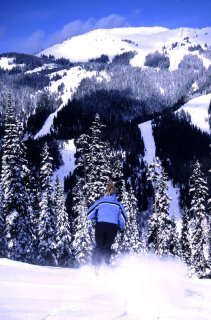 Sun Peaks at night. (Photo: Sun Peaks Resort)
This is by design. Sun Peaks' goal is to expand at a rate equal
to growth in skier visits. The hill wants to maintain two acres of skiable
terrain for every person riding the lifts. They are on target for the moment,
and will continue to be on target next winter when they add Mt. Morrisey
to the menu. The resort's third mountain has operated as a cat skiing area
in 2002, with daily runs up the untracked hill, but this summer a quad chair
will be installed to lift guests to Mt. Morrisey's heights.
This will continue the steady expansion of the four-season resort.
It has a developing village, a soon-to-be-18-hole golf course, and tons of
mountain biking and hiking trails. More lifts and housing are planned.
Presently under construction is the Delta Sun Peaks Resort,
a first-class, 226-room hotel and conference center. The $40 million ski-in/ski-out
project was originally scheduled to open during the 2001-2002 winter season,
but an extensive construction fire in October, 2001 forced the resort's debut
to be postponed until next winter. The property will feature a 150-seat restaurant,
an 80-seat lounge, over 12,000 square feet of meeting space with a 5,600-square
foot ballroom, a full-service Health Club facility with pool, spa and fitness
center, underground parking and retail shops.
Even without the opening of the Delta Sun Peaks, the resort
offers a full array of lodging options. Located slopeside are the Sun Lodge
B&B, Sundance Lodge and Cahilty Lodge, owned by Canadian ski legend Nancy
Greene, who also serves as the resort's director of skiing. You'll find the
Sun Peaks Lodge, Pinnacle Lodge, Fireside Lodge, Hearthstone Lodge and Heffley
Inn within a short walk of the lifts. Slopeside and nearby, numerous private
condominiums and chalets are available to rent. There's even the Sun Peaks
International Hostel, adjacent to the Burfield Chairlift, and 10 RV sites
reside across from the Sports Centre's heated swimming pool, outdoor ice rink,
and hot tub.
In between it all, the Village at Sun Peaks serves up a wide
array of dining, shopping and services. Whether you're looking for a steaming
cup of gourmet coffee, a sizzling steak, a slice of pepperoni pizza or a pint
of brew, you'll find it here.
THE SNOW GODS WERE SMILING
Armed now with a bit of knowledge of the lay of the ski hill,
I took off by myself. I checked out the boardercross track and Terrain Park
at the predominantly intermediate Sundance Ridge before loading the chair
to the top of the mountain to do a little bit of exploring of my own. I dropped
into a set of trees that seemed too tight at the top, but they quickly opened
up into a steep chute. The prior night's snowfall had collected in the chute,
and each turn threw up a cloud of fluff. The chute drained into an open glade,
and I skied down through the trees, enjoying turn after turn of untouched
snow. On either side of my line I could make out an open ski run, but there
wasn't a soul near me. I popped out onto Five Mile and enjoyed effortless
carving on the empty trail back to the bottom.
I felt like the gods were smiling on me from light years away.