Big Sky, MT – Believe it or not, Montana has a new destination ski resort. This may not seem like such a remarkable statement, but in fact when it opened for the first time last season, Moonlight Basin was the first new destination ski resort that the U.S. has seen in over two decades. Located on the north side of Lone Mountain in the Madison Range of southwest Montana, Moonlight Basin began as a lodging property associated with neighboring Big Sky Resort. Now, they've branched out on their own, and they're ready to take on both the local and destination skier markets with their unique brand of customer service and environmental stewardship.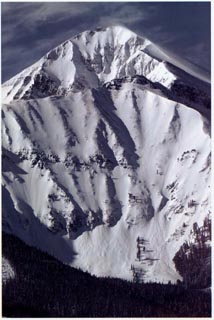 Lone Peak,and
Moonlight Basin's Headwaters area
(photo: Moonlight Basin Ski Resort)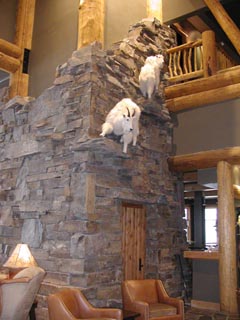 One of Moonlight Lodge's
massive stone fireplaces.
(photo: Chris Keeler/J&E Productions)
Click image to open a full-size Moonlight Basin trail map.
Moonlight Basin is situated on part of a 25,000-acre parcel of land originally ceded to the Burlington Northern Railroad to provide timber for track construction. About a decade ago the land was put up for sale, and finally purchased by Montana residents, Joe Vujovich and Lee Poole, and their Florida-based partner, Keith Brown. The local community was pleased that the land, which had been scarred by nearly a century of casual logging practices, was now in the hands of locals who were intent on restoring the  damage and ensuring that any future development would be done in an environmentally-responsible manner. The partners knew that the land held great potential as ski terrain, but awaited judgment from their wildlife expert before proceeding.
To their surprise, they were informed that the creation of ski trails would actually enhance the wildlife population due to the increase in forage and summer habitat. A doubling in the area's elk population and significant recovery of native vegetation since the partners' original purchase suggests that the advice was on track. In addition, approximately half of the land has already been placed into permanent conservation easements, and more may be on the way. These efforts have garnered praise from environment-watchers, a testament to the approach the partners have taken in ski resort development.
In order to maximize open space and forest habitat, Moonlight Basin has focused on high-density development adjacent to the ski terrain. This means that lodging options are ski-accessible, providing quick access to the trail networks of Moonlight Basin and neighboring Big Sky Resort. Cabins, town homes, and luxurious private homes are all lodging options at Moonlight. There are even spectacular three-level penthouses available in the Moonlight Lodge: the centerpiece of Moonlight Basin, the hub of resort activity, and the spot where our ski adventures began.
Upon entering the Moonlight Lodge, one's eyes are immediately drawn to the massive stone fireplaces. Local lore says that their construction was such an endeavor that the mason who built them was able to retire after the job…or perhaps he had to. In any event, the spectacular stone structures serve as grand centerpieces for the lodge, which is both beautiful and functional. My crew and I had a chance to soak in the aura of the lodge while we waited to meet Laura Cox, Moonlight's director of marketing and our first contact of the day, who added two guides to our group of five skiers. After a short discussion, we grabbed our gear and got ready for our mountain tour. We'd been peering out the huge windows of the lodge and staring at Lone Mountain in anticipation, now it was time to hit the snow!
Our guides for the day were Shawn Toresdahl, assistant marketing director for the mountain, and Travis Bos, a member of the mountain tour guides program. Their friendly, relaxed attitude was immediately apparent, and they couldn't wait to show us their home turf. Despite flat light conditions and more than a week without snowfall, Shawn and Travis assured us we'd find great skiing. As much fun as it is to poke around and explore a new mountain by yourself,  there's nothing like a knowledgeable guide to get you to the goods when time is short. In fact, guided mountain tours are available to all guests free of charge at Moonlight Basin. Like the hand warmers they supply at the bottom of the lifts, it's just another one of Moonlight's efforts to provide an exceptional experience on the slopes.
We began our tour right behind the Moonlight Lodge by boarding the Iron Horse, a quad chair that services a small pod of Moonlight's trails and also provides access to the trails of Big Sky Resort. Our guides informed us, however, that we'd quickly be leaving the Iron Horse and heading over to the Six Shooter, a high-speed six-person chair that provides access to the bulk of Moonlight's lift-serviced terrain. Although Moonlight Basin currently offered just four lifts that service a modest 1,249 acres of skiing during our visit, more is on the way for the 2004-2005 ski season. Plus, as we'd quickly find out, the quality of the current trails already provides a memorable experience.
A casual glance at the small assortment of trails on the Moonlight Basin map doesn't evoke thoughts of endless exploration, but it doesn't convey the character found in gems like Meriwether, a twisting, diving, blue cruiser that epitomizes much of the skiing under the Six Shooter. Although we hit portions of Meriwether and other runs several times during our morning of chasing Shawn and Travis around the mountain, it was often hard to tell when we passed over an area twice. Tree islands, contours, and plenty of continuous fall-line skiing give the runs unique character and flow that make each turn seem like something new. Beginners who aren't quite ready for the twists and turns of trails like Meriwether don't have to worry about getting a chance to ride the Six Shooter, as they can make their way down Lazy Jack to connect with the rest of the lower mountain. There they'll find a high concentration of beginner terrain on the Pony Express and Derringer lifts, the latter of which services a beginner area reserved exclusively for slow skiing to provide a comfortable atmosphere for those just learning to turn.
The twists and turns of the trails below the Six Shooter may have kept us guessing, but one thing we found we could rely upon was the high quality of the snow surface. Since the trails of both Moonlight Basin and neighboring Big Sky Resort descend from the famed Lone Mountain, it gave us the perfect opportunity to directly compare snow surfaces at the two areas. We'd spent the previous day skiing at Big Sky, and the lackluster conditions we'd experienced on many parts of the mountain were still fresh in our minds and legs. Both resorts are blessed with the same 400 inches of annual snowfall that blankets Lone Mountain each year, snow that is some of the lightest and driest in all of Montana. Unfortunately for Big Sky, much of their terrain faces south, and while this may be helpful for softening up the slopes on sunny mid-winter days, it's not a great recipe for preserving powder. We experienced a large amount of sun-baked crud before finding a refuge of soft snow on the north slopes of Andesite Mountain, an additional peak serviced by Big Sky Resort.
By contrast, Moonlight Basin sits on the north side of Lone Mountain, and therefore has an abundance of north-facing terrain sheltered from the sun. Even though it hadn't snowed in over a week leading up to our Moonlight trip, the snow surface was still relatively soft on most areas of the mountain. As if northern exposure wasn't enough, Moonlight Basin has another critical asset for maintaining a high quality snow surface: a lack of crowds. Despite having only one third the acreage of its neighbor, Big Sky Resort, the solitude on the slopes at Moonlight was immeasurably greater. In fact, on the foggy, snowy day we visited, it was almost spooky.
Hiking to the Headwaters
(photo: Chris Keeler/J&E Productions)
There's no question that the lift-serviced slopes at Moonlight Basin have character, a pristine surface, and plenty of elbow room, but they're not the kind of terrain that's going to knock the socks off thrill-seeking expert skiers. That's where the Headwaters area comes in. Rising above Stillwater Bowl and the rest of Moonlight's lift-serviced terrain, the Headwaters consists of a variety of steep runs that will challenge even the most expert skiers and riders. We're talking true big mountain skiing here, with the pitches of standard lines ranging from 35 to nearly 50 degrees…and  there's even steeper stuff if you want it. These runs are on par with the toughest slopes you'll find anywhere. At this point, the additional 1,200 vertical feet of skiing provided by the Headwaters can only be accessed by hiking. This setup has the usual downside of requiring more time and effort to access the goods, and while the elevations we're talking about (9,050 feet at the top of the Six-Shooter lift to 10,250 feet atop Castle Rock) aren't quite into the stratosphere as Rocky Mountain ski areas go, visitors from sea level may want to adjust to the altitude for a couple of days before tackling what the Headwaters has to offer. The upside of the hike-to terrain of the Headwaters is that those who are willing to make the extra effort will generally be rewarded with untouched snow on Moonlight's most spectacular terrain.
The Moonlight Basin ski patrol has a rather unique policy toward the Headwaters. Skiers and riders need to inform the patrol before beginning their hike, and they want individuals unfamiliar with the area to go with someone knowledgeable, but unlike the policies of many ski areas offering this type of expert-level terrain, no avalanche beacons, shovels, or probes are required for access. Although this policy is a testament to the Moonlight Basin ski patrol's confidence in their avalanche control work and rescue skills, a visit to the Headwaters should not be taken lightly. A rescue can be a long and difficult process in such extreme terrain. Our group was fortunate enough to get a guided, first hand look at just how serious the Headwaters terrain actually is.
Our trip to the Headwaters began around noon, when the overcast skies that had been with us all morning were just producing the first flakes of an oncoming storm. We knew it was now or never if we were going to get photographs and video above tree line. Travis and Shawn first took us on a short hike above the top of the Six-Shooter for some powder in the trees, and then it was off to the main course: one of the Headwaters chutes. Our exact destination was uncertain, but we knew our guides would do their best to get us to the good snow.
Although the route to the ridge sported a well-established boot ladder, it was still a strenuous hike for those of us who don't do it daily. Imagine our surprise when we finally hit the top and spotted a ski lift a few dozen yards below us on the ridge! It was Big Sky's Challenger lift, and while it served the same ridge we were on, it might as well have been on another planet for anyone looking to ski the Headwaters. This is due to a very strict policy applied to the terrain on the ridge: if you come from the Big Sky side of the ridge, you cannot cross the rope and ski the Moonlight Basin side, and vice versa. So, despite the proximity of the Challenger lift, the only way to access the Headwaters is by your own power.
Although we'd finally gained the ridge, our hike was not over. Shawn and Travis proceeded to march us along the ridge itself, a somewhat daunting mission in the low visibility conditions of swirling fog and  spitting snow. At one point, I looked down below my left foot and could see a frighteningly steep couloir dropping away into oblivion. The choke point couldn't have been more than a yard or two wide, lined by rock walls and covered with a surface of crusty, refrozen snow. From my vantage point, the top of the chute looked literally vertical, but once I got my head together and made a more educated guess, I figured the pitch was in the range of 50 degrees or so. Travis took a quick look and confirmed my suspicion. We were looking down one of Big Sky's formidable A-Z chutes, and I was more than grateful we'd be descending on the north side of the ridge, where we'd have nice light snow instead of deadly refrozen crud. In fact, Big Sky's A-Z chutes had been closed because of such nasty conditions, once again revealing the downside of such south-facing terrain.
Walking along the ridge with low visibility and precipitous drops on either side only reinforced the importance of our guides, who'd now brought us safely to the top of Firehole, the day's run of choice. With a pitch in the 40 to 45 degree range, Firehole is at about the middle of the road for the chutes of the Headwaters and serves as a nice representative run. From my vantage point at the top, I could see that it began as a large snowfield that gradually choked down and disappeared as the sides of the chute closed in and the pitch increased. Below that, I could only imagine what we'd encounter.
We each took turns dropping in, finding generally soft snow with areas of wind crust. Our guides used their knowledge of the prevailing winds to pick the areas likely to have the best snow, but it was still very challenging skiing. The crux of the run was a steep pitch at the throat of the chute. Although I hesitate to call it a no-fall zone, a big slip in this area could easily send someone tumbling head over heels down the chute and into the left wall of rocks below. I can say this with some confidence, since I experienced my own head over heels tumble when I lost a ski just above the apron at the bottom of the chute. I was  fortunately in a safe area where the pitch had mellowed out, but for a few moments my whole world was a spinning vision of snow and sky. I was eventually able to right myself and come to a stop, but by that point I was a snow-caked mess. If I hadn't already had respect for the power of the Headwaters terrain, I would have gained it by that point.
Having survived our trip to the Headwaters, it was time to refuel with an on-mountain lunch at the  Madison Lodge, which sits near the bases of the Six Shooter and Derringer lifts. The Madison Lodge is actually just a semi-permanent tent-style structure, but once you get inside you realize it's nothing like a tent. It houses a cafeteria, restrooms, a ticket office, and other amenities, and unless you think about it, it's difficult to tell that you aren't in a permanent structure. It was certainly a warm, dry place to enjoy lunch and defrost my now snow-caked clothing and equipment.
The lunch offerings were moderately priced, and like many of the top-end destination resorts the food  seemed less like what you'd find in a typical ski lodge, and more like something you'd find at a casual restaurant. During our break from the slopes, I was fortunate to have a chat with Rich Hohne, vice president of marketing and sales for Moonlight Basin, and Burt Mills, the general manager of the mountain.  the friendly, relaxed Montana attitude was once again apparent in my conversations with Burt and Rich, and both came across as champions of Moonlight's special ski resort experience.
Their message was clear about going the extra mile to make their guests feel at home. I think Burt summed it up well when he stated, "Our approach is just to be a friendly, down home, welcoming place."
We thought we'd seen a good chunk of Moonlight's ski terrain during our morning escapades, but Travis still had a few tricks up his sleeve as we finished off our day. He took us to one of his personal favorite runs, a streambed below Stillwater Bowl called Lone Creek Gully. It's been nicely cleared to create a roller-coaster ride through the trees. We'd seen the smooth cruising terrain of Moonlight's groomed runs, and the eye-popping steeps of the Headwaters, but a run through the woods really rounded things out for a guy with Vermont skiing roots like me.
As the light began to fade, we finished our day off with "Powder River", a wide blue cruiser that drops past scattered cabins to end right at the back of the welcoming Moonlight Lodge. Carving out those last quiet turns as I pushed around the new powder that had fallen throughout the afternoon, I knew I was in trouble. My time on the slopes had come to a close, but Moonlight Basin left me wanting more.
Our skiing was over, but Travis was about to ensure that our Moonlight Basin experience carried on well into the night. Our first stop was the Timbers Bar, conveniently located right inside the Moonlight Lodge. We saddled up for some refreshment, and of course a lengthy discussion of all things skiing. Next, we headed a couple of miles down the road to the Big Sky Mountain Village where we had a great pub-style dinner, followed by a whirlwind tour of the village that featured some of Travis' favorite haunts and lasted well into the wee hours of the morning. The nightlife is plentiful at the Big Sky Mountain Village, with dozens of restaurants and watering holes to keep visitors happy.
For those who would rather get in their off-piste activities during the day, Moonlight Basin's got plenty to offer as well. Perhaps one of the most unique and visible of these activities is dog sledding. Just as we did during our visit, winter visitors may be surprised to find themselves sharing the ski terrain with canines and mushers as they cruise along the edge of the runs. It's not every resort that has signs warning skiers of dogsleds crossing the trail! Back at the Moonlight Lodge, guests can go ice skating, visit the luxurious Moonlight Spa, or take a dip in the beautifully landscaped, heated outdoor pool. Regionally, with Yellowstone National Park less than an hour away, activity options are almost limitless.
Getting to Moonlight is an easy flight into the Bozeman airport, which is just 47 miles to the north and serviced by several major airlines. Getting here is relatively easy, your only problem will be deciding how to spend your time.
The Headwaters loom above
Moonlight Basin's Stillwater Bowl.
(photo: Moonlight Basin Ski Resort)
If all of Moonlight's options still haven't sparked your interest in this Montana skier's paradise, perhaps this summer's huge expansion will do the trick. For skiers and riders, some of the most exciting developments are the installation of a new lift in Stillwater Bowl and the opening of 400 new acres of terrain to go with it. The new Lone Tree Quad will rise 650 feet, providing additional access to Stillwater Bowl and over 20 new runs on terrain previously reserved for snowcat skiing. With an ample supply of advanced trails and glades, the expansion will please expert skiers looking for more exciting lift-served options. More hike-to ski terrain has also been added, which will swell the total in-bounds terrain to over 2,000 acres and 3,850 feet of vertical.
The potential that this year's expansion holds for visitors is outstanding, and I'm not sure that I can convey it, but I'll try. Almost everyone has heard skier's stories about that "once in a lifetime trip" from someone who had on-mountain lodging while a huge storm closed all the roads to the resort. Those lucky few who happened to be there enjoyed the ultimate powder skiing experience as they shared the mountain with "their 100 closest friends". Well, at Moonlight Basin, you probably won't have to wait for the storm of the century to experience such a day, it just isn't that crowded.
Video
Come join the cameras of J&E Productions and explore Moonlight Basin in the free
online film, Montana's New Frontier.
(Running time 9:03)
[flvgallery video="http://www.firsttracksonline.com/video/1227403931_moonlightbasin.flv" title="Montana's New Frontier" caption="" thumbnail="http://www.firsttracksonline.com/video/videocovers/33.jpg" url="" url_text=" url_icon="" width="514″ height="384″]

This is no doubt due, in part, to the fact that people just don't know about it yet. I live in Montana myself, just a few hours away from Moonlight, and a casual sampling of several skiers in my community revealed that not a single one of them even knew Moonlight Basin existed! This year's expansion is only part of the potential 12 lifts, 3,500 acres, and 4,162 feet of vertical that Moonlight can eventually offer, but it means lots of extra terrain for people in the know to enjoy. Let's face it, though, the current state of obscurity won't last forever, so if you're thinking of checking out Moonlight, the sooner the better.
I'd have to say that Moonlight Basin is somewhat of a ski resort paradox. Perhaps this is just what Moonlight Basin, a resort trying to set itself apart with exceptional service and attitude, would expect to hear. They give you service and style that are virtually over the top, for a $39 lift ticket price. They give you family-friendly ski runs, crowned by some of the hairiest terrain you'll ever visit without your avalanche gear. They give you incredibly posh surroundings, suffused with simple Montana friendliness. It's anything but the ordinary ski resort. If you're looking for something different in a ski trip this year, it's time to set your sights on Moonlight Basin. The sooner you get to "Montana's New Frontier", the sooner you can stake your claim on an extraordinary ski vacation.