Nelson (BC), Canada – Are you looking for a ski vacation that is a little different than the usual? One that's unlike any you may have ever taken in the United States to the resorts of Colorado, Vermont, Utah or Tahoe? Maybe one that does not involve mega-resorts and condos, or even high speed chair lifts and gondolas, but does not skimp on the powder, in quality or quantity, or local charm? If your primary interest is quality snow, of the light and fluffy variety, that is constantly replenishing not in feet at a time that requires a snorkel to breathe, but from four to eight inches of fluff every day or two, you should head in the direction of Nelson, British Columbia.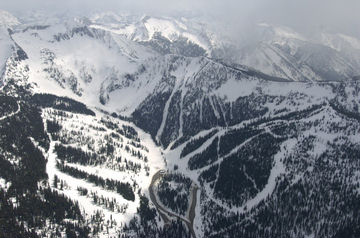 Whitewater (photo: Dave Gluns)
Hiking O.B. for the goods at Whitewater. (photo: Bryan Ralph)
Nelson is in the southern region of British Columbia, just a short drive from the U.S. border. This part of western Canada, in mountains known as the Kootenays, is often overlooked by U.S. skiers. Places like Whistler and Banff come to mind when people mention skiing in western Canada. While those places are beautiful resorts with awesome terrain and facilities, there are some low-key places in between that will provide a better opportunity for fresh tracks in fine powder with spectacular terrain.
Since most Americans have not ever heard of the small city of Nelson, they also have not heard of the nearby ski area known as Whitewater. When people ask where you're going for a ski vacation and you say British Columbia, they say, "Oh, you're going to Whistler!" When you tell them you are going to Nelson to ski at Whitewater, they cannot believe that you would travel all that way and not go to Whistler. If you tell them you're going to ski at nearby Red Mountain, they also look at you quizzically. Just say you're going on a western Canadian ski adventure, and leave it at that. They will see the pictures when you get back.
Year after year I keep returning to British Columbia to explore its many ski areas. B.C. has some of the finest ski conditions anywhere, and each time I return I am reminded of that over and over again. Each year it keeps getting better. Earlier travels brought me to Sunshine Village, Lake Louise, Kicking Horse and Fernie. Kicking Horse, for example, left such an impression with its huge vertical and super steep terrain that I swore I'd get back there. I've visited the ski resorts of the Okanagan region, another powder paradise relatively unknown to U.S. skiers. There aren't many Americans who have heard of the resorts of Big White, Sun Peaks and Silver Star that call the Okanagan Valley home. Big White received six to 10 inches of light fine powder each day we were there. On this trip to the Kootenay Region, though, I found nirvana, in powder quality and quantity as well as terrain.
Red Mountain has some of the most incredibly steep wooded terrain around, and it holds the snow extremely well. It is a gladed playground for expert level skiers. Acres and acres of unmarked, yet inbounds terrain will delight, challenge and entertain any advanced or expert skier. Intermediates will love the groomed trails and the low angle woods. Backcountry opportunities abound if you have the right equipment and knowledge. A 30-minute climb can reap unimaginable rewards of panoramic views and untracked snow. Red Mountain sports a laid-back atmosphere where the locals are extremely friendly folks that love their mountain and the lifestyle of Rossland.
WHITEWATER
From Rossland, drive just one hour east towards Nelson, and the snow is much deeper in the high mountains. Don't be fooled by the snowless valleys where the population lives. Just look up and you will see the clouds hanging low over the higher elevations.
Whitewater Ski Resort, just 15 minutes up a winding road from Nelson, will usually get a few more inches per storm than Red does. On paper, Whitewater does not look very impressive with its 600 acres draped over 1,300 vertical feet, with only double chairlifts to access them. I had seen these stats in the past and thought that there was no way I'd fly across the continent to ski that. Well, now that I've done it and experienced it myself, I will tell you that I would go back in a heartbeat, and I've already made plans to do so.
What you lose in vertical drop you make up for in powder turns. You will get spoiled by the powder's abundance, lightness and frequency of refreshing. They get between 400 and 500 inches of snow per season, rivaling the snowfall of the Utah Wasatch in quality and quantity! Whitewater may possess only half the vertical of Red Mountain and many other B.C. ski areas, but you can easily make twice as many runs, all of which are covered in untracked powder in Whitewater's gladed steeps and bowls, never repeating a line. After spending a few days at Red, the lesser vertical of Whitewater was welcome as my legs were getting tired from the 2,900-foot rugged laps that Red offers.
Not only does Whitewater have wonderful snow, it also has abundant backcountry options, including an easily accessible backside that will drop you onto the ski area's access road. If you don't feel like hoofin' it back up the road to the lifts, you can stick your thumb out and get a ride within minutes. It is good karma to pick up a skier coming out of the woods if you're driving up the road, so make room in your car before you hit the access road approaching the base area. Sometimes there's a shuttle running up the road picking up backside skiers for a buck or two.
This is a very low-key ski area with a very comfortable feel. It's a family ski area, but in a unique way, thanks to the hip local Canadian culture that's most noticeable in the base lodge. There seems to be at Whitewater a number of young hippy parents taking turns, as one stays with the baby while the other makes turns on the mountain. There were mothers breast-feeding openly. Dreadlocked youth with avalanche beacons, sipping tea with their tofu stir-fry lunch, plan the next run in the backcountry over lunch.
Whitewater offers a high quality and wide variety of food prepared fresh right in front of you while you wait in the cafeteria line. It is reasonably priced, eclectic, healthy and tasty. One might classify it as nouveau hippy cuisine. Sure, you can get a burger and fries, but you can also get falafel, a gyro, curried tofu stir fry, wraps, paninis, soups, salads with baby greens and sprouts and other fresh and delicious fare. Have you ever seen brown rice or hummus served at a ski area? Lunch in the log cabin base lodge is a worthwhile experience that tops off the morning of freshies, rejuvenating you for the afternoon mountain adventures ahead. Don't skip the huge home-baked brownies! Taking time out for lunch is essential at Whitewater. There's no rush. There will be plenty of powder when you get back out there. Get into the laid-back groove and enjoy. You may not want to leave.
Whitewater may be very mellow, crowd-free and laid back for most of the week, but local crowds to descend on the ski area on the weekends when the parking lot fills up and liftlines can run for 10 to 15 minutes. Many people park at the bottom of the access road and hitch or ride a shuttle to the ski area, for limited parking in the narrow valley is an issue on busy weekends.There is a master plan in place to manage the growth of the ski area to meet the increasing demand. Over the next ten years, expect to see new lifts increasing the skiable acreage and reducing lift queues.
While riding the lift in the afternoon, I met a fellow from Vermont who spends three months every winter living in Nelson and skiing at Whitewater. I later learned that this is not uncommon. I met other people from New Zealand and California who do the same. People who find Whitewater become very drawn in to the culture and enjoy their powder nirvana in the Kootenays, but they don't want anyone else to find out about their little secret. When this fellow learned that I was going to be writing an article on Whitewater he begged me to not let the word get out.
Well, the deed has been done.
Luckily, Whitewater is not for everyone. It lacks the amenities that most vacationers look for when going on a ski vacation. There are no slopeside accommodations. There are no luxury hotels with hot tubs and indoor swimming pools, and there are no high-speed lifts. You will only find a certain type of skier visiting this place: a skier who is adventurous, open minded, cost-conscious, and powder hungry.
A FUNKY, QUIRKY TOWN
Those who ski at Whitewater find their lodging in Nelson, an artsy town, with galleries, head shops and hippies roaming the streets of a vibrant downtown. There are two hostels where a night's lodging costs less than $20 and includes breakfast. The Gray Squirrel Hostel seems to attract the younger snowboarding crowd, and the Dancing Bear Inn attracts crunchy telemark skiers of all ages. The accommodations at both are basic and simple. Bathrooms are down the hall, shared with the other guests. They are in the heart of the downtown, stumbling distance from the bars. Bar noise is not uncommon at the hostels.
After a day of skiing there is nothing better than soaking the weary body in a bubbling hot tub. Unfortunately, there is a local Nelson ordinance that prohibits public hot tubs in hostels and small motels. The Alpine Motel, however, gets around this by locking theirs up and allowing guests to use it by request, as a guest of the owners. The Alpine Motel is up the hill from the downtown core by about 10 blocks, along the highway that goes towards Whitewater.
This is an ideal place for two to four people to share a room. The one-bedroom suites are suitable for two couples, and is very reasonably priced at around US$20 per night per person. These units have a kitchenette with a refrigerator, sink, microwave, oven and stove. For those who are not inclined to enjoy the shared bunkrooms and bathrooms of a hostel, and the associated noise created by the adjacent downtown pubs, the Alpine Motel fits the bill. Luxury accommodations also line the shores of Kootenay Lake for those looking for more hotel amenities in a resort atmosphere.
SPRING FOR A HOT SPRING
If you are staying in downtown Nelson at hot tub-less accommodations and need to find a place to soak your body in hot water, there is a natural alternative. Less than one hour's drive out of Nelson, along the shores of Kootenay Lake you will find the Ainsworth Hot Springs. This is a little side trip worth taking. Both the drive and the destination are well worth the effort, and your body and soul will thank you.
Ainsworth has a large open pool that stays at around 100 degrees, overlooking Kootenay Lake with a mountainous backdrop. Just a few steps above the large pool is another, smaller pool with an opening to a cave. The cave is illuminated and you can wade through three feet of water inside the cave as you marvel at stalactites and stalagmites dripping with hot waster. Cascades of hot water trickle down from the mineral encrusted walls, showering your head and body. There are alcoves with streams of hotter water flowing into the pool at up to 114ºF. The enclosure of the cave creates a natural sauna and hot spring all in one. Bring a big bottle of water and keep drinking. If you get too hot, emerge from the cave and plunge into the 40 degree pool for a real rush.
This is a commercial hot spring with lockers and showers, as well as a motel and restaurant. The cost of admission to the springs is a very reasonable US$6 and is worth every penny. Give yourself enough time to drink enough water and eat dinner before you hit the road back to Nelson.
CATS EVERYWHERE
If you're looking for an adventure beyond Whitewater's 600 powder-filled acres, without chairlifts or base lodges, there are nearly a dozen snowcat ski operations in the Nelson area. Heli-skiing is also available. Each operation has its own terrain that is leased from the province and shared with the logging and mining companies.
Valhalla Powder Cats is a good choice for advanced skiers and riders, as both the terrain and guides are top notch. Their permit area within the Valhalla range of the Selkirk Mountains is many times the size of Whistler, and all topped with 40 feet of nice, light Kootenay powder that falls annually. The guides take careful note of the wind and snow conditions each day, so that they know where to take their clients to access the nicest snow in the safest conditions. They will lead their group from the high open Alpine to old growth forests packed with boulders and cliffs for the adventure seekers, with sneak routes for those who prefer terra firma. Each cat will carry 12 guests and two to three guides up the mountain for about 10 runs per day, depending on the group, averaging 15,000 vertical feet of untouched champagne powder on each turn of every run. While expensive, the experience is priceless, and it includes lunch, drinks and snacks while you ride back up for another run, plus the camaraderie of skiing epic conditions in the Canadian
backcountry with a small group.
Advanced powder skiing skills are a must, for no one wants to slow down the whole group as each member is paying more than $250 for the day. Cat skiing may be the "poor man's heli-skiing," but a day of high alpine backcountry skiing is definitely the highlight of a week in British Columbia.
So, what's my ultimate powder package? A few days at Red Mountain, a few days at Whitewater, a day or two of snowcat skiing (as much as your budget will allow), and a trip to the Ainsworth Hot Springs. It is more likely that you will have multiple powder days on such an itinerary than if you went to any other ski destination. And if by chance you get there when there's a weak snow pattern, the cat ski operation will guide you right to the fresh stuff, guaranteed.
There are many tour operators that will put this kind of package together for you, or, you can go ahead and book your own accommodations. You can reserve through the cat ski operators as well, as they too have package deals with lodging in Nelson as well as skiing at Red and Whitewater. Budget-minded folks can ski and stay for less than $50 per day if you stay in hostels and skip the cat skiing. Whichever way you choose to go, there's one thing that will not disappoint: the snow.