Big Sky, MT –Upon my return home to Summit County, Colorado from Montana, I was hit with a bit of culture shock. While driving at turtle speed through the typical traffic jam in Breckenridge, I had plenty of time to glance up at the overcrowded ski slopes above me. People swarmed like ants, and not just on the ski trails. No elbow room on the sidewalks through town. Cues formed at crosswalks, jaywalkers impeding traffic and lines formed just to get into any establishment in sight. Welcome home. I had grown accustomed to it over the years, but after spending a week in Montana, Summit County suddenly seemed totally disgusting.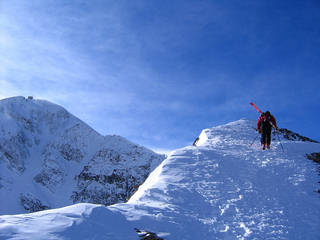 Hiking The Headwaters at Moonlight Basin.(photo: FTO/Matt Duffy)
I had just been spoiled rotten at Moonlight Basin, where a long liftline meant there were less than three empty chairs ahead of me. Crowded slopes meant I saw some someone else skiing. The food was amazing, the ski in / ski out lodging was top notch, and I didn't see a single frustrated family fighting through a crowd all week.
It got me thinking: why on earth would anyone book a vacation to a place like Summit County when an extra little hop from the Denver airport can access a place like Moonlight? I suppose that because the place is so new, no one knows much about it. This needs to change.
Moonlight Basin is a more than decent-sized place. Roughly 2,000 acres of terrain covers a vertical drop of over 4,000 feet from the summit of Lone Peak. On the other side of Lone Peak is Montana's marquee resort, Big Sky. The two places share a boundary, and recently agreed to a share a lift ticket. This means you can ski Lone Peak like it's one ski area spanning 5,512 acres, America's biggest.
Dropping into the North Snowfields that connect Big Sky and Moonlight Basin ski resorts in Montana.(photo: FTO/Matt Duffy)
This equates to more acreage than Vail.
More vertical than Jackson Hole.
One gazillionth of the people.
So far, that's a pretty picture, but it gets better. Four hundred annual inches of snow is good by any standard, and the selection of terrain is jaw-dropping. The North Summit Snowfield requires a check-in with patrol and avalanche safety gear to enter. The Headwaters Terrain, a series of hike-accessed chutes, rivals anything for pucker-factor that you'll find within any boundaries. One of those rock-lined thrillers includes a mandatory 75-foot drop to ski the chute in its entirety. And yes, it has been done.
Hiking on the ridge across the top of these craggy lines affords you the stunning view of Big Sky's Big and Little Couloirs in the distance. Over the edge to the left lies the temptation of the A to Z Chutes, twenty-some-odd slots that plummet through various rock formations into Big Sky. Dropping off to the right are the myriad steeps of Moonlight's Headwaters.
Below that, anything goes.
Bump runs. Big wide cruisers with blind rollovers. Twisty little openings that follow natural contours and undulations. Open glades with ledges galore. Long, funneling gullies that set your legs ablaze. A network of relaxing blues and greens lead back to the condo, or to the base lodge.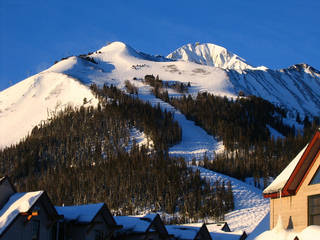 Moonlight Basin features brand-new ski-in/ski-out lodging and other first-class amenities. (photo: FTO/Matt Duffy)
Big, beautiful and brand new, the Moonlight Lodge contains everything you'd expect, only better. The Timbers Restaurant serves up wild game to perfection, and the massage therapists at the day spa have intuitive, healing hands. The indoor / outdoor pool and hot tub are spacious and cozy enough that the cover never came off the private tub outside of my own room.
Top to bottom, the staff is largely a youthful, enthusiastic group who love what they do. You can feel the energy upon arrival there, and see the pride pouring into a masterpiece in progress. A prime example is located near mid-mountain. The Madison Lodge may not be much to look at (so far), but inside is a spacious cafeteria that doubles as a nighttime restaurant, complete with mouth-watering food and weekly dinner theater entertainment. If you're lucky, you might even catch a glimpse of Warren Miller doing and saying things that must be witnessed to believe.
Reflecting on the Moonlight experience was all that kept me sane while navigating the Summit County tourist zoo that day.
Or is that what drove me crazy?
For more information: