Salt Lake City, UT – The shopping malls seem to be adorned with holiday decorations earlier and earlier each year. It's November, and the holiday shopping season is upon us, so before you go out and brave the crowds, the bell ringers and the shopping mall Santas check out this year's First Tracks!! Online Holiday Gear Gift Guide for the skier or snowboarder on your list. Or find yourself a little something to warm your holiday spirit – we won't tell if you've been naughty or nice!
As was the case last year, we're splitting our annual Holiday Gear Gift Guide into two parts. This first part covers all manner of ski and snowboard apparel. Accessories and gadgets are covered in Part I.
Insulated softshell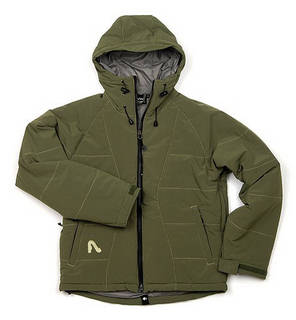 Flylow Gear has again developed a winner with its new Puff Coat.
(photo: Flylow Gear)
For their fourth season in business, Denver's Flylow Gear has again created a winner with their new Puff Coat ($275) featuring a rare combination of a four-way stretch softshell exterior and Thermolite Micro insulation throughout the entire jacket, even within the rigid-brimmed fixed hood – 160g in the core and 120g in the arms and legs. With the soft hand of its exterior and plush yet non-binding lining, the result is one of the coziest and most comfortable jackets that we've tested in quite some time. For the deep days, the Puff Coat features three nylon loops to connect with ski pant belt loops and a draw cord hem to keep the snow out. Fifteen-inch pit zips control temperature regulation, and a zippered interior pocket with a headphone port, an interior sunglass pocket along the main zipper, a hidden chest pocket and two fleece lined slash pockets carry gear. A generous 1-1/4″ storm flap protects the main two-way zipper from drafts, and exterior stitching lends a touch of character. Velcro flap closures seal the cuffs. Our testers couldn't wait to use this jacket, and it delivered on its promises in spades as an exceptional value for the price.
Versatility, warmth and comfort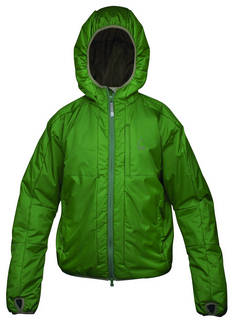 Wearing the redesigned Chockstone Jacket from Sierra Designs feels like being wrapped in a cozy sleeping bag.
(photo: Sierra Designs)
One of our favorite test garments this year came from Sierra Designs in the form of its improved Chockstone jacket ($160). On those really cold days, don the Chockstone under a shell to take advantage of its Primaloft One insulation that unlike down stays warm even when wet, or wear it alone on a moderate day and feel like you're wrapped in a cozy sleeping bag. Thanks to Primaloft's compressibility, backcountry travelers will appreciate the 10″ x 6″ interior pocket that folds inside-out to stuff the jacket inside of itself for a convenient toss into the backpack. The lightweight nylon ripstop shell features DriZone waterproof/breathable coating, and the adjustable insulated stow-away hood is perfect for keeping warm beside the campfire, while thumb loops keep the sleeves in place while digging a snow pit. In addition to the aforementioned stuff pocket, the Chockstone includes two slash pockets, a chest pocket and a large interior mesh pocket to carry gear. A generous storm flap protects the full-length zip from drafts, and about the only things missing are a cinch-cord hem and pit zips for ventilation. We also found the two-way main zipper to be cranky at times, yet serviceable.
Wool knitshell
In its ladies' Tøtta Knitshell, Dale of Norway has created a three-layer system that combines the company's proprietary water-resistant wool yarn with Gore's Windstopper membrane.
(photo: Dale of Norway)
While we're on the subject of versatility, one of the most unique products we tested this fall has to be the new Knitshell from Dale of Norway that truly reinvents the concept of a sweater. Imagine a knit garment that is equally at home as a mid-layer or an outerwear garment, mated with Gore Windstopper laminate and a water-repellant exterior. Knitshell is a three-layer system that combines Dale of Norway's proprietary water-resistant wool yarn with the Windstopper membrane adapted to the wool in one of the first successes in mixing wool with a synthetic membrane. Both Dale and Gore spent a lot of time on the development of Knitshell, as gluing the membrane to the wool would have defeated its breathability.
We tested the ladies' Tøtta model ($399) which features a form-fitting feminine shape, a detachable hood, stretch side panels and two interior and two exterior pockets. Elastic interior wrist guards feature a thumb hole to stretch inside a glove, yet tuck conveniently out of the way when not necessary. We found the dense wool knit combined with the Windstopper membrane to block wind and cold out while letting moisture pass through to the outside. Water repellency of the wool in both rain and snow was surprisingly effective – the manufacturer claims water repellency down to 1.000 mm. This is a garment that functions equally well both on the slopes and in the lounge après ski.
Tweed and corduroy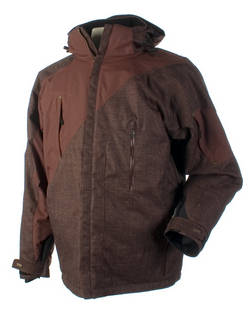 In one version of its Traction Jacket, Obermeyer has combined the look of fine wool crosshatch tweed with corduroy into a 100% polyester shell.
(photo: Obermeyer)
Obermeyer's Revert pants come with Entrant GII waterproof/breathable coating and DuroGard fabric protectant.
(photo: Obermeyer)
Obermeyer's Heavenly Softshell features classic styling.
(photo: Obermeyer)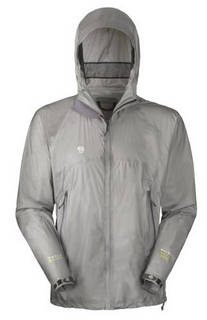 A technological marvel from Mountain Hardwear, the Quark Jacket.
(photo: Mountain Hardwear)
For a special fashion statement, Obermeyer has combined the look of fine wool crosshatch tweed with corduroy into a 100% polyester shell for one available color option in their Traction jacket ($229.50-279.50) and Revert ski pant ($149.50-209.50).
The Traction jacket features a HydroBlock waterproof-breathable laminate and DuroGard fabric protector to repel stains. Despite its fashion sense this garment include numerous technical features. The jacket insulation is 100g ComforMax Classic from DuPont, and a zip-off adjustable powder skirt combines with a cinch cord hem to seal out the draft and snow. Large pit zips provide ample ventilation when things get toasty, which we found to be the case during testing. Exterior pockets are all storm sealed and a fleece-lined neck and neck guard provide comfort and warmth. You'll find carrying ability galore with two slash pockets, two chest pockets and one shoulder pocket on the outside, and one zippered, one goggle and two electronics pockets with cable guides on the interior to keep batteries warm. An integrated uninsulated hood is fully detachable, and a Velcro closure seals the deal on the cuffs.
The matching Revert pants come with Entrant GII waterproof/breathable coating and DuroGard fabric protectant. Both an adjustable waist and belt loops keep things in place. Storage is again generous with a pair of slash pockets, two seat pockets, and cargo pockets on each thigh. Zippers conceal mesh panels for ventilation inside each leg. We would have preferred longer cuff zips and an adjustable powder cuff around the ankles, rather than the fixed elastic cuff provided. Another minor beef, scuff guards around the inside ankles seemed inadequately tough to prevent slicing from ski edges.
For a more traditional yet equally stylish look, Obermeyer also had us test a ladies' Heavenly softshell jacket ($199.50). This beautifully constructed yet minimalist design has a tapered finish for a feminine look, yet includes technical attributes including a four-way stretch SofTech body backed that's treated with DuroGard and backed with a soft polyester fleece lining and HydroBlock XL waterproof/breathable laminate. Fleece softens the chin protector and neckline, and the elements are sealed out via a draw cord hem, adjustable Velcro wrist closures and sealed zippers throughout. A small pit zip on each arm provides limited ventilation, and while there are two slash pockets and one shoulder pocket on the exterior, the Heavenly softshell lacks any interior storage whatsoever. The goggle chamois clipped inside one of the slash pockets, however, is a nice touch.
Ultralight ultra-performance
What do you get when you create a waterproof breathable four-way stretch Conduit shell that weighs a svelte 10 oz., including a stowable hood? You get the technological marvel known as the new Mountain Hardwear Quark jacket ($200).
Mountain Hardwear Director of Merchandising, Ted Ganio refers to the new Incite fabric used in the Quark as, "for all intents and purposes, mosquito netting with a waterproof and breathable laminate applied to it," a description that is spot on. One almost has to wonder how the Quark could effectively serve as a ski jacket, for its light weight feels as if you're not wearing a jacket at all, but combined with an insulating mid-layer underneath the Quark effectively serves four-season backcountry needs as a true all-purpose shell. Mountain Hardwear's Z-weld construction provides bombproof fully welded seams, and generous pit zips and a cinch cord hem deliver effective interior climate control. A single large interior pocket and two slash pockets provide the storage. A simple Velcro closure, typical on Mountain Hardwear pieces, effectively seals the cuffs while simultaneously allowing easy entry and exit from the jacket. About the only downsides we observed were the delicate nature of the fabric, forcing the user to exercise care when skiing the trees (although we didn't tear it in testing), and its single available "stainless steel" color created by the Conduit laminate that is merely attached to a tricot backing to create this lightweight wonder.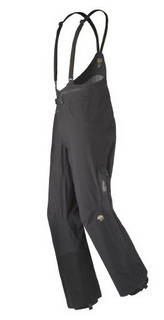 Mountain Hardwear's Beryllium Bibs feature Gore-Tex Pro Shell technology.
(photo: Mountain Hardwear)
Bibs may be back, but Mountain Hardwear's Beryllium Bib ($360) is hardly the old snowmobile-pant variety. Gore-Tex Pro Shell technology yields the most rugged, most breathable fabric for extended and extreme conditions, surpassing Gore's most aggressive rain test, and Gore's Micro Grid backing allows the pant to slide easily over base layers – yet these bibs weigh only 1 lb. 9 oz. The Beryllium rises barely above the beltline except in the back, yet the built-in fixed suspenders keep these pants in place and seal out that annoying lower-back draft. A massive "rainbow" zipper runs up one leg, across the seat and down the other, providing both leg ventilation via a full-leg zip and a drop seat for those urgent calls of nature. Elastic powder cuffs with built-in boot buckle loops seal out the snow, yet include expanding Velcro that allows the cuffs to accommodate various ski boot calf diameters. A generous scuff panel protects against ski edge abrasion, and the knees are fully articulated to prevent bunching when flexing deeply into a tele turn. Waist closure is provided via double snaps, secured by a built-in belt. About our only complaint was the lack of pockets, limited to a single small horizontal pocket on the left hip. Note that Mountain Hardwear's sizing on the Beryllium Bib seems to run large – the medium size was massive on our testers who usually require a medium, while large-size testers felt right at home in the medium size.
Merrell branches out
First Tracks!! Online staffer Matt Fatcheric tests the new Merrell Universal Jacket in a full-on Wasatch October blizzard.
(photo: FTO/Marc Guido)
Last year, footwear maker Merrell expanded its product line to include street apparel inspired by technical outdoor garments and featuring many innovations found previously only in technical clothing. This year, however, Merrell has added several garments to its catalog that are equally at home on the street or on the slopes.
We got our hands on one of Merrell's new outdoor winter performance pieces, the Merrell Universal Jacket ($400). Made of high quality Gore Tex Pro Shell it offers a very high level of waterproofing and breathability that we put to the test during a full-on Wasatch blizzard this fall. The jacket has a very "street friendly" fit, so it's comfortable around town, yet still very at home on the trail.
Our testers took The Merrell Universal out for a few backcountry ski tours early this season and found it to be quite functional and had a very high quality of construction. The jacket had a few features our testers found very helpful. It features an adjustable, contoured, removable hood, fully taped seams for excellent water protection, and long underarm pit zips for venting during high aerobic activities. The jacket also has a multitude of pockets — some might find this gives the jacket a more "casual" look, but our testers found these pockets very useful during testing for everything from storing energy bars to securing iPods. While new to the apparel market, Merrell has built upon their footwear reputation with very high quality standards and a very close attention to detail.
Ride Pow like a cowboy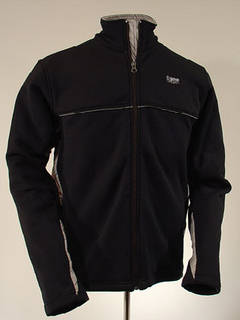 The new Cowboy Pow Full Zip from Core Concepts uses a form-fitting stretch fit to maximize warmth without bulk.
(photo: Core Concepts)
If you're looking for a high-tech mid layer for lift-served that doubles as an outer layer for skinning or other aerobic activities, look no further than the Cowboy Pow Full Zip from Core Concepts, a new Boise, Idaho-based technical outdoor apparel company. Its form-fitting stretch fit maximizes insulation without bulk, and a Polartec Wind Pro velour lining, t-neck, zipper storm flap and drawcord hem keep out the breeze. A Polartec Hardface outer fabric is treated with DWR to shed rain and snow. Its full-length one-way zip makes putting it on and taking it off a snap, while generous pit zips allow quick ventilation. Two small hidden side pockets with headphone ports provide minimal storage, and contrasting custom print stretch side panels lend a touch of style. Reflective piping on the front will keep you visible in the headlights during that 6 a.m. pre-ski jog, too.
Merino makes a comeback
Despite today's modern synthetic technical fabrics, consumers are rediscovering Australian Merino wool fabrics for their temperature regulating qualities, natural antimicrobial features and no-itch feel. Unlike some synthetic base layer materials such as polypropylene that will melt in a dryer, Merino fabrics are easily machine washed and dried – just turn them inside out and toss them into the wash. And they won't get all rank and smelly with repeated use like polypropylene, either.
One company making effective use of Merino is I/O Biocompatibles, which manufactures top-notch Australian Merino wool base layers. The company's Universal line features a loose comfort fit, while the Contact line is cut with a form-fitting shape to maximize vapor transfer. All feature flat seams to avoid that bunched-up feeling and both lines come in an assortment of necklines and sleeve lengths. Our sample Universal LS Crew ($69.99) features a decorative screen printing to avoid that "I'm standing here in my underwear" look in the base lodge, while the women's Contact Cap T ($49.99) we tested is a sleeveless design for an additional layer to protect the core with a soft skin feel.
Three-quarter base layer bottoms a hit
Dakine is in the base layer biz as well this year with a number of items for both men and women. All are made with a 100% polyester double knit for a soft tactile feel that is fully machine washable and dryable, treated with an anti-microbial finish and ventilated with mesh in key underarm areas. After years of pulling underwear legs up and out of ski boot cuffs, our clear favorite was the three quarter-length bottoms ($35) that end just below the tops of most ski socks. Tops are priced at $40.
Rounding out the base layer products we looked at this year, Dry Shield is a new fabric treatment Kleinert's is applying to cotton base layers. Now, we've all learned that you should avoid using cotton, but Dry Shield promises that its treatment keeps the cotton from ever wetting through, and adds waterproofing and antimicrobial properties to the fabric without affecting breathability. Dry Shield's manufacturer claims that this reduces dehydration in the wearer. Like all fabric treatments, though, Dry Shield will eventually launder out — the company estimates that it will last for approximately 100 washings. Prices vary with styles.
No more cold hands
Gerbing's has branched out to create electrically heated ski gloves to keep hands warm.
(photo: Gerbing's)
Does the loved one on your shopping list suffer from perpetually cold hands? Gerbing's, a company best known for the motorcycle clothing and accessories market has introduced its first pair of ski gloves with battery-powered heat elements inside along the length of each finger and the back of each hand.
A built-in battery pack and control unit stored in a small zippered pocket in the gauntlet provides 7.4v of lithium-ion power. This is a quality glove and not a technological curiosity: to keep the heat in and the moisture out, the gloves are constructed with 150g of Thinsulate insulation and an Aqua-Tex waterproof breathable membrane. A long gauntlet with cinch cord closure and a Velcro wrist closure keep the elements out. Like all good ski gloves, the Gerbing's Core Heat gloves feature pre-curved fingers for an aticulating fit, and a goggle squeege rounds out the feature package.
A battery charger is provided, and the heating elements come with a lifetime warranty. Heat output ranges from 135ºF for three hours to eight hours at 85ºF, and we found the output to last as advertised. In our tests the waterproof breathable membrane performed similarly to others of its ilk. Best of all, the Li-Ion batteries don't have a memory, so they can be expected to provide that full power level over approximately 500 recharges.
Warm hands come at a price: Gerbing's Core Heat ski gloves carry an MSRP of $199, but aren't warm hands worth it?
Put a sock in it
For the upcoming holidays, why not stuff a stocking with a stocking? In skiing as well as most outdoor activities, our feet are one of our most important pieces of equipment. If our feet are happy, we're happy, and socks are a critical component. If a sock is too thick, too thin, bunches up or fits improperly, at best our ski boots don't fit well and at worst, pain and discomfort result. Socks that don't effectively wick away excess moisture make us prone to blisters. We're constantly searching for and testing new ski socks in an effort to make our days on the hill more enjoyable, and this year we tested models from both Bridgedale and X-Socks.
Bridgedale's Precision Fit is one of our favorite ski socks we've ever tested.
(photo: Bridgedale)
Bridgedale makes over 400 sock models for almost any pursuit. For their ski socks, Bridgdale uses a unique technology called Woolfusion that interweaves tough, warm Merino wool with products like Coolmax and Endurofil to create a very durable sock that is warm when it needs to be and wicks away excess moisture when necessary. How many other brands can boast a three-year warranty? Yes, they're that tough. Bridgedale's winter sports line includes seven different styles ranging from a "microfit" for those who prefer a thin precision fit and feel, to a thick, fully-padded "all mountain" sock. Bridgedales Precision Fit ($20) is designed with the performance skier in mind — its low-bulk profile has padding along the shin where hard ski boots often contuse the lower leg and in the toes for extra warmth. Its form fit effectively prevents bunching. Our testers really raved about these socks — phrases like "never bunched up once," "warmest sock I ever had on my feet" and "padded in all the right places" were heard throughout our offices for days after testing. For those who like just a little bit more padding around the heel, Bridgedale has eliminated the toe padding and replaced it with padding in the heel and instep in its Heel Fit model (also $20).
X-socks are being distributed in the U.S. by boot manufacturer Lowa, and offer 11 styles for Alpine and Nordic skiing that exhibit perhaps the most complex sock construction that we've encountered to serve as the perfect interface between your foot and ski boot. The Ski Carving Silver ($60) uses a unique patchwork of fabric and materials to optimize performance. The X-Cross Bandage criss-crosses the ankle to optimize stability, and a special achilles heel protector minimizes pressure points. Padding is added to the shin, calf, instep, toe and heel to provide added protection, and special "Air Conditioning Channels" provide ventilation and moisture management. Silver threads woven into the knit control odor and fungus growth. The sock's body is a blend of Merino wool, silk and synthetic fibers.
Keeping your noggin warm
You've heard it before: most of your body heat escapes through the top of your head, but try telling that to your face on a cold, windy day! We spent some hands-on time with a number of products from Montreal's Chaos, a company that crafts an incredible assortment of headwear for skiing and other cold-weather pursuits. In addition to knitting numerous stylish hats, Chaos' CTR (Chaos Thermal Regulation) line includes the Mistral Multi-Tasker Pro, a multi-purpose balaclava that not only features elastic Pro-Stretch throughout most of its body to fit easily within a helmet and jacket neckline, but also a Malden Windbloc panel across the face to keep the wind out and body heat in. The mouth area is perforated to allow vapor to pass, and the nose is articulated and open around the nostrils to eliminate that claustrophobic feeling. Should things warm up as the day progresses, simply pull the face shield down under the chin and you're good for another run. If you don't need the face shield, but still require a little extra warmth under the helmet, Chaos' CTR Mistal Vapor Skully is the perfect helmet liner made from Polartec Power Stretch with mesh panels atop the head to aid ventilation and soft fleece around the headband and ears. We also found two wool/acrylic knit blend beanies from Chaos to fit comfortably itch-free for extended periods with their soft fleece linings.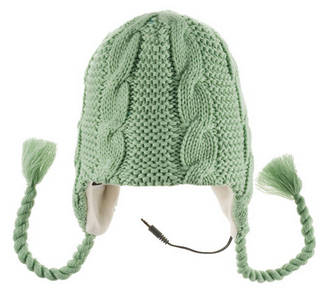 Bula makes an extensive line of hats and beanies with headphones built in.
(photo: Bula)
If you listen to your tunes on the hill but you're not a helmet wearer, so audio helmets are out of the question, headphones can be a pain to use as they constantly slip out of position from your ears. Another Montreal-based hat manufacturer, Bula, makes acrylic fleece-lined beanies and Peruvian-style hats with headphones built in ($29.95-34.95). A short cable emerges from within the hat to terminate at a headphone plug that plugs into the provided extension cord that leads to your iPod. This setup makes it simple to wear the hat without the music source, and allows the wearer to quickly disconnect to remove the hat. We found the hats to be comfortable to wear, even for extended periods, and the sound quality to be quite good for an audio beanie that's priced the same as a regular hat.