Salt Lake City, UT – The shopping malls seem to be adorned with holiday decorations earlier and earlier each year. It's November, and the holiday shopping season is upon us, so before you go out and brave the crowds, the bell ringers and the shopping mall Santas check out this year's First Tracks!! Online Holiday Gear Gift Guide for the skier or snowboarder on your list. Or find yourself a little something to warm your holiday spirit – we won't tell if you've been naughty or nice!
As was the case last year, we're splitting our annual Holiday Gear Gift Guide into two parts. This second part covers all manner of ski and snowboard gadgets and accessories. Apparel is covered in Part I. Skiers and snowboarders tend to be outdoor enthusiasts in summer, and you'll find that many of these gift ideas have cross-applicability to hiking, biking, backpacking and more during the warmer months.
n
Look, Ma, at how fast I'm going!
Tech4O's Snowsport Speedometer will tell you precisely how fast you skied on that run.
(photo: Tech4O)
Ever wonder how fast you were skiing that run? Wonder no more with the Snowsport Speedometer from Tech4O (MSRP $179), a division of outdoor instrument maker Silva. A small radar unit straps to the skier's or snowboarder's leg and transmits speed data wirelessly to a watch unit that may be worn on the wrist, around the neck on a lanyard, or elsewhere via an included carabiner clip. The wrist top computer maintains a seven-day performance log of distance, speed, maximum speed, time and calories burned, and also includes typical wristwatch time functions of time/date, alarm, countdown timer, stopwatch and a second time zone. In addition to speed, performance functions include total distance traveled, trip calories and a lap counter. Tech4O's Snowsport Speedometer is equally at home on the alpine slope or the cross-country trail, and for Nordic athletes looking to further track performance an optional heart rate monitor is available for $69.99. In our testing the unit worked flawlessly.
Tech4O's Air Pod measures jump time.
(photo: Tech4O)
Another fascinating unit from Tech4O that's sure to appeal to the terrain park set is the Air Pod ($99.99), a device that tracks air time in the terrain park. The Air Pod uses accelerometer technology to automatically log air time for each jump, and also tracks daily and lifetime total air time. The digital unit straps securely to the leg and also includes thermometer, date and time and alarm functions, and features a blue backlight for night-skiing exploits. One of our staffer's kids tested the unit during the off-season on the trampoline, and he and his friends couldn't wait to take turns to see who could out-jump the other. We found the unit to work precisely as advertised.
End the debate over who scored the most air with the Hangtimer.
(photo: DropZone)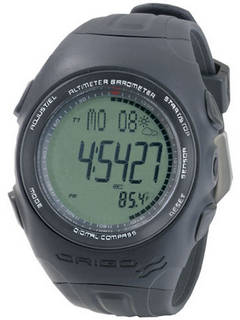 The Rendezvous Peak altimeter watch from Origo measures altitude in one-foot increments.
(photo: Origo)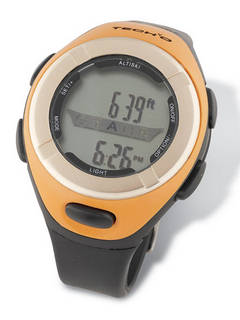 Tech4O's Alti-Ski Watch tracks vertical for up to a year.
(photo: Tech4O)
The Handheld Altimeter from Oregon Scientific is a convenient and budget-friendly solution for measuring altitude.
(photo: Oregon Scientific)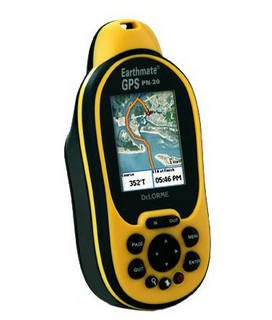 DeLorme's new Earthmate PN-20 is the first handheld GPS unit to display aerial imagery.
(photo: DeLorme)
The RS800G3 from Polar is much, much more than a wrist-top GPS.
(photo: Polar)
Seattle-based startup DropZone makes a similar device called the Hangtimer ($99) that records time, date and temperature in addition to in addition to time in the air, the past 10 jumps, and best, total and average air time. Like the Air Pod it features a backlight for low-light visibility and is water resistant, but unlike the Air Pod it clips to a jacket or pack strap via a nifty built-in lockable carabiner. The case is rugged and durable, and two AAA batteries are simple to find at a ski resort gift shop should you need an emergency replacement. The tri-axial accelerometer's sensitivity is adjustable for accurate readings.
Ain't no mountain high enough
Altimeter watches remain a popular holiday gift item for the winter sports set, and we tested three units this year to give our gift guide readers a solid choice.
Origo's Rendezvous Peak altitude watch ($170) comes in a few optional styles — with a black or stainless ring around the crystal, and with a normal or reverse LCD display. Its altimeter resolves to one-foot increments and the barometer graphs changes over the past 24 hours, while altitude is graphed over an eight-hour trend. The watch stores 75 altitude points complete with date, time and altitude, and for navigation in the backcountry the Rendezvous Peak includes a digital compass with a bearing lock to stay on course. Date, time and alarm (2) functions are of course part of the package, as are chronograph capabilities and a soft blue backlight. Water resistance is rated to a depth of 165 feet. Operationally we found the unit to function very similarly to the Highgear units reviewed last year.
Tech4O's Alti-Ski Watch is a budget-friendly option at $99.99, yet provides altitude, ascent, descent, and a logbook that tracks vertical for up to a year. An ascent counter tracks your number of runs automatically, and rate of descent is calculated both real-time and average. Vertical descent is logged both daily and lifetime. Like the other offerings in this category, the Tech4O Alti-Ski Watch includes a built-in barometer, thermometer, a backlight and date and time functions that on the Alti-Ski Watch include alarm, five stopwatches and a countdown timer.
Even more budget conscious is the RA123 Handheld Altimeter from Oregon Scientific ($79.99). Unlike the other two units reviewed the Oregon Scientific model isn't worn as a wristwatch, but rather is clipped to a ski jacket or backpack shoulder strap via a built-in carabiner. In addition to tracking altitude the Handheld Altimeter also monitors barometric pressure and creates a weather forecast based on the barometer trend. It does not, however, log altitude or calculate vertical ascent/descent. Other functions include a digital compass, current temperature, date/time and alarm. A built-in LED flashlight comes in handy in dark situations, and the unit has a button-activated backlight for the display. The unit is water-resistant to 164 feet — perfect for its exposed location on the outside of a jacket on stormy days — and is shock resistant up to a three-foot drop.
Honestly, we found operation of all of the altitude watches tested to be equally user-friendly. Anyone who's used a digital watch since the first Casios hit the market decades ago will find any of these units a breeze to operate. You can't go wrong with any of these selections.
Where was I?
There's a quiet revolution taking place in global positioning systems. Far beyond the improved satellite visibility of SiRFstarIII chipsets and color mapping, new units on the market are including such groundbreaking features as aerial imagery and touchscreen functionality that are enough to drive even content GPS owners into the stores to have a look.
The new DeLorme Earthmate PN-20 handheld GPS ($369.95) not only comes bundled with the company's popular Topo USA software for use both on the handheld and on the PC, but also boasts the capability to display aerial imagery right on this WAAS-enabled GPS unit's screen for unparalleled navigation capabilities. Glance at the screen and actually see the mountains you're skiing, or that peak you're contemplating climbing! It's simple to quickly switch between topographic and aerial views to plot that next backcountry run. Each unit sold comes with a $100 certificate for imagery downloads to be loaded into the Earthmate before heading out the door. Maps and /images are stored on an SD expansion card of up to 2 GB, the prices for which have come down markedly within the past year, and memory is augmented by 75 MB of onboard storage. Screen resolution is a friendly 220×176 pixels, and button navigation is sure and secure.
There are times, though, that a handheld GPS unit simply isn't convenient, such as keeping a track log of your ski day to later upload to Google Earth. The RS800G3 from Finland's Polar ($499.95) is a multisport training watch that comes with a separate high-performance WAAS-enabled SiRFstarIII GPS receiver that attaches to the wearer's upper arm via an elastic and Velcro strap and transmits data wirelessly to the watch. Compared with handheld models, the Polar gives up onscreen mapping in favor of usability and simplicity. GPS tracks are simply downloaded to a computer via an infrared receiver that plugs into any computer's USB port. A third component to the RS800G3 package, a wireless heart rate monitor to track performance during aerobic exercise, straps to the user's chest.
Not even considering the GPS functions, the feature set on the RS800G3 is positively amazing: calories burned, a fitness program manager, heart rate (current, average, maximum, minimum, per lap, and age- and training-based maximums), altitude, ascent and descent, lap recording and tracking, interval trainer guided workouts, speed, distance traveled, elevation profile, and of course all standard watch and chronograph functions. This device would slip easily from the ski gear bag in winter to the bike, jogging path or hiking trail in summer to monitor fitness performance in virtually any outdoor activity. Professional training software is included. Give this gift at the holidays and expect the recipient to go and hide for a few hours just to learn how to run everything on this tiny marvel – we couldn't leave the owner's manual out of our sight during testing. It's ridiculously feature packed for someone just looking for a wearable GPS, but if you're looking to combine that with a performance training monitor this is the ticket.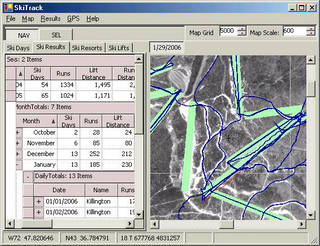 Keep track of your skiing or snowboard history with software from SkiTrak.
(image: SkiTrak)
Alright, so now you've got that fancy new GPS, but what's the best way to record your ski season? Sure, you can import the GPS track into Google Earth for a pretty little image, but you could certainly do more. SkiTrak ($99.99) is new software to track, map and analyze your ski days. Once you get back home, plug your GPS unit into your computer, download the track data and fire up SkiTrak. SkiTrak's maps feature resorts, runs, lifts and aerial photos to display your ski day, but the software also keeps track of your vertical feet, total distance, top speed, average speed, time skiing, time spent riding lifts, the number of runs you've skied and more. SkiTrak automatically logs totals by run, by day, by month, by season and over the course of the skier's lifetime. We found the software to be intuitive to use and easy to monitor total performance.
Send for help from backcountry locations that cell service won't reach with the new SPOT satellite messenger.
(photo: SPOT)
Perhaps the most fascinating new use of GPS technology, however, comes from the brand new SPOT Satellite Personal Tracker ($169.99, plus a $99.99 annual subscription), just released to the market this month. When wandering into the backcountry far from mobile phone service, SPOT provides a measure of safety and peace of mind should rescue be necessary. More than that, though, it includes the ability to check in with friends and loved ones to let them know that everyone in your party is OK.
Here's how it works: toss the SPOT unit, about the size of a Blackberry, into your backpack or pocket. When you're ready to use it, pull the device out, turn it on and press the "OK" button to send an email or text message via the GEOS satellite system to a list of pre-defined contacts to let them know you're OK. The message they receive not only includes your GPS coordinates and other information on your position, but also maps your location on Google Maps for them as well. Press the "Help" button, and you let this same set of contacts know that the party is having difficulty and will need assistance. Finally, press the "911" button and you'll let the GEOS International 9-1-1 Emergency Response Center know to dispatch search and rescue services, and the unit will keep transmitting your position every five minutes until cancelled. As this unit uses satellite services, coverage is nearly world-wide, and the Center will send whatever assistance is appropriate based on your location, whether it be Search and Rescue or your country's embassy or consulate. An optional SPOTcasting service (an additional $49.99 subscription fee per year) will let friends and loved ones at home track your location on a web page, again using Google Maps. Two garden-variety lithium AA batteries will last for a remarkable year with the power on, 14 days of tracking, 1,900 "OK" messages or roughly seven consecutive days in 9-1-1 mode.
The unit and service are much less functional than a satellite phone, but it's much smaller and lighter, and considerably less expensive. It's much cheaper, too, than similar satellite personal locator beacons. Knowing, however, that help is on the way as your buddy has a fractured femur, with hypovolemic shock setting in, is priceless.
So where's the touchscreen that we mentioned earlier? We'd hoped to review Magellan's new Triton series GPS units with Mountain Dynamics Snow Ranger mapping software in time for our annual gift guide, but production delays kept them from arriving in time for our publication deadline. Look for a separate review in the coming months at First Tracks!! Online Ski Magazine.
Rack 'em up
Wall-mounted racks from Bordz-Up keep your ski or snowboard quiver neatly organized.
(photo: Bordz-Up)
Are skis and poles constantly cluttering up the basement or falling over in the garage? Would your kid rather display his skis proudly in his bedroom? Bordz-Up has introduced a line of attractive PipeLine wall mounted ski racks to keep gear secure and tidy. Models are available for either two ($39.99) or four ($69.99) pairs of skis and poles, and metal arms swing conveniently out of the way when not in use. Neoprene sleeves protect your precious gear, and units are expandable to accommodate that ever-expanding quiver. These racks are made of anodized aluminum frames and black nylon housings, making them super beefy and far more aesthetically pleasing that wooden dowel rack systems. Other models are available for snowboards, longboards, skateboards, surfboards, wakeboards, kiteboards and water skis. A couple of Bordz-Up PipeLine racks quickly and attractively cleaned up much of the ski gear lying around our offices.
Packing it in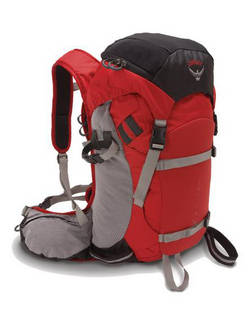 With the Switch 26, Osprey's snowsport-specific backpacks continue to impress our testers.
(photo: Osprey Packs)
Ski tourers who head out on multi-day excursions should check out the 50-liter Windpack from Mountain Hardwear.
(photo: Mountain Hardwear)
We continue to be impressed each year by Osprey Packs, and 2007-08 is no different. We tested the Switch 26 ($129) this winter, the mid-size model in Osprey's snowsport-specific backpack line, and found it ideal for lift-served, sidecountry, or daytrip backcountry skiing and riding. This featherweight (3 lbs. for the 26-liter medium torso size) is nonetheless packed with features including diagonal or A-frame ski carries, a snowboard carry, an insulated hydration tube sleeve within the shoulder strap, a stretch top pocket designed to carry a helmet, and a beefy hip belt that includes an ergonomically even pull across the hips. The suspension is rock solid, even when executing hop turns with 25 lbs. of gear, and compression straps maintain a thin profile while riding a chairlift. The 26-liter size is ideal for anything from carrying essentials for a lift-serviced day to carrying your shovel, probe and spare clothing for a day in the backcountry.
Backcountry tourers on longer treks should take a good look at Mountain Hardwear's 50-liter rucksack-style Windpack ($220). This versatile pack's most noteworthy feature is a detachable front pocket that's large enough to carry a shovel, probe and skins as a summit pack while leaving the rest of your gear at base camp, let a lightweight aluminum frame keeps its load steady when attached to the main pack. The whole package still nonetheless weighs only 4 lbs 8 oz. Large durable patches protect the pack when packing skis using the quick-release A-frame carry. To save space and weight the three-compartment top pocket may be removed, with the main pack sealed via a roll-down closure. There's separate external access to the hydration sleeve, just below a convenient quick-access pocket behind the head (part of the main pack, so that it's available even when the top pocket is removed), although the hydration tube doesn't stow inside the shoulder straps to help resist freezing. There's even a single hip belt pocket to keep essentials handy. Like the Osprey we found the suspension effective at minimizing sway while skiing, and the thick hip belt keeps loads evenly distributed.
If you're heading out of bounds on a sidecountry hike, but don't feel like bringing a full pack along, take a look at the Snow-Q ski and snowboard sling ($19.95). It may not be as stable as a pack carry, but you can slip the Snow-Q into your pack when not in use, so it's always available at the ready for a quick hike to the goods.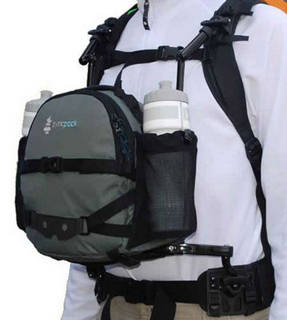 The revolutionary front pack system from Syncpack.
(photo: Syncpack)
In our business, it's sometimes tough to find a convenient and effective way to carry camera gear onto the hill. Digital SLRs and video equipment have to be quick at the ready, so a backpack's not the best answer, yet the gear is big and bulky and thus difficult to transport. Up until now we've found frontpacks to often interfere with ski movement, and although it's not designed as a camera pack (it lacks built-in padding to protect the photography equipment, a problem easily remedied by the user) we've finally found our solution with a revolutionary new 400 cu. in. frontpack design from Syncpack ($159). Syncpack's secret is a lightweight articulating aluminum frame with nearly limitless adjustability that moves with the skier — honestly, we pretty much forgot that we were wearing it while skiing or skinning, although with its complex frame system we felt a bit like a kid with orthodontic headgear with it on. The Syncpack secures to any backpack using quick-release fittings on both the hip belt and the shoulder straps – it takes only a few seconds to conveniently attach or remove the pack. The theory behind the Syncpack is to more evenly and effectively distribute the load between the backpack and the Syncpack, reducing a wearer's fatigue, and we found the balancing act played out especially well while skiing — despite a load of gear we no longer felt the need to lean forward to balance the backpack's rearward pull. Optimal weight distribution is suggested by putting 25% of your load in the Syncpack, and 75% in your backpack. The Syncpack is outfitted with two main compartments that are further divided to keep gear separate, a hydration tube port, two water bottle pockets, and a small mesh pocket facing the user. The amount of design work that went into this system is positively stunning.
Now you need a hydration reservoir to fit inside that new pack. Aside from redesigned bite valves it's been quite some time since anything revolutionary came from the world of hydration packs. Now Polarpak has introduced its Moflow pressurized hydration reservoirs ($31.95). No more sucking desperately on a hydration tube, for Polarpak's reservoirs feature a squeeze bulb that builds positive pressure behind the water in the reservoir, delivering it effortlessly to quench your desperate thirst. The company claims that the Moflow system prompts users to consume 30% more water when compared with non-pressurized systems. Feeling a bit slimy on a multi-day summer trek? Leave your filled Moflow reservoir out in the sun and pressurize it to act as a sun shower!
The 70-oz (2-liter) bladders feature a 90-degree angled rotating bite valve and internal baffles to prevent the water in the reservoir from sloshing around, and all components are 100% anti-bacterial. You can use Polarpak's bladder inside virtually any hydration-compatible pack, but we tested the reservoir with the company's Flowjo hydration waistpack ($39.95) that includes a waistpack-sized 30-oz. version of the Moflow reservoir, hydration ports on either side and five extra pockets for storage. The only difficulty we encountered while using the Moflow system for winter sports is the lack of an ability to purge the tube to prevent freezing on bitterly cold days.
Now it's time to fill that hydration bladder, but you want something more than plain water. You want something that replaces electrolytes and tastes good, too, but you don't want that black gunky stuff that accumulated sugars create in the hydration system's drinking tube. Enter nuun, a tablet that you drop into each half liter of water that quickly mixes to yield a balanced electrolyte replacement formula with a refreshingly light flavor like kona cola, citrus fruit, tri-berry and lemon-lime. Want carbs? Eat an energy bar on the chairlift, for nuun contains no sugar to gum up your hydration system, and the tablet form makes it easy to drop a tube of nuun in your backpack to flavor that afternoon Camelbak refill. Despite the tablet form, though, don't be expecting any Alka-Seltzer fizz…nuun remains wonderfully flat, a process the developers found the hardest to achieve from a tablet. Each tube contains 12 tablets — enough for six liters of water — and costs around $6.50 at retailers nationwide.
Get the skier's-eye view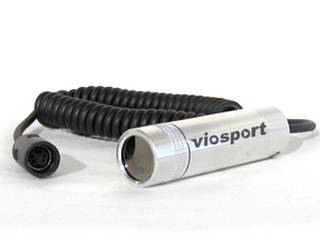 The Adventure Cam 3 from Viosport plugs into a camcorder's A/V input to record first-person skiing and snowboarding action.
(photo: Viosport)
Is the skier or rider on your shopping list a budding Warren Miller? The Adventure Cam 3 helmet cam from Viosport ($279) is an analog lipstick cam that straps onto the rider's helmet or goggle strap and plugs into a digital or analog camcorder or other recording device's A/V input to record each run in a first-person view. There are a number of lesser units on the market but with lipstick cams you get what you pay for, and the Adventure Cam 3 features optional interchangeable lens packages to customize the field of view. In our tests the unit's default wide-angle lens effortlessly filmed each run with a 72.5-degree field of view, and the 0.2 Lux capabilities (f2.0) even recorded low-light sequences. Optional filters are available to reduce unnatural white balance on sunny snow-filled slopes, and the unit is powered by either 8 AA batteries or an optional rechargeable battery pack. Keep in mind that the camcorder or other recording device is not included, and the user's camcorder must have an A/V input either via a 1/8″ jack or RCA inputs (not all camcorders do, which we found out the hard way).
Oregon Scientific's ATC2K helmet cam.
(photo: Oregon Scientific)
We also tested the ATC2K self-contained waterproof (down to 10 feet) helmet cam from Oregon Scientific ($129.99), and while it may perform acceptably in some situations, we can't honestly recommend this unit for ski or snowboard filming. The field of view was too narrow to adequately capture all essential elements of each run, and it produced overexposed videos when filming in bright sunshine on snow. It also lacks a monitor to review each film clip to ensure that it was captured as intended. For mountain biking in summer or other similar activities, however, this camera could perform effectively and save a big chunk of change as well as a lot of weight over high-end lipstick cams and separate camcorders – and in fact it comes pre-packaged with a handy and secure handlebar mount.
What's it like out there?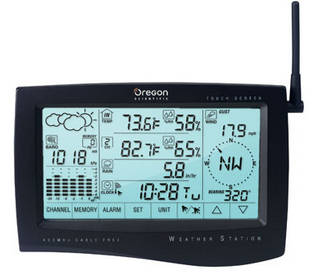 With Oregon Scientific's WMR968 Professional Weather Station, you could nearly render NOAA irrelevant.
(photo: Oregon Scientific)
Oregon Scientific, however, produces many quality products, not the least of which are its complete home weather stations, and you could nearly render NOAA irrelevant with the company's WMR968 Professional Weather Station ($279.99), the Rolls Royce of home weather products. This unit would be perfect to track the weather outside at a ski house or condo as data is transmitted wirelessly up to 300 feet from remote solar-powered outdoor sensors (with a battery backup for extended cloudy periods) to the touchscreen base station. Installation is therefore a breeze. We developed a rooftop mast to position the sensors atop our editorial offices and still had the whole thing up and running in less than two hours…including quite a bit of trial and error in positioning and mounting. We patterned our mast after rooftop television antenna mounting systems, and in today's era of cable television we found out the hard way just how few employees at Home Depot were even born before rooftop TV antennas disappeared from the landscape!
The WMR968 tracks indoor and outdoor temperature, indoor and outdoor humidity, rainfall, wind speed, wind direction and barometric pressure. Trends are easily spotted on the backlit touchscreen display, or connect the unit to a PC via serial cable and log historical data using optional software that can even transmit your data to a web page, Weather Underground, or several other weather websites. We're surprised that Oregon Scientific is still using a serial cable, however, as precious few electronics stores still sell them and many late-model computers lack serial ports now that USB is the standard.
This is but an incredibly minor quibble regarding an incredible product. Our office staffers remain glued to the display with every storm system that approaches the surrounding Wasatch Mountains.
Light that fire
Have you ever tried to light a camp stove in windy weather? Do you need to carry a dependable source of ignition in your pack in case of an unplanned overnight in the backcountry? Backpacking stove manufacturer Primus comes to the rescue with its new PowerLighter that at only 16g sits unnoticed in a pack, yet is ready to deliver a 1300ºC wind-resistant flame when asked. This stocking stuffer's narrow flame allows pinpoint precision, although like all butane torch lighters the PowerLighter was a bit cranky at elevations over 8,000 feet in our testing. Compared with other butane lighters the reservoir is massive, allowing literally hundreds, perhaps a thousand lights (we lost count) before refilling becomes necessary.
A piece of history
Ski history buffs will be thrilled to find almost anything from the New England Ski Museum under the tree, and the Museum maintains an online store chock full of videos, DVDs, vintage posters, books, note cards, t-shirts, jewelry…even items as arcane as cookie jars! Items for sale aren't limited to New England ski history, either, so don't write this source off just because your recipient skis in the Rockies. If you can't decide what's best, gift certificates are available. Best of all, your purchase helps fund the Museum's worthy effort to maintain and display its collections at the base of Cannon Mountain ski area in New Hampshire.
Getting a clear view
The SWAT from eyewear manufacturer Numa Tactical is virtually unbreakable.
(photo: Numa Tactical)
In the ever changing market of eyewear makers we've found a new player in the game. Numa Tactical bills itself as the "toughest eyewear out there," and makes four different frame styles from a proprietary frame material that is virtually unbreakable.
Developed in 2002 by a Swiss athlete who was frustrated by the number of sunglasses he kept breaking, these super-tough eyewear products have become standard-issue gear for Swiss SWAT teams. You can crumple the frames into a ball in your hand, yet they spring back to life instantly when released. The matte finish is aesthetically pleasant, the frames are exceptionally light in weight (less than an ounce) and both interchangeable polarized lenses ($169) — ideal for reducing the glare of sun on snow — and prescription options are available. The SWAT model ($129) features small openings in the upper corner of each distortion-free lens for venting, and even while working up a serious sweat they barely fogged at all. The wrap-around style kept out the elements for a "goggle like" feel.
Tifosi's new Envy features a polarized lens that automatically adjusts to changing light conditions.
(photo: Tifosi Optics)
We also tested new polycarbonate lenses from two companies that are now making photochromatic sunglasses. The ability to rapidly lighten or darken tint is a wonderful feature for ever-changing light conditions on the slopes, from overcast to bright sunshine. We tried the Envy from Tifosi ($89.95) with their brown polarized Fototec lens that provided exceptional snow definition and terrific optical clarity along with 100% UV protection, as well as a model with the Open Water Green polarized Fototec lens that, despite being marketed to fisherman, also provided top-notch snow surface vision. Polarization reduces the glare from sun shining on snow. The glasses weigh only 21 grams and fit comfortably on the face. Vented lenses prevent fogging, and the wrap-around frame style ensures optimal protection. Like all Tifosi glasses, the Envy comes with a protective hard case as well as a microfiber pouch that doubles as a cleaning cloth.
The Syncro PM is part of Optic Nerve's new photochromatic eyewear line at an attractive price point.
(photo: Optic Nerve)
Optic Nerve is also now making a line of sport sunglasses with photochromatic polycarbonate lenses at an attractive price point ($59-69) that lighten or darken from Category 1 to Category 3 light transmission as rapidly as from seven to 10 seconds. The vented lenses provide 100 percent UV protection and wrap-around frame styles ensure adequate coverage. Unlike the Tifosi shades, though, in case it's important to you understand that these lenses aren't polarized. The glasses come packaged with a nifty Neoprene pouch to protect them that is fitted with a resin clip to keep the sunglasses handy.
Bollé's Scream (above) and Quasar (below).
(photos: Bollé)
For those who prefer goggles to glasses, we also field-tested a couple of models from Bollé, the Scream with a Fire Red reflective lens ($130) and the the Quasar with a Fire Orange 50 lens ($90). The Scream features Bollé's three-position Air Booster ventilation system that we found to perform exceptionally well to eliminate fog, as well as an outrigger strap hinge to enhance fit over a helmet by swinging nearly 270º. Soft fleece makes a gentle interface between the face and the goggles. The Scream's Fire Red lens provides 38% visible light transmission for bright days. By contrast, the Quasar uses foam to protect the vents and provide a tight facial seal and its lens is also designed for sunshine and bright overcast. The Quasar also features an articulating strap hinge to facilitate helmet compatibility, but the Quasar's only ranges 90º. Both goggles feature vented double lenses with 100% UVA/UVB protection, aesthetic styling and an exceptional field of view that was widest on the Quasar. Both are over-the-glass models to fit eyeglass wearers. Really, though, the most important factors in choosing a goggle are how they fit your face and if you wear a helmet, how the frame interacts with the helmet opening to eliminate that "gaper gap" between the goggle frame and the helmet.
Get a grip
Hiking across rock or soil can be murder on the DIN interface of hard plastic Alpine ski boots, hindering their ability to release from bindings in a fall. Walking across an ice-covered ski area parking lot in ski boots can be more hairy than the white-knuckle drive up the access road. Both problems are solved with STABILicers, best described by their marketing slogan "studded snowtires for your feet." While neither product is a substitute for crampons in a mountaineering situation, these rubber soles that strap or stretch onto your boots include metal spikes or case-hardened cleats, similar to ice tips on ski poles, to provide traction on slippery surfaces and protect your valuable ski boot soles at the same time.
We tested both STABILicers ($49.95) and STABILicers Lite ($21.95). The latter, made of elastic rubber that stretches over the boot toe and heel, we preferred over the strap mounting system of the former when mounted on ski boots, despite the beefier replaceable cleats on the STABILicers.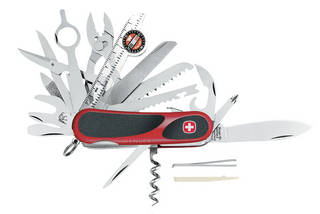 The new EvoGrip S54 from Wenger is loaded with tools for a backcountry ski excursion.
(photo: Wenger)
Considering a different type of grip, have you ever tried to handle a pocket tool with cold, wet hands, or worse yet with ski gloves on? Wenger has released a new line of pocket tools under the EvoGrip moniker that sport ergonomic shapes augmented with rubber inlays to enhance grip, while still maintaining that classic Swiss Army Knife look and quality. We examined the S54 ($115.95) with its tool set that's well suited to backcountry pursuits and emergency gear repairs, and took it into the Wasatch Mountains on a cold, snowy October day. With either gloved hands or numb wet fingers, we found that the EvoGrip design enhanced our ability to work effectively with the tool. The S54 features a 2.5-inch locking blade to prevent mishaps in the field, a 2.75-inch wood saw, adjustable pliers with a wire crimper and cutter, a metal file, metal saw, a compass and map measuring tool, and a universal wrench as part of its full complement of onboard tools to suit any backcountry pursuit.
Read all about it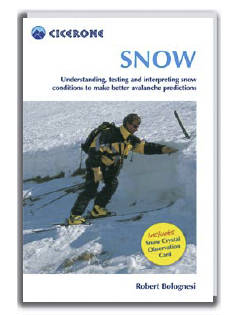 'Snow' is one of the new pocket guides specific for winter backcountry travel from Cicerone.
(photo: Cicerone)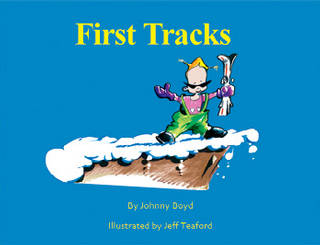 Tuck your budding skier in at night with 'First Tracks' by Johnny Boyd for a bedtime story.
(image: PTO Press)
For the bookshelf or in the pack, Cicerone has published two "mini-guides" written by Robert Bolognesi, "Snow" and "Avalanche!". "Snow" details how to understand snowpack and layers and how to test and interpret them. A handy snow observation card is inserted within "Snow"'s back cover. "Avalanche!" is designed to be used either in the field or during pre-trip planning and includes sections on avalanches (classification and personal accounts), risk assessment and risk reduction. A "NivoTest" observation card that asks simple questions to develop a weighted risk factor decision is tucked within the back cover of "Avalanche!". Both books are encased in sturdy transparent plastic to minimize damage while working with them in the field, and likewise the pages are of a heavy coated stock. Each is available for £7.99.
When it's time to sit down to tuck your budding ski addicts into bed and read a bedtime story, reach for the bookshelf and pull out First Tracks ($17.95) (Ed.: Love that name!), written by author Johnny Boyd and masterfully illustrated by Snowmass children's ski instructor Jeff Teaford. Boyd, the most controversial bus driver in Colorado's Snowmass Village and a local newspaper columnist, has sold over 5,000 copies of this masterpiece that heads into its third printing this fall. "I wrote it as a way to give a little back to the sport I have devoted so much of my life to enjoying," said Boyd, trying to sugar coat a life as a ski bum. "But if it keeps selling at this pace, it may land me in the Skiing Hall of Fame. After I'm dead, of course"
In First Tracks, little Suzie Shane brings your child along as she boards a plane with Mom, Dad and her older brother Jay to head off on her very first ski vacation. Along the way, Suzie discovers everything from deer to the pizza wedge, from ski patrol to riding her first chairlift. And she's sure proud of her brother's snowboarding ability!
One tool
The Boardski Bulldog: They're ski boards. No, wait a minute…it's a snowboard. Nope, wrong again — it's both.
(photo: Boardski)
They're ski boards. No, wait a minute…it's a snowboard. Nope, wrong again — it's both.
British inventor Gary Hagger has created the Bulldog (£329.00), the world's first pair of skis that converts into a snowboard in less than 30 seconds. Unlike a splitboard, these skis aren't just meant for climbing — they're fat 100 cm ski boards that feature full dual metal edges and symmetrical sidecut for carving turns. Lift the binding plates and rotate them 90 degrees, however, and the binding plates lock the skis together in a parallel form to convert the skis to a 100 cm snowboard.
We normally eschew hard goods reviews, but the Bulldog sufficiently fascinated us that we had to include it in this season's gear guide. It's certainly a novelty item as the 100 cm length requires exceptional fore/aft balance. The bindings don't release, and there's no adjustable angle when positioning the feet in snowboard mode. Boots need to be soft alpine boots to perform in both ski and snowboard modes.
The wide platform and dramatic sidecut in ski mode (153-120-153), however, makes for effortless carving on groomed surfaces, and the binding platforms create a rigid interface between the skis while ridden in snowboard mode. And who else do you know who can ski half a run, and snowboard the other half?