Eden, UT – Think Utah skiing, and what comes to mind? The ski and snowboard resorts surrounding the state's only true ski town, Park City? Or maybe it's the deep snows of the Cottonwood Canyons? Chances are, though, that it isn't the three ski resorts that surround the pastoral Ogden Valley of northern Utah.
Snowbasin's slopes overlook Utah's peaceful Ogden Valley.(photo: FTO/Marc Guido)
The fact is that the Ogden Valley offers some of the best skiing and riding in the state, and with daily lift ticket prices ranging from $32 to $62 it's a bargain as well. No fewer than three ski resorts — Snowbasin, Powder Mountain and Wolf Mountain — sit within a seven-mile radius of Pineview Reservoir that forms the heart of this scenic valley.
This is relaxed vacationing at its finest. Swing into the Valley Market at the four corners in Eden for a box of cereal, and the cashier will greet you like a local, even though she already knows every one of the valley's residents. You'll not find a single traffic signal in the valley's three hamlets of Huntsville, Eden and Liberty. Nevertheless, just a few miles to the west through Ogden Canyon lies the city of Ogden, a former railroad town from the dawn of the West that's now a burgeoning hub of the outdoor recreation industry. Such industry headliners as Salomon, Atomic, Suunto and Goode now call Ogden home, as they already know what many skiers and snowboarders have yet to discover.
Snowbasin
Snowbasin's aerial tram was built to access the start shacks of the men's and women's 2002 Olympic downhill courses.(photo: FTO/Marc Guido)
The Ogden Valley nearly landed on every skier's map in 2002, when the Winter Olympic Games came to Salt Lake City and Snowbasin hosted the men's and women's speed events: downhill and super G. While Sinclair Oil Company magnate Earl Holding developed unseemingly plush base and summit lodges at Snowbasin modeled after those at his other ski resort, Sun Valley, and updated an antiquated lift system with not one, but two base-to-summit gondolas, an aerial tram and detachable chairlifts, he has yet to put a single pillow at Snowbasin. Holding instead opted to construct the opulent Grand America Hotel in Salt Lake City. As a result, the anticipated crowds never really came.
What's left is a stunningly efficient 2,959 vertical-foot ski resort where you can nearly always walk onto the lifts. A resort where you can score freshies for days thanks to 12 lifts that access some 2,820 in-bounds acres, an area bigger than either Snowbird or Alta, plus some of the most easily-accessed sidecountry on the planet – all draped in an average of between 300 and 400 inches of snowfall annually. A resort where on-mountain dining rivals the fabled cuisine of nearby Deer Valley, served on china with silverware, and where you'll find carpet and genuine marble in the bathrooms before returning to the slopes. In fact, you'll nearly feel guilty just for walking into the base lodge with wet and muddy ski boots.
It sounds too good to be true, doesn't it? But at Snowbasin, it's real.
I'll confess to being a Cottonwood Canyons snow snob. After all, some of the best skiing in the world sits less than 30 minutes from my door, so why drive an hour instead? And for 100 inches less per year?
Snowbasin receives an average of between 300 and 400 inches of Utah fluff annually.(skier: Robert Sederquist; photo: FTO/Marc Guido)
It took a good friend repeatedly extolling Snowbasin's virtues – and day after day of deep powder – to get me up to the Ogden Valley a few times more than normal last season. I now understand not only the possibilities, but the realities that these three ski resorts provide. They truly are undiscovered gems.
Snowbasin is laid out along a broad ridge just east of the city of Ogden and the Great Salt Lake. To the far looker's right, the tram ascends the flanks of Mt. Ogden to the start houses for the men's and women's Olympic Downhill courses above the high-speed John Paul Express chair, itself a monster 2,424 vertical-foot lift. At the resort's opposite end, the Strawberry Gondola serves a plethora of intermediate cruisers interspersed with varied powder shots in its own 2,472 vertical-foot terrain pod. In between lies a series of ridges and canyons offering a playground that would literally take days to explore.
Experts will find plenty to entertain. Just a short gravity traverse from the top of the Strawberry Gondola leads to the De Moisy Chutes: Lone Tree and Arrowhead. On a powder day, watch for the gates to No Name to access a multitude of lines that thread themselves through cliff bands. And those with avy equipment and knowledge can hike Mt. Ogden to scare themselves silly.
Snowbasin consists of a series of ridges and canyons that offer a playground that would literally take days to explore.(photo: FTO/Marc Guido)
Where Snowbasin truly shines, however, is for intermediates. Thigh-burning cruisers spill from virtually every lift, all groomed to perfection. In the build-up to the Olympic Games Snowbasin invested heavily in snowmaking, and its ability to blow snow is most evident in early and late season, when many of these groomers sport wall-to-wall coverage long after the lower flanks of the mountain melt out.
New this year, Snowbasin is upgrading its beginner terrain with a replacement for the Little Cat double chair. The new lift is a beginner-friendly detachable quad, re-routed to access the gentle, evenly-pitched terrain linking the Earl's Lodge base area with the overflow parking area above. Beginners can also find long green cruisers from mid-mountain via the Wildcat and Becker chairs.
Powder Mountain
Powder Mountain's Powder Country. (photo: FTO/Marc Guido)
Gaze across the Ogden Valley from Snowbasin, and you'll spot a distractingly flat plateau across the way. Just above that plateau sits Powder Mountain, perhaps Utah's most under-appreciated ski area.
If Snowbasin is big, Powder Mountain is positively colossal. Its 5,500 acres of lift, bus and snowcat-accessed ski and snowboard terrain is bigger than Vail, and it takes a heck of a long time to track up that much terrain. It's even less busy than Snowbasin, so powder literally lasts for days. For the moment, Powder Mountain has a mom 'n pop ski area feel that's disappearing from the landscape faster than t-bars and poma lifts (and they have those, too), but plans are afoot to develop Powder Mountain into an uber-luxury high-end resort, so now's the time to get there.
Powder Mountain is unique in that it's an upside-down ski area, a layout more commonly seen in the Southeast than in the Intermountain West. Visitors ascend the mountain's flanks via an access road that approaches from the south, park at the top, and ski slopes that lie primarily to the north of the ridge. One exception is what Powder Mountain calls "Powder Country" – and locals affectionately call "the bus runs" – that spill down the south side of the ridge to return to the shoulder of the access road, where a reconditioned school bus picks up skiers and riders to return them to the lift-served ski area. The other is the Sunset area, a separate terrain pod where Powder Mountain's night skiing takes place.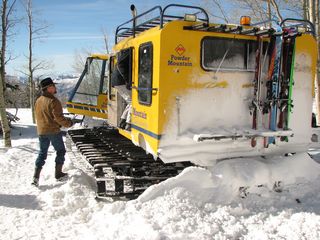 Powder Mountain's Lightning Ridge snowcat is a bargain at $12 a run.(photo: FTO/Marc Guido)
Another third of the ski area is comprised of Lightning Ridge, accessed by a snowcat that costs $12 per ride in addition to the daily lift ticket. It's well worth the investment – $2 more than the Hamilton it set you back last year – which you'll realize when the cat drops you off on a shelf below the summit of James Peak and the choices that sit before you. You can ski straight off into north-facing trees, hike to the summit of James Peak for untracked steeps, or traverse out until no tracks lie beyond. Powder Mountain also offers all-day snowcat safaris in bowls to the east of Powder Country for $300 per day, and Diamond Peak's helicopters land atop the Hidden Lake Express for single rides to the slopes on the backside of James Peak.
Experts will find the steepest lift-served terrain beneath the Paradise Lift, which reaches the lowest in-bounds elevations within the resort. Powder Mountain, however, isn't about steeps. It's about snow quality. There's nothing wrong with enjoying low-angle untracked powder through a beautiful stand of aspen trees, and in this writer's opinion, Powder Mountain is one of the best places in the world to learn powder skiing. Acres upon acres of gently pitched untracked snow await beneath the Hidden Lake lift and in the adjacent Cobabe Canyon, accessed via a short poma lift from just below the top of Hidden Lake.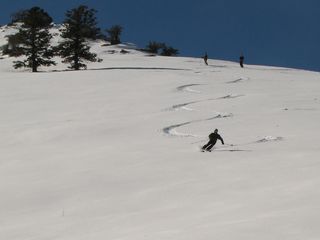 Are runs like this worth $12 a pop?(skier: Marc Guido; photo: FTO/Robert Sederquist)
Visitors are well advised to study a topographic map in advance of their visit. Aspect is everything, and Powder Mountain's available terrain faces virtually every point on the compass. Understanding the effects of wind and sun can mean the difference between skiing sun-baked crud and riding the bottomless fluff that your dreams are made of.
Powder Mountain has the Ogden Valley's only slopeside lodging in the form of scattered condominiums and the tiny Columbine Inn, where rates for a ski-in/ski-out hotel room start at only $70 per night. All are uniquely located at the top of the mountain.
Dining at Powder Mountain will feel like culture shock after a day spent at Snowbasin. Strolling into Hidden Lake Lodge seems more like a concession stand at a high school hockey arena than a ski resort, and furniture in the Powder Keg, the ski area's bar and lounge, is Wal-Mart plastic patio grade on concrete floors.
But it's all about the skiing, right?
Wolf Mountain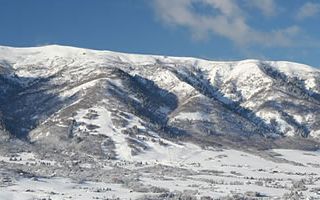 Wolf Mountain(photo: Wolf Creek Utah)
Skiing in the Ogden Valley isn't limited to these two resorts. In between Snowbasin and Powder Mountain, Wolf Mountain, née Nordic Valley partially ascends an east-facing ridgeline.
Wolf Mountain's three chairlifts and a carpet conveyor provide uphill transport for 3,930 riders per hour. At a mere 100 acres it looks tiny when viewed from Powder Mountain, but its 1,000 vertical feet would be respectable if located anywhere else. Wolf Mountain nonetheless fills an important niche by providing Utah's most affordable skiing and riding. An all-day weekend or holiday lift ticket costs a mere $32. Night skiing is $20, and the entire ski mountain is illuminated, constituting Utah's largest night skiing operation. On Sunday and Monday, night skiing costs only $10. On Tuesdays, a full-priced $25 all-day lift ticket scores a second one for another $10. On Thursday nights, students from kindergarten through college graduate receive a lift ticket, a slice of pizza and a soda for $15.
You get the picture. This is neighborhood skiing. If it weren't for luxurious, adjacent Wolf Creek Utah that owns the ski area, this would be for Ogden-area locals only.
Wolf Creek Utah offers a collection of tastefully-appointed homes and townhomes for rent.(photo: FTO/Marc Guido)
Wolf Creek Utah is a collection of high-end homes and townhomes lining a private golf course. Many are available for rent throughout the winter at rates that would make Colorado resort towns blush. Moreover, its location right at the base of the Powder Mountain access road and a few short miles from Snowbasin make it the perfect launching point for an Ogden Valley ski or snowboard vacation. Although Wolf Creek Utah went private last spring, guests of its lodging properties enjoy all club amenities, including the exceptional and unhurried dining in the private clubhouse's dining room. Properties are tastefully furnished, and most feature gourmet kitchens for those who prefer to cook in.
Other dining options include the famed Shooting Star Saloon in Huntsville, where the Star Burger's hamburger patty, sauteed onions and kielbasa are a heart attack on a bun. In downtown Ogden itself, the recently rejuvenated 25th Street historic district is where it's at. It's also where you'll find Rooster's, an exceptional brew pub with fresh suds on tap and Ogden's best calamari.
All of this still comes with Utah's famed accessibility. The International Airport in Salt Lake City is barely 45 minutes away, and as a hub for Delta Airlines and destination for many more, flights are reasonable and plentiful. Those looking to mix in a day or two at Alta, Brighton, Deer Valley, Park City Mountain Resort, Snowbird, Solitude or The Canyons will find each within an hour's drive.
The folks at Salomon and Atomic seem to be on to something…
For More Information