Snowbird, UT – Snowbird Ski & Summer Resort in Utah will now extend its ski and snowboard season on weekends through July 4th, weather and conditions permitting, First Tracks!! Online learned today.
Originally scheduled to close for the season this Monday following the Memorial Day holiday, Snowbird is still covered top to bottom with a base of snow measured at 177 inches at mid mountain, thanks to 760 inches of snowfall season to date. This includes five inches received in the past 24 hours and more snowfall is in the forecast for this coming weekend. Snowbird remains skiable from boundary to boundary thanks to the unbroken cover of deep snow. Some portions of the in-bounds ski area are now designated backcountry areas accessible through gates that open only when conditions permit.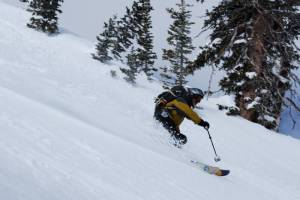 Snowbird has been operating Fridays through  Sundays since scaling back its spring operations earlier this month. While the resort's iconic Aerial Tram has been closed for the past two weeks for annual maintenance Snowbird has been operating its Peruvian Express, Mineral Basin Express and Little Cloud chairlifts for late-season diehards, with the Peruvian Tunnel open for walk-through only as the conveyor lift within the tunnel remains dormant. It is expected that Peruvian Express will close once the Aerial Tram resumes operation for the summer season, perhaps as soon as this weekend. Once the snow at the base of the mountain melts away, Snowbird typically offers late season skiing and riding via its Mineral Basin Express and Little Cloud chairlifts, with uplift and download service via the Aerial Tram.
Snowbird will reopen this week on Friday and offer skiing and snowboarding from 8 a.m. through 2 p.m. daily through Monday. Lift tickets are currently priced at $64 for adults and $30 for juniors. Half day rates for skiing and riding from 8 a.m. to 11 a.m. or 11 a.m. to 2 p.m. cost $56 for adults and $23 for juniors.
Snowbird officials are expected to formally announce the season extension tomorrow, including the lift operating schedule and lift ticket rates for the remainder of the season.