Tahoe City, CA – California and Nevada's Lake Tahoe region is celebrating Independence Day Weekend this year with multiple fireworks displays, as well as skiing and snowboarding.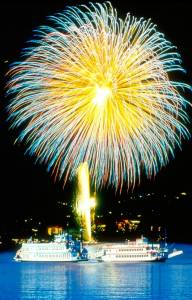 "North Lake Tahoe is unique in that we have a series of fireworks events scattered around the lake – visitors can take their pick in terms of when and where," said Tourism Director Andy Chapman of the North Lake Tahoe Resort Association. "What also makes Tahoe special this year is the tons of snow that dropped last winter making for skiing, snowboarding, slopeside parties and live music this Independence Day Weekend."
The town of Kings Beach, Calif., will host their annual fireworks display on Sunday, July 3 with a free show, as well as a deck party celebration at the North Tahoe Event Center, beginning at 7 p.m.  The nearby Squaw Valley ski resort is also putting on free fireworks Sunday, July 3 at 9:15 p.m. Tahoe City celebrates 65 years of fireworks at Commons Beach at 9:30 p.m. Monday, July 4. This event is free and is also popular with families.
Incline Village, Nev. really takes things to the next level with their traditional Red, White & Tahoe Blue festivities scheduled for Friday, July 1 through Monday, July 4, which includes patriotic chalk drawing contest, opening ceremonies with a tribute to veterans, doggie dress-up contest, beer tasting and brats, brunch with Shakespeare, firecracker trail trek and free fireworks Monday, July 4 at 9:30 p.m. off Incline Beach.
In Truckee, Calif., the Truckee 4th of July Fireworks is scheduled for Monday, July 4 at West End Beach at Donner Lake at dusk. Tickets are $6 per person (in advance only) and are available through the Truckee Donner Recreation and Park District. On Tahoe's South Shore over 100,000 are expected to turn out for Lights on the Lake, South Lake Tahoe's Independence Day fireworks show, which blasts off at at approximately 9:45 p.m. on July 4. Also in South Lake Tahoe the Rolling Chrome/Tahoe Thunder car and motorcycle show will be presented at the Heavenly Village July 1-3.
Because of record snowfall during winter 2010-11 that accumulated up to 70 feet, both Alpine Meadows and Squaw Valley USA will reopen for skiing and riding Saturday, July 2 through Monday, July 4 with discounted lift tickets. Squaw will also host the famed 21st Annual Lake Cushing Crossing, a favorite pond-skimming event, Sunday, July 3 after delaying the event earlier this spring due to cold and snowy weather. Also on the schedule is a free concert by Big Head Todd and the Monsters July 3 at Squaw.
South of Lake Tahoe, Kirkwood will offer lift-served skiing and riding July 2-3 after providing snowcat skiing on its slopes throughout June. On Donner Summit, Sugar Bowl Ski Resort is also reopening its doors Monday, July 4 for skiing and riding, but for 2010-11 and 2011-12 season pass holders only.