Huntsville, UT – Ski areas aren't typically known for having impeccable rest room facilities. Often they're barely a step above a bus station men's room. But one Utah ski resort is in the running to be named as having America's Best Restroom.
Now in its tenth year, the America's Best Restroom contest is sponsored by business supplier Cintas Corporation, which started the contest to honor those businesses across America that place hygiene and style at the top of their priority list. Proprietors recognize the parallel between clean restrooms and customer retention.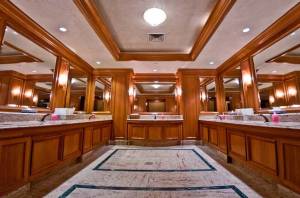 "We like to think of this contest as an entertaining way of drawing the public's attention to the very important issue of restroom hygiene," says Cintas Senior Marketing Manager Rich Bing. "People don't think about this issue until they walk into a poorly kept restroom, and then it matters. After that, the odds are they won't be back."
Snowbasin's luxurious restrooms feature Italian Carrera marble, Barovier, Tosso & Moscatelli chandeliers crafted from bronze and crystal, floor to ceiling commodes, beautifully inlaid African Anegre wood and hand-painted walls. Nearly as many guests can be seen snapping photos inside the john as are observed doing so on the resort's ski slopes.
Other finalists include: Castello di Amorosa Winery in Calistoga, Calif.; Don's Johns Presidential Luxury Restroom Trailer in Chantilly, Va., which was originally set up for President Obama during the 2009 Inauguration; The Field Museum in Chicago, Ill.; the Habana Outpost in Brooklyn, N.Y.; The Joule Poule at the Joule Dallas Hotel in Dallas, Tex.;  the Main Street Station Casino in Las Vegas, Nev., which features a graffiti-covered segment of the oppressive wall that once separated East and West Berlin that now serves an appropriate function in the men's restroom by holding up the urinals; Ninja New York New York; the Renaissance Arlington Capital View Hotel in Arlington, Va.; and the Scottsdale Center for the Performing Arts in Scottsdale, Ariz.
The public is invited to vote for their top pick at www.bestrestroom.com through Monday, September 19, 2011. The site takes visitors on a photographic tour of each facility and then encourages them to choose their favorite. You can also participate by visiting the America's Best Restroom Facebook page, Twitter account and YouTube Channel to post comments, receive contest updates, share photos or upload videos; links to all three sites are on the contest homepage.
Over the last decade, this contest has attracted tens of thousands of voters. This year's winner, which will be announced this fall, will receive a plaque of recognition and a spot in the America's Best Restroom "Hall of Fame" section of the program's website. Previous winners were:
2010 The Fountain on Locust St. Louis, Missouri
2009 Shoji Tabuchi Theatre Branson, Missouri
2008 Hermitage Hotel Nashville, Tennessee
2007 Jungle Jim's International Market Fairfield, Ohio
2006 Wendell's Restaurant Westerville, Ohio
2005 Fort Smith, Arkansas Airport Fort Smith, Arkansas
2004 Kohler Art Center Sheboygan, Wisconsin
2003 The Grand Casino Biloxi, Mississippi
2002 University of Notre Dame South Bend, Indiana