with staff reports from First Tracks!! Online Media
Kiltarlity, Scotland, UK – August is the month when the ski-obsessed can dare to start dreaming of the coming winter and hope for a snowy one.  There are only 10 places in the Northern Hemisphere currently open for skiing, but healthy snowfalls on the glaciers of the Alps in late July and the increasing flow of teasing news for next winter from resorts and tour operators can get pulses racing. And from September on more and more resorts will start opening  for winter 2011-12.   Meanwhile, in the Southern Hemisphere, winter 2011 is now in full swing.
In Europe, the Norwegian ski season ended early when cracks appeared in the underlying ice beneath glacial snow so the only areas open are in the Alps.
Switzerland has some of Europe's highest ski areas at Saas Fee (90cm snow base) and Zermatt (100cm base) with lifts operating to nearly 3,900m at the latter, which is amongst the 10 highest ski lift-served points in the world.  Both are now open right through to spring 2012 — in fact, Zermatt's ski season never ends — and have benefitted from over 30cm (a foot) of fresh snow in the past few weeks.
In France, Les 2 Alpes (125cm base) and Tignes (30cm base) will be open right through the month of August, as Les 2 Alpes closes on the 28th.  In Tignes it is hoped that the snow will last into September as planned.
Austria was a major beneficiary of the big July snowfalls, but three of those resorts that reported receiving at least 30cm of new snow last month — Kaprun, Stubai and Solden — are all closed until September.  You can still ski, however, on the Molltal glacier (160cm base) and at year-round Hintertux (85cm base).
Italy has three ski areas currently open and the deepest snow reported anywhere at present – a full four meters at Passo Stelvio.  You can also ski above Cervinia (120cm) on the only cross-border summer ski area, linked to Zermatt and at Val Senales (60cm).
Across the Atlantic in North America there were a dozen areas open at the start of July in the West of the continent, but a month later following the closure of both Boreal in California and Whistler's glacier slope in the Coast Mountains of British Columbia a few weeks ago, only the usual lone choice, Timberline (117cm) on Mt. Hood in Oregon remains open through August.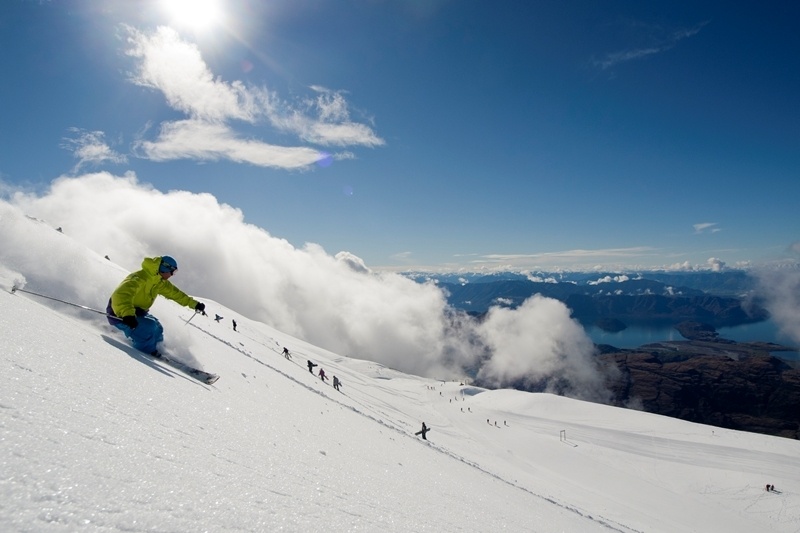 In the Southern Hemisphere around 100 ski areas are currently open in Australia and New Zealand, Argentina and Chile and even Lesotho in southern Africa. Australian ski areas are thus far having an epic winter with most boasting base depths of at least a meter and regular snowfalls to refresh surfaces.
New Zealand's winter 2011 got off to a very slow start but that's all changed now with some decent snowfalls through July to build base depths, albeit a month behind schedule.  Most now have 60-90cm bases but Turoa has nearly reached two meters.
It's not been a particularly memorable start to the season in South America, either, with limited early snowfall at most of Chile's resorts and the continent's biggest ski area, Catedral, being one of several suffering from proximity to an erupting volcano. The eruption's ash cloud has caused air traffic chaos and repeatedly coated the ski slopes in ash, meaning skiers have had to wear face protection to avoid breathing in the dust when the lifts have been able to open – a fairly surreal ski experience.
The volcano is not a problem for most resorts, however, as Las Leñas in Argentina, and Portillo and Valle Nevado in Chile, are among those keen to stress they're many hundreds of miles from the trouble.  Snow depths across the continent are currently primarily in the 50-90cm range.
Author Patrick Thorne is the Content Editor for Skiinfo UK, located online at www.skiinfo.co.uk