Lake Tahoe, CA – The 2nd Annual Lake Tahoe Restaurant Week is a celebration of the cuisine and culinary talent that has made the Lake Tahoe region one of the best mountain dining destinations in the country.
The weeklong event is scheduled to kick off this Sunday and will run through the following Sunday, October 9. Local food aficionados and visitors will delight their palate with three-course prix-fixe menus at special values that incorporate organic, seasonal and local ingredients – all served up at Lake Tahoe's charming and historic eateries, resorts and bistros.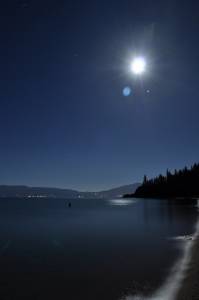 There are no passes, tickets or coupons needed to take part in Lake Tahoe Restaurant Week. Instead guests simply visit their favorite Lake Tahoe restaurants, which are offering three-course, prix-fixe menus for $20, $30 or $40 per person (tax and gratuity not included). Reservations are strongly recommended.
Many of the region's top dining establishments are taking part, including 19 Kitchen at Harveys Lake Tahoe, the Beacon Bar & Grill, Black Bear Inn, Chart House, Cottonwood Restaurant & Bar, Crystal Bay Club Steak & Lobster House, Dragonfly, Edgewood Restaurant, the Fresh Ketch, Friday's Station Steak & Seafood Grill at Harrah's Lake Tahoe, Gi Fu Loh at Harrah's Lake Tahoe, Hard Rock Café Lake Tahoe, Jake's On the Lake, Lone Eagle Grille at the Hyatt Regency Lake Tahoe, Mamasake Sushi, Manzanita Lake Tahoe at the Ritz-Carlton Lake Tahoe, Mountain Burrito Company, PlumpJack Café, River Grill, River Ranch Lodge, Sage Room at Harveys Lake Tahoe, Six Peaks Grille at the Resort at Squaw Creek, Soule Domain, Sunnyside Resort, Swiss Chalet Restaurant, Wild Good Tahoe and Wolfdale's Cuisine Unique.
The North Lake Tahoe Visitors Bureaus, North Lake Tahoe Chamber of Commerce, Lake Tahoe Visitors Authority and the Lake Tahoe South Shore Chamber of Commerce are Lake Tahoe Restaurant Week's presenting sponsors.
To learn more about Lake Tahoe Restaurant Week, a list of participating dining establishments and their downloadable prix-fixe menus, lodging discounts (25% off for Restaurant Week attendees) and how to take part, visit the event's official website at www.TahoeRestaurantWeek.com.