Squaw Valley, CA – The Village at Squaw Valley is hosting North Lake Tahoe's annual Oktoberfest celebration complete with a Bratwurst Toss, authentic German beer and plenty of entertainment. The 10th Annual Squaw Valley Oktoberfest will transform The Village at Squaw Valley into a miniature Bavaria from 2 p.m. to 6 p.m. this Saturday.
Modeled after the original Oktoberfest, a 16-day annual festival held in Munich, Germany, Squaw Valley's event is a fun day for the whole family. Guests gather for traditional German entertainment including performances by Joe Smiell and his 20-piece Bavarian band on the main stage. The Almenrauch Schuhplattler Bavarian Folk Dancers and Alpentanzer Schuhplattler Austrian Dance Troop accompanied by the Alpen Tanz Kapelle band will also entertain Oktoberfest visitors.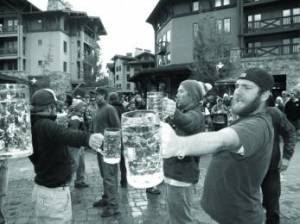 Event attendees can participate in games and compete for prizes. The Oktoberfest Games can get quite intense as festival goers compete in the Stein Holding competition, Keg-Rolling race and the Bratwurst Toss and new this year – Squaw Valley's only Yodeling contest. The Bratwurst Toss puts a whole new spin on the game of catch as the traditional German sausages fly through the air. The games are just as much fun to watch as they are to play. Guests are also encouraged to get into the spirit of the event by wearing traditional Lederhosen and building their own Alpen Horns. Instructions as to how to build one can be found on squaw.com.
Beer lovers can toast each other in the Bier Garten, where they will find a wide selection of authentic German brews including Gordon Biersch, Spaten, Sudwerk, Lagunitas, Victory, Sam Adams and Franziskaner. The first glass of beer is $10, which includes a half-liter festival stein and one beer. Additional beers will be available for $5 and every beer purchased helps support local youth sports as proceeds from beer sales benefit the Tahoe Truckee Lacrosse Foundation.
Guests also can savor traditional German bratwurst with sauerkraut and a variety of other foods served at The Village restaurants. Oktoberfest also features a root beer float station for the kids
The event celebrates one of the most spectacular times of the year in the Sierra, when the aspen trees are ablaze in gold, red and orange and the days are pleasantly cool.
Entrance to The Village at Squaw Valley's Oktoberfest celebration and entertainment are free.  Festival goers must be 21 years or older with a valid ID to purchase beer.
For more information on The Village at Squaw Valley Oktoberfest, visit www.squaw.com or call (530) 584-6266.