Mirabel (QC), Canada – Two world champions from different sports who share the same passion for speed went head to head on a racetrack in Mirabel, Quebec, Canada this summer.
Former CART, Formula One and Indy 500 champion Jacques Villeneuve, of Montreal, Quebec, Canada, challenged 2011 alpine world downhill ski racing champion Erik Guay, of Mont-Tremblant, Quebec, to go for a spin in a go-kart to help promote an upcoming Ski Québec Alpin gala.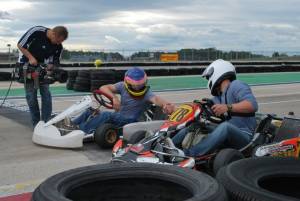 La Rencontre au sommet TELUS, which is due to be held on Oct. 27 in Laval, Quebec, Canada, is a fundraiser for elite development programs in Quebec and the Canadian Alpine Ski Team. It will feature Guay and Villeneuve in addition to Canadian Grand Prix promoter François Dumontier.
"Who came out on top? It was definitely him. He kicked my butt pretty good!" said Guay, who has experience of racing sports cars on his local track in Quebec. "Like any elite athlete, when you are with them, you see how good they really are," added Guay of Villeneuve. "I couldn't keep up with him, even for one corner. He took it easy for a couple of laps so I could follow him and learn the line. It was a lot of fun."
There are several parallels between the skill it takes to be an elite auto racing driver and a world-class skier. Both sports require a steely focus on racing line and there are the obvious similarities between the need for speed, high-speed turns and being as aerodynamic as possible.
"You get a lot of Gs (G-force) out of a turn and the speeds were quite high. It wasn't like driving those karts you get at amusement parks," said Guay of his experience at the ICAR facility in Mirabel. "It was a lot of fun. It's not every day you get to go on a go-kart track with Jacques Villeneuve."
Guay is hoping to repay the favor this winter by inviting Villeneuve to ski with him at one of the alpine World Cup stops.
"He's supposed to be a great skier. He skied a lot when he was young," said Guay of Villeneuve. "I invited Jacques to come do some skiing on a downhill track. It would be great to get him on a World Cup track – somewhere like Val Gardena (Italy) or Chamonix (France), but maybe not Kitzbuehel!" said Guay of the notoriously difficult track in Austria.