Bolton, VT –The ski and snowboard industry is typically a boy's club, but Bolton Valley Terrain Park Manager Allison Kozar takes it all in stride. As one of the only—if not the only—woman terrain park manager in the East, and one of just a handful in the country, Kozar digs in with her staff to build creative parks for skiers and riders at the northern Vermont ski and snowboard resort.
Overseeing, managing and creating three terrain parks, including the Burton Progression Park, keeps Kozar busy throughout the season.
"During my second year at Bolton Valley, my boss at the time was dedicated to teaching me everything he could," says Kozar, 26. "Over the years, I've been lucky enough to collaborate with people from Snow Park Technologies and Snowgrind, two professional terrain park building companies. They helped me understand how to create function and flow.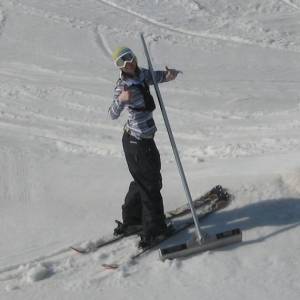 "I don't mind being the only girl in the room. Resort operations are known for being 'the boy's club', and I fit right in. Women need to show that they are willing to get some sweat on their brows, get dirty, handle the stress associated with the job," Kozar adds. Working hard and trying to overachieve everyday is the only way to gain respect from the guys. My advice to other girls is don't be afraid to try. Get out there and learn some skills. Even with the guys, there still aren't enough people in the ski and snowboard industry."
So what's a typical day like for a terrain park manager? While Kozar said that technically no day is typical, there is a routine to the madness in trying to get parks open and ready for guests.
"Our day starts with us going to the parks in the morning, fixing up ruts, painting, flagging everything, then opening to the public," said Kozar.  "I try to get shop, marketing, or managing work done after lunch, while the boys maintain the parks. I join the daily snow plan meeting at two o'clock, where we talk about resort events, snow making, grooming, and safety concerns. That room has a great view of the Butterscotch Park. Sometimes I let the boys play with the Go Pro, to get clips for webisodes. After snow plan, I try and finish up any e-mails and fill out the grooming report, to tell the groomer what work needs to be done. On nights that we have night skiing, I talk to the night crew and give them instructions. I usually leave before close on those nights, but the night guys tear down all the fencing and flags, and maintain the park for the evening. It can be a long day."
Born and raised in Killington, Vt., Kozar has been skiing for more than 22 years, with her first turns and younger years skiing Killington and Pico while attending the local schools. She began teaching skiing at Killington in 2001 and graduated high school in 2003. She spent her freshman year at Roger Williams College in Rhode Island but then realized she needed to be near a ski resort and transferred to the University of Vermont in Burlington, where she obtained her degree in English with a minor in music. When not on the hill, Kozar likes to watch movies and play poker with her friends. She loves cats, anything Kevin Smith, South Park, and musicals, and recently got married this past summer.