Salt Lake City, UT – A press conference organized by the Canadian Freestyle Ski Association (CFSA), scheduled for Monday afternoon in Salt Lake City to discuss the condition of the injured acclaimed freeskier, was canceled on Monday morning by members of Burke's family.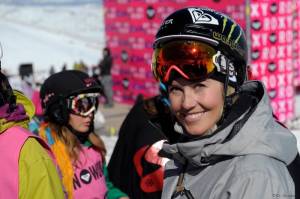 "The Canadian Freestyle Ski Association has just received word that the scheduled news conference from doctors and family in Salt Lake City regarding the condition of injured Canadian halfpipe skier Sarah Burke has been cancelled indefinitely," the CFSA said in a statement issued mid-morning on Monday. "Late last night, Rory Bushfield, Sarah's husband, and members of her family met with physicians to discuss the results of Sarah's most recent neurological tests and assessments. Based on the information they received, we regret to inform you that they have decided to cancel today's press conference in order for further tests to be conducted this morning and in the coming days.
"The family wants to express its deep appreciation for the overwhelming support Sarah has received from all over the world. The family ask that media, fans and friends  continue to keep Sarah and Rory in their prayers. Rory and Sarah's family remain at the hospital," the statement concluded.
Burke, 29, of Squamish, British Columbia, has been in the University of Utah Hospital in Salt Lake City in critical care in a medically induced coma since an accident during a training run on the superpipe at Park City Mountain Resort in Utah last Tuesday. She underwent surgery last week to repair a tear in her vertebral artery that resulted in bleeding on her brain. The vertebral artery supplies blood to the brain stem and parts of the brain that control important functions including balance and vision.
Members of Burke's care team had been expected to give statements and answer questions at the press conference, followed by prepared statements and limited questions for some members of Burke's family. No further explanation was provided for the cancellation.
http://a7.sphotos.ak.fbcdn.net/hphotos-ak-snc7/383198_158961007537528_140745259359103_199822_1615440039_n.jpg