Bennington, NH – Workers will be busy this summer at New Hampshire's Crotched Mountain, constructing the first high-speed detachable quad chairlift to be built in the southern part of the state.
The installation of the lift, a used chair recovered from the former Ascutney Mountain ski area in Vermont, along with a terrain expansion is planned to be completed in time for the 2012-13 ski and snowboard season. This $3 million capital investment will happen on the 10 year anniversary of the reconstruction of the resort.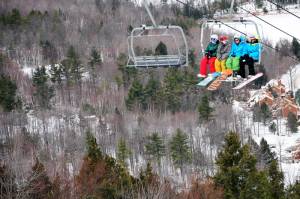 "We are very excited about the prospect of adding a detachable lift at Crotched Mountain.  This lift will provide quick access to the summit, ultimately providing more value and vertical to our guests," said Jesse Boyd, VP of Operations for Peak Resorts, Crotched's Missouri-based owner. "Along with the lift, the addition of 25 acres of skiable terrain will be a significant upgrade for the resort."
Set to replace the resort's current Summit fixed grip lift, the new chair will provide an uphill capacity of 2,400 persons per hour, and access to an additional 25 acres of terrain in less than four minutes of ride time on the lift. The additional terrain access is accomplished by the extension of the current summit lift profile to the top of the mountain, approaching 1,000 feet of vertical drop. The additional 25 acres of terrain will encompass three extra slopes and two glade areas.  The new terrain will have 100 percent fan snowmaking coverage as well as being lit for night skiing.
"We at Crotched pride our self on the commitment of service to all skiing and snowboarding guests from beginners all the way to expert terrain park and racing enthusiasts," added Pat Terry, Crotched's GM. "The ability for us to provide the value of even more time on the slopes is very exciting. The expansion of terrain will benefit all of our clientele with an easier route off the top of the mountain and trails that will access our progressive terrain parks, glade skiing and allow us to stay committed to the ski racing culture of New Hampshire."
While the new lift may be southern New Hampshire's first detachable quad, it won't be the first high-speed detachable chairlift in that region. That honor goes to Ragged Mountain in Danbury, where a high-speed six-pack has been in operation for a number of years.
Lift construction and trail development are scheduled to take place at Crotched starting this spring, pending approval of permitting with state and local township regulations.