Jay, VT – Jay Peak Resort this week bought 1,000 "I am Vermont Strong" license plates to support recovery efforts from the devastating floods that plagued the state following Tropical Storm Irene last summer. The purchase was made during a ceremony at the Vermont State House on Thursday that saw Governor Peter Shumlin sign legislation allowing people to attach the plates to the front of their vehicles. Jay Peak is the first ski and snowboard resort in the state to make such a large purchase.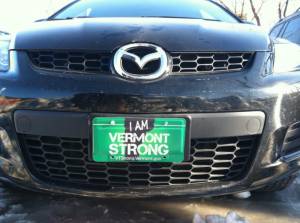 "This storm wreaked unimaginable havoc and devastation on people's lives," said Steve Wright, Jay Peak's vice president of Sales and Marketing. "We weren't really as impacted this far north, but being a part of the state's resort community, it was important to support not only our friends in the resort communities down south, but also to find a way to help as many towns as we could."
Wright, who attended Thursday's signing ceremony, remarked that the plates are more than just a method to raise money. "The 'I am Vermont Strong' plates are a way to keep funds flowing into relief centers and assistance rolling out to those who will be affected by the storm for years. But it's also a great device for keeping the memory of what we as a state went through and how our communities responded to help those in need."
The "I am Vermont Strong" license plates will be available for sale at Jay Peak's Mountain Shop, located on the second level in the resort's new Hotel Jay. All proceeds will go to the Vermont Disaster Relief Fund for Irene recovery efforts, and to the Vermont Foodbank.