Salt Lake City, UT – I'll readily admit that there's something amiss, something nearly wrong, about paying more for a ski jacket than a new pair of skis. But if you're the type of person who's perpetually cold, the ability to stay warm on the chilliest of days is nearly priceless.
We had a chance this month to test Columbia's new Circuit Breaker jacket ($850), an insulated soft shell that comes complete with a battery-powered heating unit to keep its wearer toasty and warm. Electrically heated items for skiing aren't new — a number of companies are already manufacturing electrically heated gloves, and Bollé is even heating helmet ear pads next season — but Columbia's Omni-Heat Electric technology is a quantum leap forward beyond previous efforts at heated garments.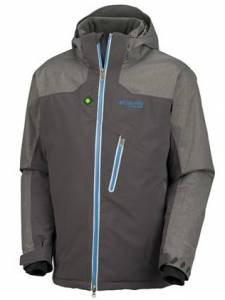 Except for a chest mounted control button backlit by an LED, the Circuit Breaker looks much like other ski outerwear with features commonly found elsewhere. Omni-Tech is Columbia's proprietary waterproof/breathable technology, and all seams are fully sealed to keep water out. Large pit zips provide ventilation when the jacket's Omni-Heat Thermal insulation and Omni-Heat thermal reflective lining (not to be confused with Omni-Heat Electric — think breathable space blanket here) provide too much warmth. The jacket comes complete with a removable hood and powder skirt that snaps away when attached but not in use. Ample storage is provided by exterior chest and slash pockets, and two large interior pockets. Columbia even thoughtfully provided a sleeve pocket for RFID-enabled ski passes, a welcome feature now that more resorts are using radio controlled access gates.
The piece de resistance, however, is the jacket's Omni-Heat Electric system. Two lithium polymer batteries power heating elements across the lower back to warm the core and in each wrist to improve blood flow to the hands. Three heat intensities are controlled via the aforementioned button on the chest.
We tested the jacket on several days of temperatures barely above zero in Utah's Wasatch Mountains. Heading out with only a base layer underneath, we found the heating system to be subtle, yet effective. The jacket hardly feels like you're skiing with an electric heating pad. Rather, Omni-Heat Electric gently warms the body's core, and the wrist elements keep hands warm. We were comfortable as the storm raged outside our cozy cocoon, even with our minimal layers worn underneath.
The effectiveness of the Circuit Breaker's own heat became evident when our batteries finally ran out. And therein lies the conundrum. You'll get nearly three hours of heat on the highest setting (122ºF), or six hours at the lowest (95ºF), with something in between on medium. So, do you dress for the elements and overheat if turned on, or do you freeze when the batteries deplete?
We found that instead, the Omni-Heat Electric's technology is best used in bursts. For those first chairlift rides of the day or that after lunch chill, fire it up. Once comfortable, turn the jacket off and keep its power in reserve for that next frosty moment.
If you're left with juice to spare, both batteries also have a USB-out port to recharge portable devices, like a cell phone or an MP3 player. In our experience, however, that reserve is best used to power the jacket itself. The Circuit Breaker isn't light in weight, but the batteries and the control unit don't add measurably to the garment's weight on the scales.
Columbia is taking great effort to live its marketing slogan, "Trying stuff." After years of bargain-basement pricing on the shelves of mass merchandisers, Columbia is definitely upping the ante to appeal to a higher level of consumer and we've generally been impressed by their efforts this season. One thing we wish they had tried with the Circuit Breaker, however, was to put the control button on the sleeve rather than on the chest. It would be less obtrusive in that location (it's nonetheless noted that it can be darkened in "stealth mode), but more importantly it would be far easier for the wearer to see and therefore control while wearing goggles.
At this price point, the Circuit Breaker is admittedly not for everyone. But for those who are habitually cold while skiing, or even parents standing around while their racer kids run gates, Omni-Heat Electric certainly has its place on the ski hill.