Park City, UT –The U.S. Ski Team on Wednesday named 11 ski jumping and nordic combined athletes to its 2012 FIS Nordic Junior World Ski Championship Team. The Junior Worlds will be held Feb. 19-26 in Erzurum, Turkey.
Among the athletes is ski jumper Sarah Hendrickson of Park City, Utah, who comes into Junior Worlds leading the FIS Ski Jumping World Cup with six victories. Hendrickson was bronze medalist at Junior Worlds two years ago and is making her third appearance at the competition, as are her teammates Nita Eglund, of Iron Mountain, Mich., and Nina Lussi, of Lake Placid, N.Y. The women's jumpers are currently training in Predazzo, Italy and will go to Liberec, Czech Republic for a tuneup competition before traveling to Turkey.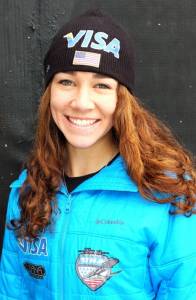 "The Junior Worlds Team of Sarah Hendrickson, Nina Lussi and Nita Englund will be a force to reckon with in Turkey," said Alan Alborn, the U.S. women's ski jumping coach for the Junior Worlds team. "Sarah has a demanding lead in the women's first ever World Cup season after 10 of 14 events. We are looking for a strong performance from her against Sara Takanashi from Japan, who will be her closest competitor. Nina Lussi and Nita Englund will be gaining experience in Turkey and looking to better their results from past World Junior Championships."
On the men's team, ski jumper Peter Frenette, of Saranac Lake, N.Y. and a 2010 Olympian, was top American in 27th last year at Junior Worlds and 12th in 2010. He is making his third appearance and recently placed eighth in a Continental Cup in Iron Mountain. Teammate Christian Friberg, of Roseville, Minn., had an impressive 18th in his first Continental Cup earlier in February in Predazzo and will participate in his second Junior Worlds. Park City ski jumper Will Rhoads was a part of the inaugural Youth Olympic Games Team in January, and it will be the third Junior Worlds appearance for Brian Wallace, of Woodbury, Minn. Adam Loomis, of Eau Claire, Wisc., and Aspen, Colo.'s Michael Ward each finished in the top 15 in a Continental Cup competition held in Erzurum in January. Ward and Cliff Field are making their third Junior Worlds appearance, and it's the second for Erik Lynch. All three are from Steamboat Springs, Colo.
"Christian Friberg and Brian Wallace are both on the USA Ski Jumping Team's development squad and leading the charge of our teenage generation of skiers bridging the gap to the national team and the international levels of competitions including FIS Cup and Continental Cup," siad Casey Colby, the men's ski jumping coach. "Christian was an amazing 18th in his first Continental Cup and Brian scored FIS Cup points in Predazzo, Italy."
Erzurum is located in Eastern Turkey at relatively high elevation. It was the host for the World University Games in 2011. The competition schedule for the Junior Worlds in Erzurum is shown below.
2012 FIS NORDIC JUNIOR WORLD SKI CHAMPIONSHIP TEAM
Men's Ski Jumping

Peter Frenette, Saranac Lake, NY, 2/24/92 (New York Ski Educational Foundation)
Christian Friberg, Roseville, MN, 9/8/94 (St. Paul Ski Club)
Will Rhoads, Park City, UT, 6/8/95 (Park City Nordic Ski Club)
Brian Wallace, Woodbury, MN, 7/3/93 (St. Paul Ski Club)
Women's Ski Jumping

Nita Englund, Iron Mountain, MI, 6/10/92 (Kiwanis Ski Club)
Sarah Hendrickson, Park City, UT, 8/1/94 (Park City Nordic Ski Club)
Nina Lussi, Lake Placid, NY, 3/29/94 (New York Ski Educational Foundation)
Nordic Combined
Cliff Field, Steamboat Springs, CO, 9/29/92 (Steamboat Springs Winter Sports Club)
Adam Loomis, Eau Claire, WI, 3/19/92 (Steamboat Springs Winter Sports Club)
Erik Lynch, Steamboat Springs, CO, 6/9/94 (Steamboat Springs Winter Sports Club)
Michael Ward, Aspen, CO, 12/23/92 (Steamboat Springs Winter Sports Club)
FIS JUNIOR WORLD SKI CHAMPIONSHIPS
Feb. 22 – Nordic combined individual (HS108 meters/10k)
Feb. 23 – Men's and women's ski jumping (HS108 meters)
Feb. 24 – Nordic combined team event (HS108 meters/4x5k)
Feb. 25 – Men's and women's ski jumping team event (HS108 meters)
Feb. 25 – Nordic combined individual (HS108 meters/5k)