Salt Lake City, UT – The long-debated vision of connecting seven of Utah's ski resorts with one another got a boost this week in the Utah State Senate.
Utah State Sen. Wayne Niederhauser (R-Sandy) on Tuesday introduced a resolution in the Senate that argues that connecting the resorts via lifts, old mine tunnels or other means would boost the state's economy while easing the ski industry's effect on the Wasatch Mountain environment and provide safer travel between the resorts.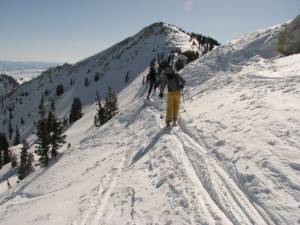 "This resolution expresses support for low-impact interconnection of the seven resorts in Salt Lake County and Summit County to enhance the ski and snowboard industry's contribution to Utah's economy, jobs, and tax base; and urges interconnection of the Salt Lake County and Summit County ski resorts using best environmental practices," the Senate Resolution reads in part. "The seven ski resorts in Summit County and Salt Lake County are all located in close proximity to one another, offering the opportunity to easily connect these resorts, an opportunity that leading competing winter tourism states do not have."
Utah's Alta Ski Area and Snowbird Ski & Summer Resort in Little Cottonwood Canyon, Brighton and Solitude Mountain Resort in the adjacent Big Cottonwood Canyon, and Canyons Resort, Park City Mountain Resort and Deer Valley, all three in the Wasatch Back resort town of Park City, are separated by only several miles. While it's an easy task to ski through the backcountry from one resort to the other, driving between them can take up to an hour via a circuitous route along canyon roads often choked with ice and snow. Environmentalists and transportation officials have long sought to reduce traffic congestion and improve avalanche safety in the Cottonwood Canyons and an interconnect system would help solve both of those problems, Niederhauser's resolution asserts.
One such solution has already been proposed by Canyons Resort and Solitude Mountain Resort. Separated only by the Park City ridge line, the two ski areas last fall float the idea of a gondola lift to connect them, dubbed SkiLink.
Nuerous backcountry skiers and other users, however, already prize the Wasatch National Forest land that lies between the resorts' existing boundaries. The SkiLink plan quickly drew the ire of environmental groups and some government officials, but Utah's federal congressional delegation has backed a land swap with the U.S. Forest Service to facilitate the lift's construction.
In the Utah State Senate, Niederhauser already has a friendly history with the ski industry in the state. Earlier this month he backed a bill to name skiing and snowboarding as Utah's official state sports. Critics of Niederhauser's latest resolution fear that it will encourage bypassing local regulations already in place and ignore a transportation study currently underway.
The resolution nonetheless points out that "the ski and snowboard industry is a major contributor to Utah's tourism industry, contributing over $1.2 billion to the state's economy as a result of over 4 million skier days, and growth in the ski and snowboard industry will bring additional spending, revenue, and jobs to the state."