Avon, CO – Barbecue and microbrew lovers will once again flock to Beaver Creek this Memorial Day weekend for the Colorado ski and snowboard resort's ninth annual Blues, Brew and Barbecue Festival. Top barbecue chefs from around the country will join local chefs in serving up mouth-watering barbecue complemented by thirst-quenching microbrews at the largest Colorado microbrewery beer tasting.
To make the most of the holiday weekend, organizers have added three new components to the festival this year: a Friday night welcome reception, a judged barbecue competition featuring $10,000 in prizes, and a Monday golf event.
In addition, top blues performers, The Delta Sonics, Rory Block and Clay McClinton will perform live at scheduled times during the weekend. For the first time in Beaver Creek, barbecue masters will be competing for bragging rights and $10,000 in cash prizes. On Saturday a panel of professional judges will rate pork dishes according to appearance, taste and tenderness. On Sunday, event attendees will determine the People's Choice winners. Selected winners will be crowned Saturday and Sunday at 4:10 p.m. on the main stage in Beaver Creek Plaza.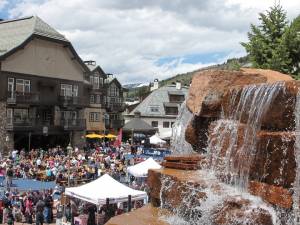 Kid Zones will be open from noon to 4 p.m. both Saturday and Sunday providing activities and arts and crafts designed for kids 12 and under. Beaver Creek's signature Culinary Demonstration Series will kick off for the summer season, providing complimentary barbecue demonstrations from guest and local chefs, accompanied by paired beverages.
The Blues, Brews and Barbecue event offers free admission to the plaza events and food and beverage are available for purchase. Ticketed events include the new welcome reception from 5 to 6 p.m. Friday evening at the Park Hyatt Beaver Creek ($25 per person), the Microbrew Festival and the new Cut and Slice Golf Event.
Saturday's Microbrew Festival, held outdoors at on the back lawn at the Park Hyatt Beaver Creek, is the largest exclusively Colorado Microbrewery Beer Tasting in the state, featuring more than 80 special concoctions from 35 Colorado-based breweries from 1 to 5 p.m. Advance tickets cost $35 per person, or $40 at the door, and include a commemorative tasting mug. Advance tickets are $35 per person and will be $40 per person at the door.
New this year, the Cut and Slice Golf Event takes place on Monday, May 28 at the Beaver Creek Golf Club from 10 a.m. to 2 p.m. A shotgun start opens the day and golfers also will enjoy barbecue and craft beers around the course. Tickets are $90 per person which includes greens fee, golf cart, practice balls, tee gift and barbecue and beer on the course. Early birds who register by May 18th also receive a festival beer mug and $10 in food and beverage tickets, valid at the festival. Reservations can be made by calling the Beaver Creek Golf Club at (970) 754-6212, emailing dlopez@vailresorts.com or purchase tickets online at www.beavercreek.com.
Those who book two nights of lodging May 25-28, 2012 at participating properties will receive two custom Beaver Creek beer mugs, $20 worth of "Beaver Bucks" coupons valid toward food and beverage at the event, and a 10 percent discount on event tickets. Book online at www.beavercreek.com or call (877) 204-7883.