Bozeman, MT – More than two dozen Gallatin County Search and Rescue personnel responded to the report of a skier caught in an avalanche Sunday afternoon in the Saddle Peak area, south of Bridger Bowl ski area in the Bridger Mountains near Bozeman.
According to Sheriff's Incident Commander Deputy Mark Hernandez, an unidentified 35-year old male backcountry skier from Bozeman triggered an avalanche that pulled him 50 feet down the slope before he managed to get himself out.  That avalanche triggered a far larger secondary avalanche that slid 1,000 feet down the mountainside.
Two other skiers in the area saw the second slide, spotted a set of ski tracks that abruptly ended at the beginning of the first slide and called 911.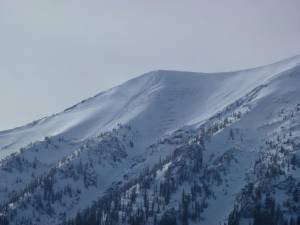 Rescue heli-skiers, snowmobilers and search dogs staged the main parking lot of Bridger Bowl to begin a search when they found out the skier was okay.
Saddle Peak is in a backcountry area adjacent to Bridger Bowl popular with skiers and snowboarders. It's accessible via boundary gates from Bridger Bowl's lift-served terrain. A massive skier-triggered, 2,000 vertical-foot avalanche ripped down the mountain in February 2010. No one was injured in that event, either.
Gallatin County Sheriff's Office officials also learned that another late season backcountry skier was caught in a slide in the Fairy Lake area of the Bridger Mountains on Saturday.  The skier was not seriously injured.
"The Bridger Mountain range received 43 inches of snow in the past 24 hours," said Hernandez. "While that might be tempting for skiers, the snow is heavy, wet and unstable.  A very bad combination.  Today we were lucky, nobody was hurt or worse.  Late season skiers need to keep those conditions in mind."