St. Moritz, Switzerland – Slovenia's Tina Maze mastered incredibly flat light to stretch her Audi FIS Alpine World Cup overall lead to 187 points over reigning champion Lindsey Vonn with a super combined victory Friday in St. Moritz.
It was Maze's third win of the young World Cup season, finishing ahead of Austria's Nicole Hosp to win by a margin of 0.88 and 1.08 seconds in the super G and slalom portions, respectively, with Hosp's teammate Kathrin Zettel rounding out the podium in third.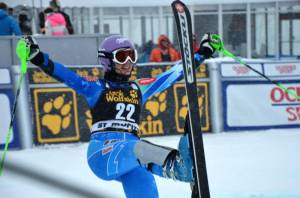 "I have trained extremely hard and this is my goal," Maze said of her quest to win all three races in St. Moritz this weekend. "This was a first step towards it. I want to ski fast and show everything I can."
Maria Hoefl-Riesch, third after the first run, wound up in fourth on the day while local heroine and newly crowned Lange Icon Lara Gut made it to fifth place after she was second in the first round.
Vonn, of Vail, Colo., who stood fourth after the opening leg of super G, skied out in the slalom portion and dropped to fourth in the overall standings. Squaw Valley, Calif.'s Julia Mancuso posted the top U.S. finish with 11th and Laurenne Ross, of Bend Ore., was 25th. Mammoth Lakes, Calif.'s Stacey Cook went out in the slalom, and neither Leanne Smith nor Julia Ford, both of New Hampshire, started the slalom portion of Friday's race.
"The light was incredibly tough, but Lindsey and Julia had pretty good super G runs even with a few mistakes," said U.S. Ski Team head coach Alex Hoedlmoser, adding, "I expected more from Leanne and Laurenne. They didn't ski up to the edge and then it's hard in the slalom portion."
The race was one of only two scheduled World Cup super combined events this season and will not award a discipline title. It will, however, be a medal event at the World Championships.
Canada's Marie-Michèle Gagnon, of Lac-Etchemin, Quebec, produced a storming slalom run – the second fastest of the day – to finish eighth overall in Friday's race. She was 26th in the super G portion of the race but the slalom specialist attacked the course in her second run, finishing just 0.11 seconds behind Maze.
"It was a pretty good day. Really good in slalom," said Gagnon. "I was so mad when I saw I didn't win the slalom run. It would have been my first time and I was like, 'Today's the day.' But no . . ."
OFFICIAL RESULTS
Audi FIS Alpine World Cup
St. Moritz, Switzerland – Dec. 7, 2012
Women's Super Combined
| | | | | | | | | |
| --- | --- | --- | --- | --- | --- | --- | --- | --- |
| Rank | Bib | Name | Year | Nation | Run 1 | Run 2 | Total Time | FIS Points |
|  1 |  22 | MAZE Tina | 1983 | SLO |  1:19.06 |  42.70 |  2:01.76 |  0.00 |
|  2 |  19 | HOSP Nicole | 1983 | AUT |  1:19.66 |  42.98 |  2:02.64 |  7.73 |
|  3 |  18 | ZETTEL Kathrin | 1986 | AUT |  1:19.71 |  43.13 |  2:02.84 |  9.49 |
|  4 |  17 | HOEFL-RIESCH Maria | 1984 | GER |  1:19.11 |  43.84 |  2:02.95 |  10.46 |
|  5 |  28 | GUT Lara | 1991 | SUI |  1:19.07 |  44.08 |  2:03.15 |  12.22 |
|  6 |  4 | DUERR Lena | 1991 | GER |  1:19.83 |  43.47 |  2:03.30 |  13.53 |
|  7 |  21 | FENNINGER Anna | 1989 | AUT |  1:19.65 |  44.01 |  2:03.66 |  16.70 |
|  8 |  11 | GAGNON Marie-Michele | 1989 | CAN |  1:21.02 |  42.81 |  2:03.83 |  18.19 |
|  9 |  31 | KIRCHGASSER Michaela | 1985 | AUT |  1:21.13 |  42.95 |  2:04.08 |  20.39 |
|  10 |  16 | GOERGL Elisabeth | 1981 | AUT |  1:19.69 |  44.54 |  2:04.23 |  21.71 |