Wengen, Switzerland – Germany's Felix Neureuther won his second World Cup race of the season, a slalom in Wengen, by .21 over Audi FIS Alpine World Cup overall and slalom leader Marcel Hirscher of Austria to close out the 83rd Lauberhorn weekend on Sunday. Croatian Ivica Kostelic was third.
"It's unreal for me, I had an amazing day and it's always a dream for a slalom skier to win in Wengen and today my dream come true," Neureuther said.  "I am also very happy that I beat Marcel (Hirscher) today, he is the man to beat this season and today I managed to do that. This victory is also really important for me as it comes as a great boost of confidence before the World Championships in Schladming. It's good for me and for the other racers to realize Marcel is actually beatable."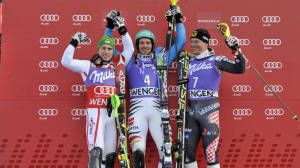 Warm temps overnight created aggressive snow conditions and made for an incredibly tight race, with Sunday's sixth place finisher, Fritz Dopfer of Germany, less than a second back of Neureuther's winning time. Ted Ligety, of Park City, Utah, started 13th, finished the first run in 13th and ended the Wengen slalom in the same spot.
"Between the super combined and today, it was some of Ted's most promising slalom skiing of the year. But he had some difficult sections and some bobbles that held him back from a bigger result," said U.S. Ski Team technical coach Mike Day. "It was also really tight racing today. He was in a good position after first run and unfortunately couldn't move up."
Ligety remained third in the overall Audi FIS Alpine World Cup standings but slightly closed the gap to Aksel Lund Svindal, who is in second.
The men's alpine tour now heads to Austria for Hahnenkamm weekend in Kitzbuehel for the final weekend of racing before naming of the U.S. World Championships team.
"Ted is already on his way to Kitzbuehel and looking ahead," said Day.
OFFICIAL RESULTS
Audi FIS Alpine World Cup
83rd Lauberhorn Weekend – Wengen, Switzerland – Jan. 20, 2013
Men's Slalom

| | | | | | | | | |
| --- | --- | --- | --- | --- | --- | --- | --- | --- |
| Rank | Bib | Name | Year | Nation | Run 1 | Run 2 | Total Time | FIS Points |
|  1 |  4 | NEUREUTHER Felix | 1984 | GER |  57.80 |  52.73 |  1:50.53 |  0.00 |
|  2 |  1 | HIRSCHER Marcel | 1989 | AUT |  57.75 |  52.99 |  1:50.74 |  1.18 |
|  3 |  7 | KOSTELIC Ivica | 1979 | CRO |  58.00 |  52.78 |  1:50.78 |  1.40 |
|  4 |  14 | MOELGG Manfred | 1982 | ITA |  58.39 |  52.60 |  1:50.99 |  2.58 |
|  5 |  8 | GROSS Stefano | 1986 | ITA |  58.14 |  53.01 |  1:51.15 |  3.48 |
|  6 |  15 | DOPFER Fritz | 1987 | GER |  58.29 |  52.90 |  1:51.19 |  3.70 |
|  7 |  20 | RAZZOLI Giuliano | 1984 | ITA |  58.63 |  52.94 |  1:51.57 |  5.83 |
|  8 |  10 | HARGIN Mattias | 1985 | SWE |  58.12 |  53.51 |  1:51.63 |  6.17 |
|  9 |  26 | BAECK Axel | 1987 | SWE |  58.31 |  53.33 |  1:51.64 |  6.23 |
|  9 |  23 | LARSSON Markus | 1979 | SWE |  58.47 |  53.17 |  1:51.64 |  6.23 |