Sochi, Russia – Canada's reigning ski cross world champion Chris Del Bosco is set to make his return from injury at the Olympic test event in Sochi, Russia, next week.
The 30-year-old, who lives in Montreal, Quebec, has been one of the most dominant racers on the ski cross World Cup circuit over the past five years but missed the start of the 2012-13 season after suffering a separated shoulder in training.
After having surgery and working hard to rehab his shoulder, Del Bosco traveled to Germany two weeks ago to forerun at the World Cup stop in Grasgehren and now he's all set to make his return to head-to-head racing at the World Cup stop in Sochi on Monday and Tuesday.
"Everything feels good. I'm ready to go," said Del Bosco, who has 17 World Cup podiums to his name and two X Games titles. "It's hard when you are sitting on the sidelines but thankfully everything's gone as planned with the rehab. I feel strong – I think I'm in a good place. Racing is what I love to do so I'm stoked."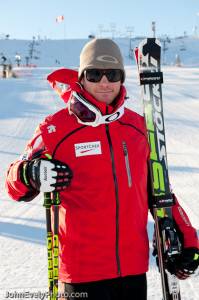 Del Bosco, who is renowned for being a quick healer, hurt his shoulder shortly before the season-opening World Cup race in Nakiska, Alberta, Canada. After countless hours of physiotherapy and gym work, he gave it the ultimate test when he powered out of the start gate while forerunning in Germany earlier this month.
"It's frustrating watching when you know you want to be out there but I know from experience that if you take care of what you need to take care of, I've been pretty lucky to be able to come back quickly," Del Bosco said. "The shoulder felt good coming out of the start. There were no issues. From what I saw from (the qualifying times) I was right in there so my speed is not really an issue. Generally I come back pretty quickly. I might be a little more tentative but I've been doing this quite a while and I know what to expect."
From the moment he received his MRI results, Del Bosco targeted Sochi as the date for his return. In addition to giving him the chance to see the 2014 Olympic venue up close, it also means he can compete in a couple of World Cup races and get back in the groove before he defends his world championship title in Voss, Norway, on March 10.
"The tentative plan was always Sochi. It will be cool to see it," Del Bosco said. "I'm excited to find out how things look over there and hopefully the snow will cooperate. World championships – that's huge. You only get one shot every two years. Coming back now will give me a few races to get ready."
Eric Archer, head coach of the Canadian ski cross team, said it will be a big boost to have Del Bosco back competing.
"I'm excited. It hasn't been the greatest year so far and he's one of our top guys," Archer said of Del Bosco. "Hopefully he can bring some new energy and maybe we will start seeing all the guys performing at a high level.
"Based on what we saw and how he was moving and skiing in Germany, he will be able to get to qualifying speed right away. He might be a little bit rusty in the heats but you never know with him. He's got such a good feel on the snow. It doesn't take him long to get back to speed."
While he worked hard on rehabbing his shoulder, Del Bosco was an interested spectator as the 2012-13 ski cross World Cup season got underway.
"It's been interesting. Nobody has really been dominating and compared to the last few years it's wide open," said Del Bosco, who has been the racer to beat on the men's circuit over the past four or five years. "For me the overall is tough now but Brady (Leman) is up in the top five and Tristan (Tafel) just had a good race. I look forward to seeing what I can add to our team."
Del Bosco has one other important item on his to-do list as he makes his return to racing. The U.S.-born ski cross star famously finished fourth at the 2010 Games after going for gold. An Olympic medal is the only major honor missing from his glittering resume and the process of qualifying for the 2014 Games begins right away.
"I'm not going to look too much at the fine print. There's a couple of different A and B criteria to qualify but If you are skiing well, you will be there," Del Bosco said. "Freestyle is pretty deep. You really need to be on the podium if you want to have a chance to be there. But I'm stoked. I'm ready to race."
Archer said he expects Del Bosco to make a smooth transition back to head-to-head competition.
"The goal for him is to have good exposure to the Olympic track and just make sure he's ready to go for world champs," Archer said. "The track will be built as close as possible to what we will see in 2014. It's important that everyone stays focused and pays attention so they know what to expect next year. It's kind of a traditional track – a lot more open, not very steep. Maybe it will be similar to X Games – we will see what we get."
Canadian prospect Mariannick Therer, of Saint-Sauveur, Quebec, won't make the trip after suffering a season-ending knee injury when she crashed during qualification in Germany. Georgia Simmerling, of West Vancouver, British Columbia, fractured a bone in her finger in Germany but is likely to compete with a splint. Reigning women's world champion Kelsey Serwa, of Kelowna, British Columbia, will also return after sitting out the World Cup race in Germany.