Henniker, NH – Pats Peak Ski Area officials have announced "Operation Cascade Basin," a three-year plan to add a triple chairlift and up to six trails and glades to the southern New Hampshire ski area.
This summer will be the busiest of the coming three as the mountain operations crew will be installing a high-capacity triple chairlift and unveiling at least four new trails in time for the 2013-14 ski and snowboard season on a completely new section of the mountain that has never been skied before and offers an easterly exposure, giving Pats Peak some of the most sun drenched slopes in the state.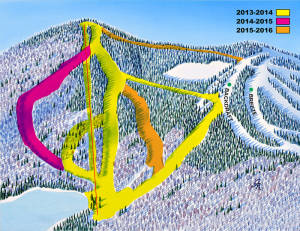 "Operation Cascade Basin" has been in the planning and permitting stage for the last two years and received its final permits this past fall. Following this summer's construction, additional terrain will be added in future years. Skiers and riders have enjoyed a sneak peek of some of the future offerings with the debut of the Backdraft trail this season.
"Pats Peak has been locally owned and operated by the Patenaude family for 50 years and we wanted to do something really big. We wanted to give all of our patrons a giant birthday gift," commented Kris Blomback, Pats Peak General Manager.
The new triple chairlift will open up 20-plus acres of new terrain. All of the trails will be oriented toward novice and intermediate skiers and riders. Experts will have a couple of glades to choose from, including one with snowmaking coverage.
"We've experienced tremendous growth over the last few years and we wanted to do something to give back to our guests. It's very important to keep our product exciting and fresh. Opportunities available in the future in the new area include the possibility of an additional terrain park as well as expanded night skiing," adds Blomback.
The snowmaking system will be expanded in "lock-step" as new terrain is added. New snowguns, pumps, pipes and hydrants will all be added to the expanded terrain.
"An added benefit to this is that we can keep some key personnel working during the summer months. We are a good old fashioned Yankee operation and we try to build as much as we can in-house. We will dovetail local talent and contractors when needed. This helps the region and our local economy. A project of this size requires us to hire welders, masons, surveyors, equipment operators and a host of others. Our core employee base during the winter months will also be expanded," Blomback says.
"Our skiers and snowboarders have really great ideas; so we are going to open up the naming of the new trails via a Facebook contest. We had a tremendous amount of input last year in naming our new trail, Backdraft, so we'll do it again…..start brainstorming and stay tuned on Facebook," says Blomback.