Warren, VT – Many of the best skiers from all over the Northeast will descend on Vermont's Sugarbush Resort for the 16th Annual Castlerock Extreme competition this Saturday, when some of the East's best skiers will go toe-to-toe to see whose skills can stand up to the fabled terrain on Castlerock Peak in the longest running unconventional terrain competition in the region.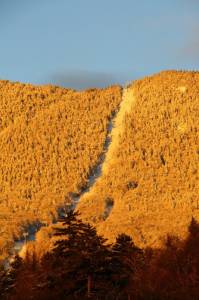 "Castlerock boasts some of the most demanding terrain to be found anywhere," said Win Smith, President of Sugarbush. "The most elite skiers find the terrain full of challenging aspects including steeps, moguls, drops and rock bands."

Competitors are judged on criteria consistent with the International Freeskiers Association standards. Five scores are awarded for line, control, fluidity, technique, and style. The competition will take place on the trail Lift Line on Castlerock Peak. Prizes include a cash purse, awards and bragging rights.

The Castlerock Extreme is part of the Ski The East Freeride Tour. Registration is now open for the event at www.sugarbush.com. Only 80 registration spots are available with registration on a first come, first served basis.

Event day registration begins at 7:30 and closes at 8:45 a.m. A mandatory competitors meeting will be held at 9:45 a.m. at the Castlerock patrol shack. The competition begins at 10 a.m. The award ceremony kicks off one hour after the competition concludes.