Eden, UT – Summit, producer of the Summit Series leadership conference, on Tuesday announced that it has purchased Utah's Powder Mountain, the largest ski resort in the United States by skiable acreage.
"We couldn't think of a better home for the Summit organization and community than Powder Mountain," said Elliott Bisnow, founder and CEO of Summit.  With more than 7,000 acres of terrain, Powder Mountain is the largest ski mountain in the United States.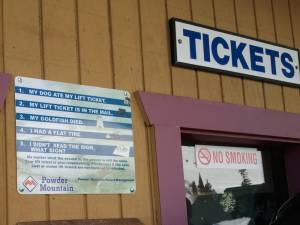 The purchase marks a rapid rise for the organization, now in its fifth year. Started in 2008 as a conference series in Alta, Utah for 19 entrepreneurs and non-profit leaders, Summit Series has grown into a community of thousands of multi-disciplinary leaders in the fields of business, non-profits, academia and the arts.
Summit Series' events have helped to raise tens of millions of dollars for business, social and philanthropic ventures. At 2011's Summit at Sea, the event generated a partnership with The Nature Conservancy and Bamboo Sushi to raise nearly $1 million to create a 71-square-mile marine reserve in the Bahamas island chain that hosted the event.
"Powder Mountain will continue to welcome ski guests like family, as Summit is committed to maintaining the beloved character of this resort," said Bisnow.
On the southeast side of the mountain, Summit will be curating a sustainable residential community called Summit Eden, which will become the home base for the organization and its leadership and cultural events. "Our goal is to provide a platform that allows change makers to amplify their positive impact through collaboration," said Jeff Rosenthal, co-founder of Summit Series.
Given its size, Powder Mountain has been targeted for large-scale development for years. Some groups had plans for up to 10,000 homes, multiple golf courses and more than a dozen new chairlifts. In contrast, Summit Eden will focus on 500 homesites and a small residential village of similar scale, featuring modest homes with eco-friendly and sustainable design. In addition, small cabins will be available as rotating residences for artists, musicians, nonprofit leaders and start-up entrepreneurs. Adjacent to Summit Eden, the group envisions over the long term additional boutique lodging options and retreat facilities.
"I couldn't have found a better group to partner with to help preserve Powder Mountain and the surrounding area from overdevelopment," commented Greg Mauro, chairman of Summit Mountain Group and a Powder Mountain skier who first partnered with Summit after attending one of its events.
"We're ecstatic Summit has become the new owner of Powder Mountain," said Douglas Larsen of Weber Economic Development Partnership. "They engaged the local community in the process and designed a sustainable and environmentally intelligent development to bring a new kind of vision to Weber County."