Park City, UT – Powdr Corp.'s Park City Mountain Resort (PCMR) scored a direct hit in its legal battle against Talisker Corp. and Vail Resorts on Wednesday when a judge presiding over the parties' current litigation regarding the lease for PCMR's land ruled that PCMR could amend its initial complaint to include terms of the new agreement between Talisker and Vail Resorts.
The pending litigation, first filed by Park City Mountain Resort against Talisker in March 2012 to enforce the lease for the majority of the ski resort's land, has evolved into a hostile takeover attempt of sorts of Park City Mountain Resort by Vail Resorts, which now operates Talisker's nearby Canyons Resort in Park City.  The Vail Resorts agreement with Talisker, announced in May of this year, allows Vail Resorts to assume the landlord role in the PCMR/Talisker lease, and therefore the role of the defendant in the pending litigation. PCMR argued that this agreement violates their right to first refusal to purchase the land that makes up their resort, a right that is codified in the original 1971 lease.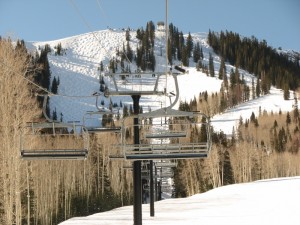 Talisker attorneys rebutted that the terms of the 1971 lease agreement are irrelevant as they considered the lease null and void when Powdr Corp. failed to provide adequate notice of its intent to renew the lease in April 2011. Utah Third District Court Judge Ryan Harris' ruling on Wednesday, however, allows Powdr Corp. to include the terms of the agreement between Vail Resorts and Talisker in amending their complaint against Talisker, granting a motion filed by PCMR in July.
Depositions in the case are presently underway, and discovery is set to be completed by this February.
Powdr v. Talisker Timeline
1971: Park City Mountain, formerly named Treasure Mountain Ski Area, signs a lease agreement with land owner United Park City Mines.
1994: Powdr Corp. buys Park City Mountain Resort.
2003: Talisker Land Resolution, a division of Talisker Corp., buys United Park City Mines.
2009: Talisker Corp. buys Canyons Resort from the now-defunct American Skiing Co.
April 30, 2011: Powdr Corp.'s deadline to renew lease for Park City Mountain Resort.
May 2, 2011: Powdr sends Talisker a letter, dated April 29, 2011, signaling their intent to renew the lease for Park City Mountain Resort for another 20 years.
Summer 2011: Powdr invests another $7 million in improvements on Talisker's land.
December 2011: Talisker informs Powdr that they consider the PCMR lease expired.
December 2011-March 2012: Talisker and Powdr officials enter negotiations to try to resolve the lease dispute.
March 2012: Powdr sues Talisker to enforce the PCMR lease.
May 2013: Vail Resorts signs a lease with Talisker to operate Canyons, an agreement that includes the PCMR lease.
July 2013: Powdr asks the court for permission to amend its March 2012 complaint to include new claims that Talisker's agreement with Vail Resorts violates the PCMR lease by not providing Powdr with the right to first refusal.
August 2013: Powdr attorneys admit that their client intentionally backdated their May 2, 2011 letter to Talisker.
August 28, 2013: Talisker serves Powdr with a Notice to Quit, giving Powdr five days to vacate PCMR. Meanwhile, Vail Resorts officials assure the public that they have no intention of interfering with PCMR's operation for winter 2013-14.
September 10, 2013: Judge rules that Talisker is not entitled to internal Powdr Corp. emails exchanged in the final weekend of April 2011 regarding the lease renewal.
September 11, 2013: Depositions in the case get underway, beginning with PCMR general manager Jenni Smith.
September 18, 2013: Judge grants PCMR motion to amend complaint regarding their right to first refusal to purchase the resort land.