Zoetermeer, The Netherlands – It may soon be possible to ski 365 days per year in France, as the Dutch company SnowWorld, which operates indoor ski resorts in Landgraaf and Zoetermeer in The Netherlands, announced today that it intends to build its third facility in the Paris metropolitan region.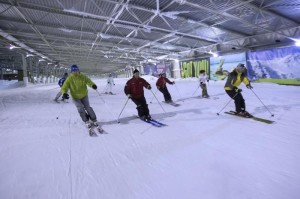 The 50 million-Euro project is expected to create 200 jobs at an as-yet-unspecified location in Île-de-France, France's wealthiest and most populous region. It is projected to open in September 2016.
SnowWorld officials indicate that they're presently working with area communities to obtain the necessary permits for the project, which calls for indoor ski runs up to 300 meters long, a chairlift, a hotel and several restaurants. Rental gear will be provided by the company Skiset.
SnowWorld had earlier targeted a 2014 completion date for its intended expansion into France, first announced in 2012.
The company has scheduled a press conference for Wednesday in Paris to unveil further information about the project.