Levi, Finland – World Champion Mikaela Shiffrin dominated the Audi FIS Alpine World Cup opening slalom on Saturday with a wire-to-wire victory to notch the fifth World Cup win of her young career.
The 18-year-old from Eagle, Colo., was the only athlete in the field to post two sub 58-second runs despite amazing recoveries in each, besting 2010 Olympic champion Maria Hoefl-Riesch of Germany by a massive 1.06 seconds and reigning World Cup overall champion Tina Maze by 1.61.
"Maybe I was a little bit lucky in the first run, I can't even really remember it. I just wanted to take the second run like its own race and really hammer it," said Shiffrin. "I was in the gate and like, 'No mercy, charge down this course' and I think I did."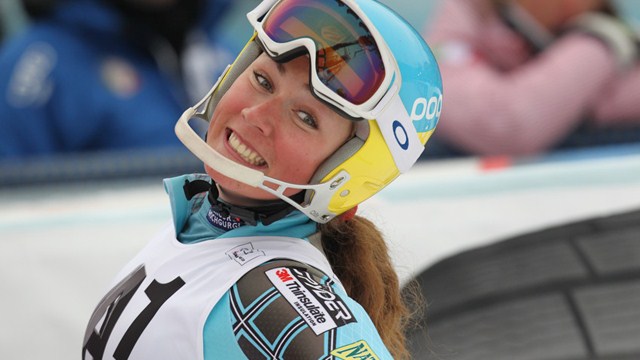 In addition to prize money and 100 points toward the World Cup overall and slalom standings, Shiffrin was awarded an authentic and original Lapland reindeer by the Levi organizing committee.
Resi Stiegler, of Jackson Hole, Wyo., and Minnesota's Paula Moltzan also started, but among swirling winds did not make the top-30 final. Lindsey Vonn and Julia Mancuso did not complete in favor of additional training in Colorado.
Shiffrin, who was sixth to open the season at the Soelden giant slalom, has now won five of the last eight World Cup slaloms. In only her third season on the World Cup tour, Shiffrin is already third among American women for slalom wins. Former overall champion Tamara McKinney has nine and Kristina Koznick six.
"There's definitely some relief there…one of my goals is to keep my slalom standings, and it's nice to know I'm not that far off," Shiffrin added.
Canada's Marie-Michèle Gagnon, of Lac-Etchemin, Quebec, earned a fifth-place result on Saturday to all but secure her spot on Canada's Olympic team for Sochi, while her teammate Elli Terwiel, of Sun Peaks, B.C., was a career-best 11th. After a 10th-place finish in last month's giant slalom opener, Gagnon is sixth in the overall women's World Cup rankings.
"I'm stoked – just super happy that this race brought me fifth place and so, so happy for Elli. She was awesome today," said Gagnon, who added, "It was a weird race – it was a bit of a free-for-all. I knew I wasn't far out after the first run. I skied just like I do in training – it was just like a normal run."
The women's World Cup tour now rolls to North America for a downhill, super G and giant slalom Thanksgiving Weekend in Beaver Creek, Colo., on the newly completed Raptor course, site of the 2015 FIS Alpine World Ski Championships.
OFFICIAL RESULTS
FIS Alpine Ski Word Cup
Levi, Finland – Nov. 16, 2013
Women's Slalom
| | | | | | |
| --- | --- | --- | --- | --- | --- |
| Rank | Bib | Name | Run 1 | Run 2 | Total Time |
| 1 | 4 | SHIFFRIN Mikaela | 57.23 | 57.84 | 1:55.07 |
| 2 | 14 | HOEFL-RIESCH Maria | 57.92 | 58.21 | 1:56.13 |
| 3 | 6 | MAZE Tina | 57.75 | 58.93 | 1:56.68 |
| 4 | 53 | AGER Christina | 57.93 | 58.80 | 1:56.73 |
| 5 | 16 | GAGNON Marie-Michele | 58.28 | 58.52 | 1:56.80 |
| 6 | 20 | GEIGER Christina | 58.18 | 58.68 | 1:56.86 |
| 7 | 19 | LOESETH Nina | 58.85 | 58.10 | 1:56.95 |
| 8 | 5 | HANSDOTTER Frida | 58.45 | 58.52 | 1:56.97 |
| 9 | 17 | SWENN-LARSSON Anna | 58.54 | 58.60 | 1:57.14 |
| 10 | 45 | FEIERABEND Denise | 57.96 | 59.26 | 1:57.22 |