Houston, TX - Before heading out on a ski vacation, most people prepare by reserving a room, booking a flight, packing their winter clothes and, of course, their skis. However, if they do not prepare their body, they might end up spending more time in the doctor's office than on the slopes.
Of the nearly 144,000 skiing injuries reported per year, anterior cruciate ligament (ACL) tears, such as that suffered this week by ski racer Lindsey Vonn, are the most common, followed by ulnar collateral ligament (UCL) tears, or skier's thumb.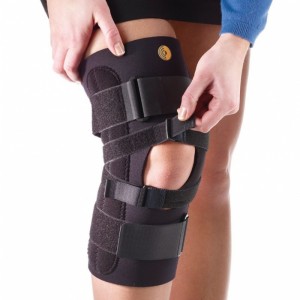 "Most of us don't train before going on vacation, but it's important for skiers to work out because they tend to fall more when they are tired," said Dr. David Lintner, an avid skier and chief of sports medicine at Houston Methodist Hospital in Texas. "Cardiac conditioning, leg strengthening and agility exercises are simple ways to increase endurance."
To prevent ACL tears, Lintner recommends skiers start their preparation by jumping rope, then progress to jumping side to side and back and forth over a pillow or other object and playing basketball or tennis, where these lateral movements will help strength the knee and familiarize the body with skiing motions.
Lintner says it is also important to properly prepare your equipment. Always get the bindings checked by an expert to ensure they are properly adjusted. He also cautions skiers to be aware of snow and sun conditions.
"Few shadows on a cloudy day make it hard to see the slope's contours and even harder to avoid the bumps that can lead to falls," said Lintner. "Also, check the snow conditions. If the snow is heavy and lumpy, check to see which slopes are groomed that day."
If an injury does occur, Lintner encourages skiers to have the injury evaluated by a physician before returning home.
"Most ACL tears will require surgery to repair," Lintner said. "After patients return from their skiing vacation, I usually start them off with some physical therapy to reduce the swelling and keep the muscles in motion prior to surgery. This will speed up the recovery process, which usually takes four to six months."
Skier's thumb is another common injury that occurs when skiers fall awkwardly on their hands while holding a ski pole. This can cause the ulnar collateral ligament on the inside of the thumb to tear.
"While skier's thumb can't be prevented, manufacturers have created safer designs to help skiers protect their hands," said Dr. Evan Collins, hand and upper extremity specialist with Houston Methodist Orthopedics & Sports Medicine. "Many UCL tears in the thumb joint are treated by immobilizing the thumb for four to six weeks while the ligament heals. In the most severe cases, surgery might be required."