Coburg, OR – Several ski resorts in the Pacific Northwest exhibited extreme patience waiting for snow this winter, but few quite as patiently as Hoodoo Ski Area.
Following three unexpected inches of snow this weekend, the 75-year-old ski area on Santiam Pass will finally open for the season this Friday, nearly a full week into the month of February.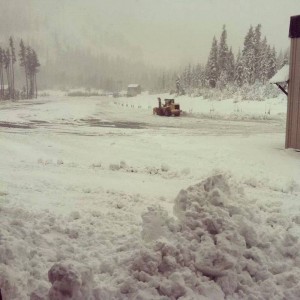 Hoodoo has no snowmaking equipment and reports an average snowfall of 450 inches annually. Although slightly more than 86 inches have fallen on Hoodoo's slopes season-to-date, base depths are now measured at only 25.9 inches. But that's still enough to convince officials to open Friday and Saturday this week for both day operations and night skiing.
To get ready, staffers are pulling snow from the parking lot and the woods to reinforce coverage at the top of the Ed chairlift. The resort will announce lift ticket pricing by Thursday, and will operate only on Thursdays through Sundays "until the end of the season, or until a lot more snow comes."
Hoodoo will have only 10 weeks left in its scheduled ski season when it opens this weekend.