Martinsville, NJ – The 2013-14 ski and snowboard season has thus far seen widely divergent performance across different regions of the U.S.  Some areas of the country have enjoyed robust snowfall and cold temperatures, while others are suffering from a historic dearth of precipitation.  Against this backdrop, investment advisor Condor Capital has reduced its forecast for total skier visits this winter and now sees low-to-mid single digit percentage gains over last year, or 58 to 60 million total visits.
Frigid temperatures and frequent snowstorms have blessed much of the northeastern U.S. so far this season, benefiting resorts in the region, particularly those in New York State.  In Colorado and Utah, solid snowfall totals have also blanketed resorts.  However, conditions have been poor in California and the Pacific Northwest thanks to a blocking ridge of high pressure that sat parked over the west coast for much of this winter.  California's 25 ski resorts have seen the lowest amount of snowfall since the 1971-72 season.
California's Mammoth Mountain, the third largest resort in the U.S. by number of visitors, had received just 48 inches of snow so far this year as of the beginning of this week. The resort averages 400 inches of snowfall annually, and presently has only half of its 28 lifts turning.  According to data from the California Department of Water Resources, the state's snowpack is only 12% of what would be considered normal for this time of the year.  Since the department began collecting data in 1960, the previous record low was 21% of normal, which was registered in 1991.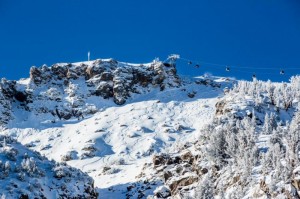 This hardship extends north through Washington and into British Columbia, Canada.  As of the beginning of this week, Whistler Blackcomb, the region's flagship resort, had received only 121 inches of snow so far this season, which compares to a 10-year average of about 275 inches.
Due to this lack of snowfall, resorts in California have experienced declines of up to 50% in skier visits thus far this season.  The aforementioned Mammoth Mountain has forecasted 950,000 skier visits this season, down from an average of 1.3 million.  On the other hand, through December, resorts in Colorado have seen a 22% increase in visits, according to data provided by the trade group Colorado Ski Country USA, which represents all but four ski resorts in the state owned by Vail Resorts.  Visits in the state are now tracking 6.7% above the five-year average as early snowfall allowed many mountains to open more terrain earlier in the season.  Vail Resorts, which owns a portfolio of ski areas across the U.S. including those four in Colorado, recently reported that its overall skier visits were down 0.7% year-over-year, through January 5.  Although its properties in Utah and Colorado were up 7.4%, its properties in the Lake Tahoe area saw a sharp 23.4% decline.  The resiliency in its headline figure displays the advantages of having a geographically diverse resort portfolio, Condor Capital analysts indicate.
Intrawest, which owns several resorts across the U.S. and Canada, as well as heli-skiing operator Canadian Mountain Holidays (CMH), reports skier visits up 8% through January 5.  The company went public via an IPO on January 31, pricing its shares at $12, well below the expected range of $15-17 per share.
The struggles in California will likely strain the finances of some smaller resorts and could spark a wave of takeovers and consolidation, Condor Capital predicts.  Results in the northeast, however, have been favorable.  While resorts in Vermont have not benefited as strongly from recent storms that dumped over a foot of snow in areas of New York, Pennsylvania, and New Jersey, they have provided great marketing in major metro areas, such as New York City and Philadelphia, which helped bookings.  Jay Peak in far northern Vermont noted that business was up 24% through year-end, while Killington Resort said that business was up 9.5% year-over-year, through Christmas.
From a lodging perspective, data released by Denver-based Destimetrics show that occupancy at mountain resorts was up 6.2% nationally, with revenues up an even stronger 12.3%.  By region, western resorts were up 6.5%, while eastern locations registered a more modest 2.1% gain.  Retailers have also benefited from cooperative weather in most areas of the U.S.  SnowSports Industries America (SIA) and the Leisure Trends Group's RetailTRAK said that snow sports retailers enjoyed a record holiday season, with sales through December hitting $2.20B, beating last year's $2.01B and 2010-11's record of $2.17B.  The report noted that while the drought in California hindered sales, favorable conditions in the northeast and record cold extending into the southern U.S helped drive sales, particularly for apparel.  By category, equipment sales rose 6%, apparel sales gained 7%, and accessories sales jumped 15%.  In the accessories vertical, action cameras experienced substantial growth, with unit sales rising 19% and dollar sales jumping 36%.  The report also noted that while an improving economy and rising stock market are helpful, approximately 75% of the year-to-year variance in snow sport retail sales can be explained by weather conditions.
Overall, while weakness in California and the Pacific Northwest has created a drag on skier visits, the 2013-14 ski season is off to a solid start.  Should snow conditions improve in those areas, and remain strong in the rest of the country, Condor Capital predicts that we could see acceleration through February as viewership of the Olympics generates interest and provides widely disseminated marketing for winter sports.